Sewing with knit fabric is super popular these days. I fell in love with sewing knits years ago, so it's nice to see them getting more mainstream love now. As I've mentioned on many occasions, it's even easy to do on a basic sewing machine (my best tips for that HERE). Online & brick and mortar shops offer much more selection than ever before, but so much choice offers a new challenge.
What about selecting knit fabrics? How do you know what you need? Just picking something cute or the right color isn't all it takes - you need to know if the type of fabric is suited to what you're sewing. Sometimes it's confusing, but if you know what to look for, you'll pick the perfect fabric to fit your project. Just use my Know Your Knits: Basic Fabric Guide below. It's part of my summer Sewing With Knits Series to take the mystery out of working with knit fabrics.
Hands up if you've ever bought fabric purely because you loved the print or color and then been surprised because...
- It had way less stretch than expected
- It ended up being thinner/more see through
than it looked online
- It wasn't well suited to the project and didn't shape well
I've experienced 'em all. Buying fabric online is a tricky thing since you can't actually feel, stretch and see the fabric. Buying knits is even more challenging because there are many variations. It's important to know these three key things to pick the best knit fabric:
Types of Knit Fabric
Jersey - this is a lightweight knit. Usually available in cotton, polyester or bamboo (aka rayon). The synthetic versions
tends to have a more fluid, slightly slinky feel.
Typically jersey has a two-way stretch if it's 100% cotton, but any type that has some spandex in it can be four-way stretch.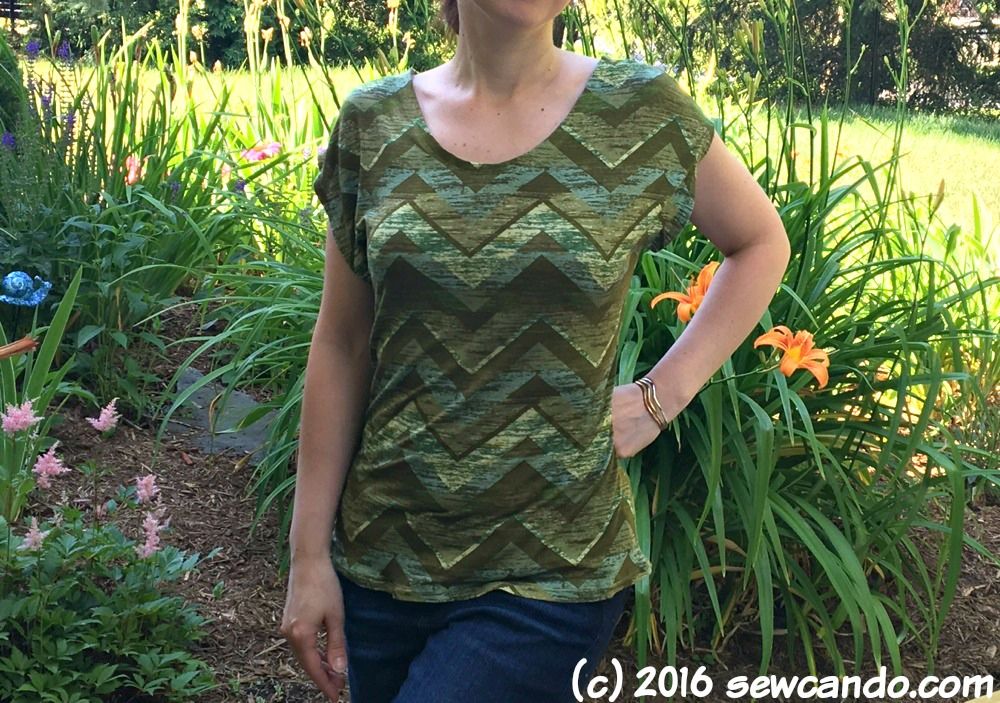 Free Pattern Find: Blank T-Shirt Pattern HERE
Best uses: Tops, dresses, baby & kid's clothes, scarves and,
if four-way stretch,
leggings & headbands.
Simplicity 3640 Tank Top HERE
Interlock - this is a medium weight cotton knit. Typically a two way-stretch.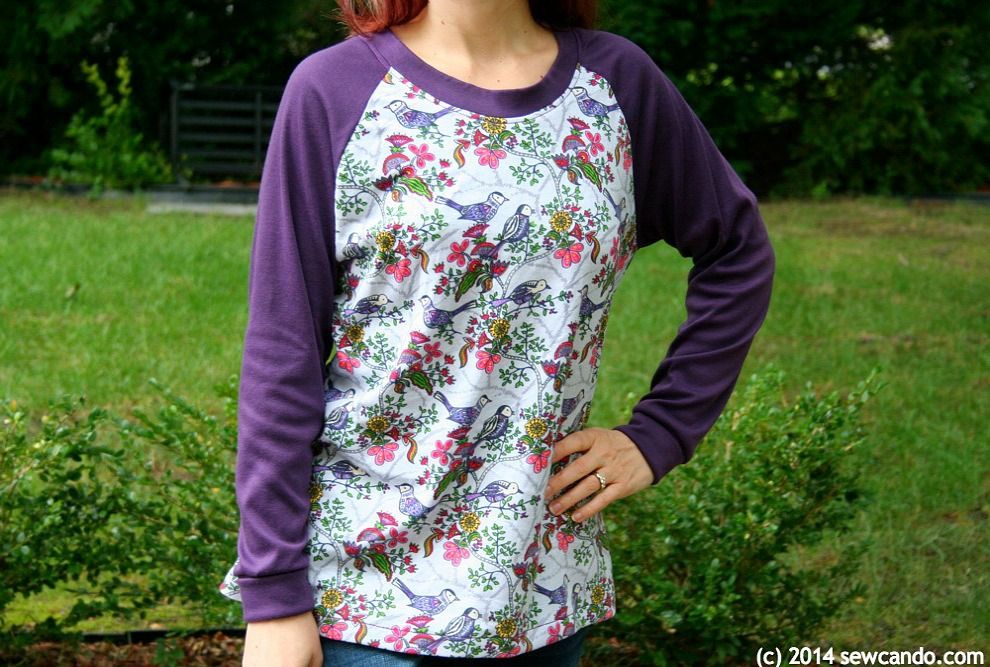 Ringer Tee from Raglan Top HERE
Best uses: baby clothes, loungewear, pajamas, kid's underwear, looser tops.
Lettuce edge Provincial Top HERE
Cotton Lycra/Cotton Spandex - this is a medium weight knit. Usually offers a 4 way stretch.
Best uses: LOADS! By far, the most versatile of knits.
Stretchy tops, dresses, leggings, headbands, soft toys, baby & kid's clothing of all kinds. Maximum use options.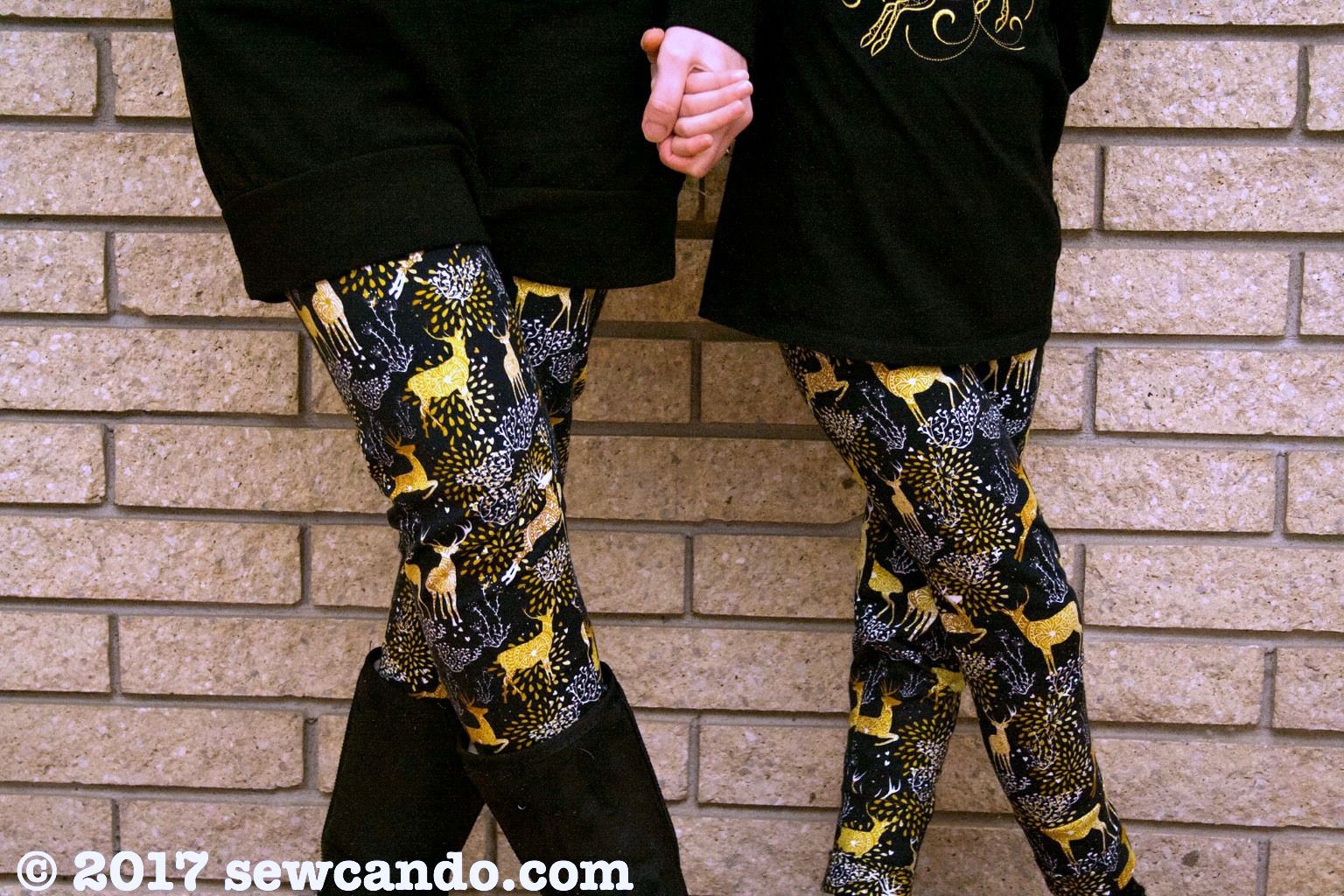 Free Pattern Find: Girl's Leggings HERE
Is there anything it can't do? Don't think so!
My Comfy, Casual Top Tutorial HERE
Rib knit - this can vary from lightweight up to heavy. It's ribbed texture gives it a particular direction (ribs run parallel to the selvage) and typically offers a lot of stretch. It's knitted in a tube shape and is often sold as tubular yardage with no selvage ends.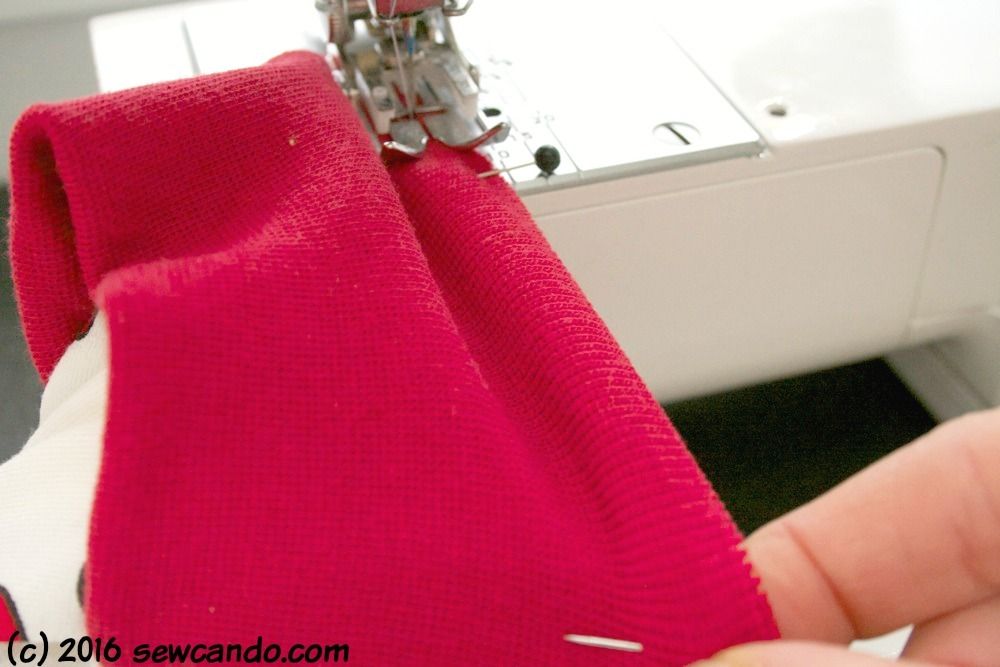 Make Your Own Knit Nightgown Tutorial HERE
Best uses - as banding and cuffs for sleeves and ankles. Also works well to bind blankets and on its own for leggings and tops.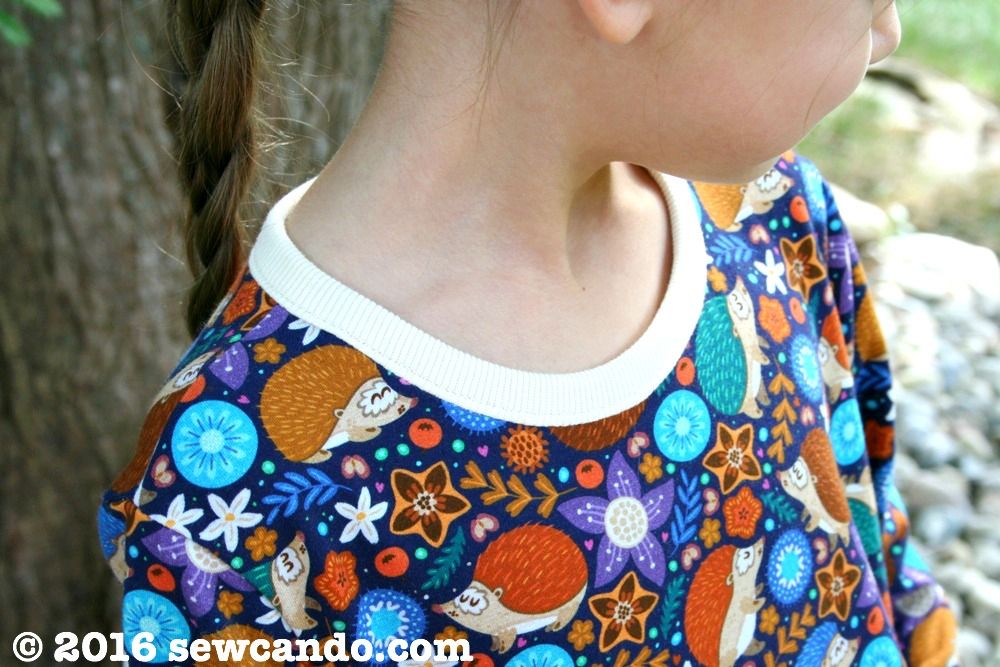 My Banana Dress Pattern Hack HERE
Sweatshirt Knit - this is a medium to heavy weight knit with a fleece-y wrong side. Usually available in cotton, cotton/polyester blend. Stretch can vary so knowing if it's two way or four way is important.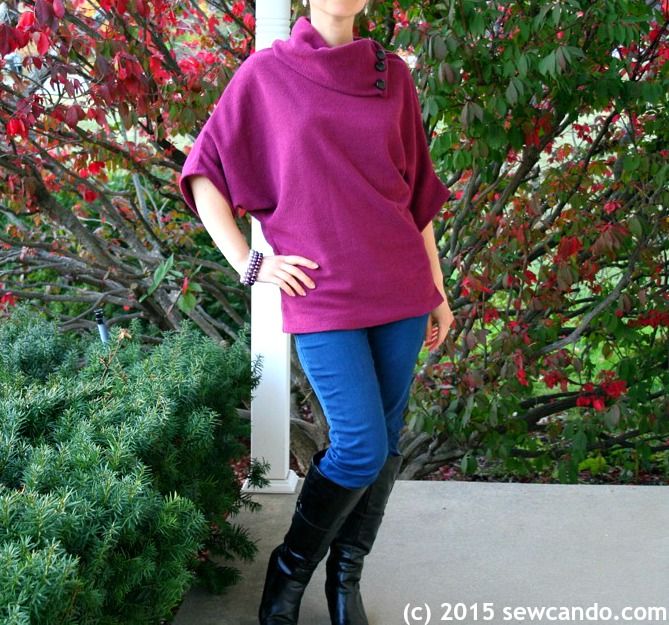 Dolman Sweater Pattern HERE
Best uses - loungewear, blankets, loose tops, elastic waist pants.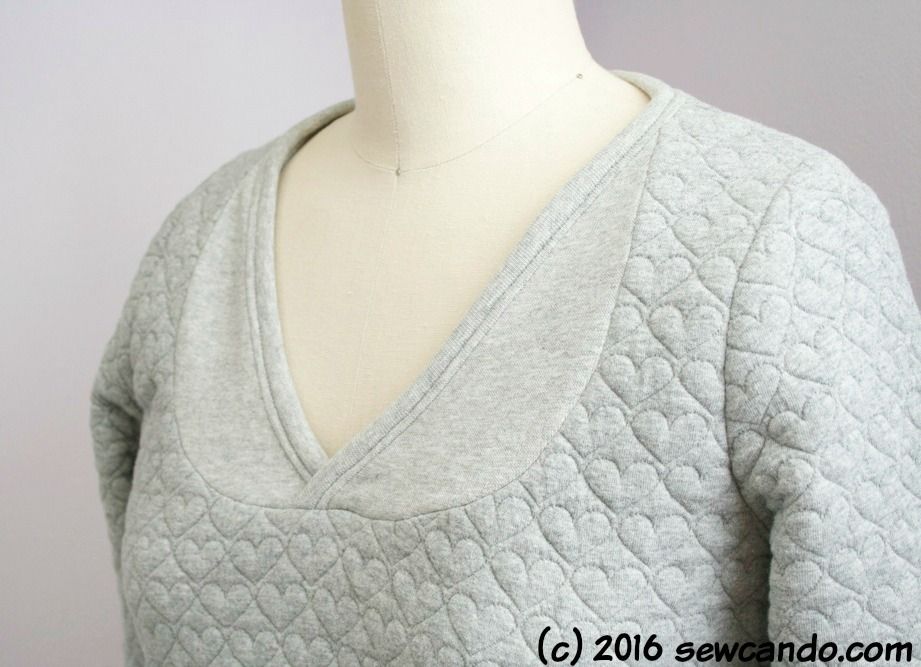 Quilted sweatshirt top HERE
French Terry - this is a medium to heavy weight knit with a looped wrong side.
Best uses - loungewear, blankets, loose tops, elastic waisted pants.
Sweater Knit - yarn knitted heavy weight fabric, often with a bonded fleece-y wrong side.
Two way stretch.
Best uses -
hats, scarves, mittens, one layer throws or blankets. Good for t
ops & dresses: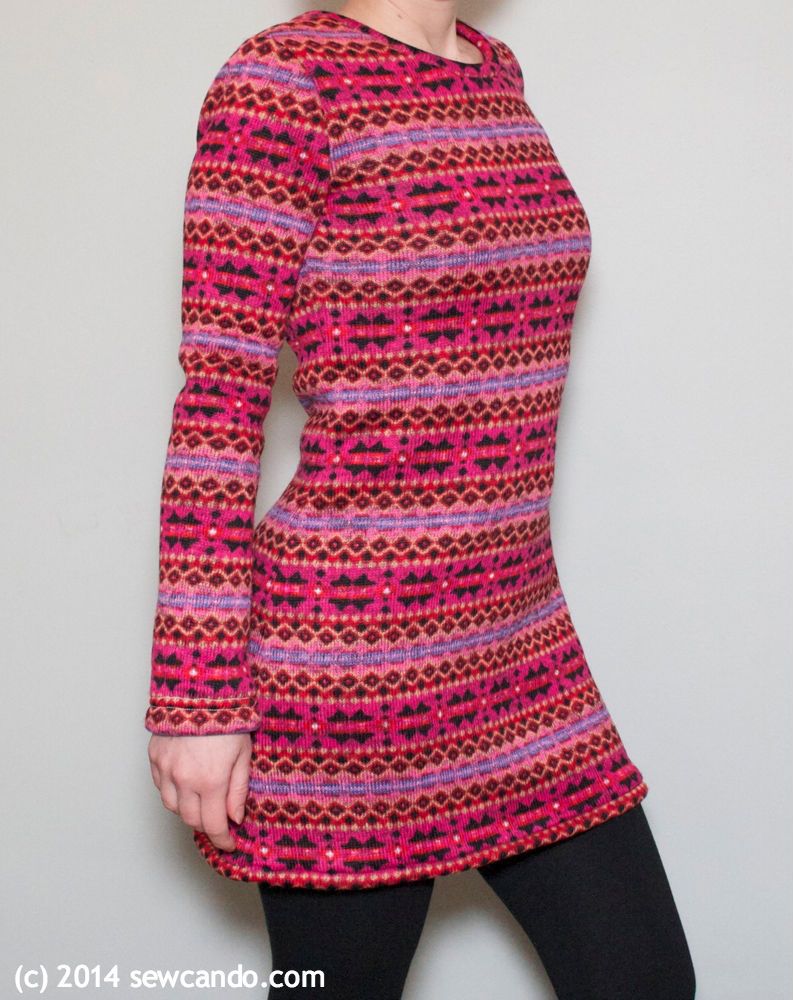 My version of Cynthia Rowley Simplicity 2054 HERE
Ideal for cozy cardigans too:
My version of McCalls 6996 HERE
Velour - knitted with a velvety right side. Medium weight. Thick soft pile with a bit of sheen to it. Has a definite direction for the pile (aka nap). Can be either two-way or four-way stretch.
My Merida Brave costume tutorial HERE
Best uses - baby & kid's clothes, blankets, leggings, tops, soft toys.
Minky/Cuddle - Medium to heavy weight with a plush hand.
Has a definite direction for the pile. Is usually two-way stretch.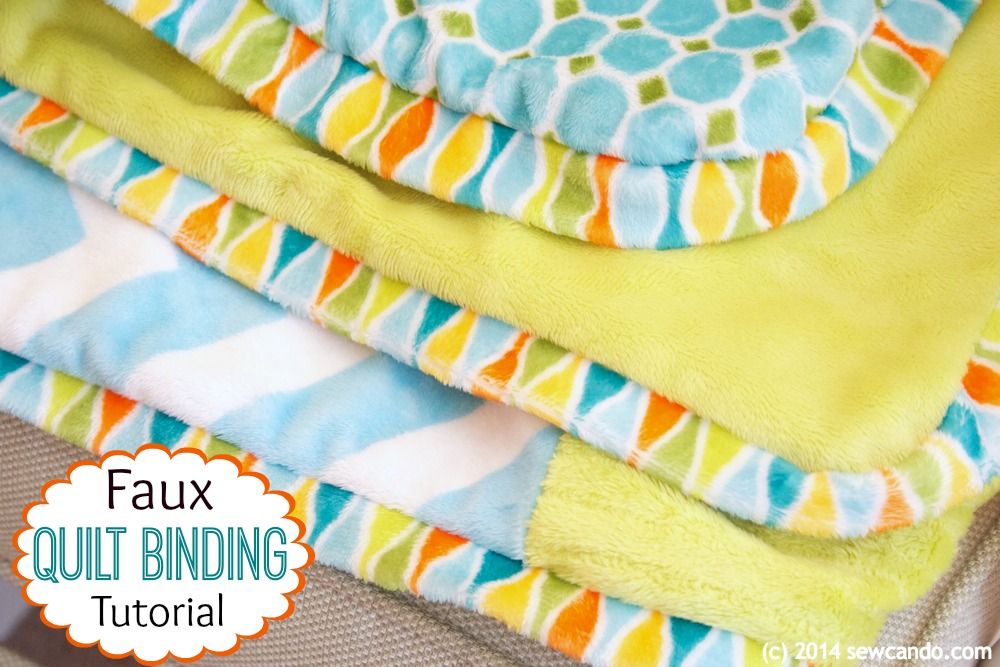 My Faux Quilt Binding Tutorial HERE
Best uses - blankets, pullover tops, cardigans, hats, elastic waisted pants, soft toys.
Also works for soft furnishings like my Choose Your Flair Custom Chair tutorial:
and my Cuddle Turtle Footstool Tutorial:
Thermal - waffle texture knit fabric (think old school long johns). Can range from light to medium weight.
Best uses - Tops, baby blankets, loungewear, underwear.
My DIY underwear tutorial HERE
Spandex/Swimsuit - synthetic medium weight knit with a sheen (slight shine). Mainly a four-way stretch.
Best uses - sportswear, dance wear, swimwear, leggings
My DIY Rash Guard/Sunsuit HERE
Worth The Weight:
Fabric weight is also really important. There's nothing worse than ordering a fun knit print to make a top and then realizing it's totally see through or papery thin despite it's seasonal colors or print. Or on the opposite end, it's so heavy there's no way it'll work for that formfitting headband or legging pattern.
What's GSM? While some descriptions give weight in ounces, often you'll see a number and the letters GSM for fabric weight. It means grams per square meter. Since a lot of knits come from outside the US (like Asia & Europe), this is pretty common. It's easy to convert:
Knowing the weight in ounces or GSM is MUCH more helpful when selecting knits than a shop's personal interpretation of light/medium/heavyweight. One shop's "medium weight" can be another's "light weight" and be the exact same fabric.
Light weight: 1-150GSM or 1-4.5oz*
Medium weight: 150-350GSM or 4.5-11oz
Heavy weight: 350+GSM or 11oz+
*If a fabric falls in the light weight category, be prepared that it will probably have some transparency if it's light in color.
Figuring Out Stretch:
There are tons of patterns and how-to's for countless knit fabric clothing so there's no better time to start sewing them yourself. I've even got my tried and true tips for Sewing Knits on a Sewing Machine too:
I'm not a fabric expert, but as you can see from the ton of knit sewing photos above, I've had a good amount of trial & error experience with knits of all sorts.
I'm glad to share what I've learned if it'll save someone else some frustration!