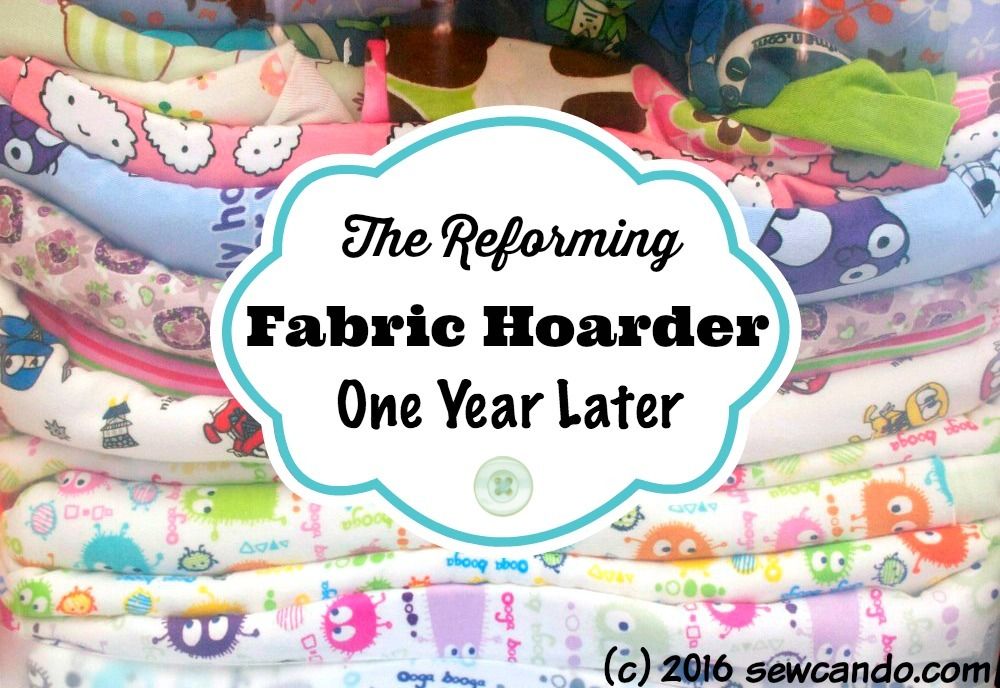 Well my friends, it's been one year since I admitted to the internet that I am a fabric hoarder. From all the feedback my hoarder posts got I knew I wasn't alone. It's been quite a journey. One that's still in progress. I thought, on this anniversary occasion, that it would be a good time to reveal what I've done, what I've learned and the answer to the real question - can you ever really stop being a fabric hoarder?
A year ago outlining the actual problem (or as fellow fabric addicts may still think, "dream fabric situation"): Too Much Fabric, Too Little Time. In a few short years I'd bought, been gifted & inherited way more fabric than I could get through and it resulted in this: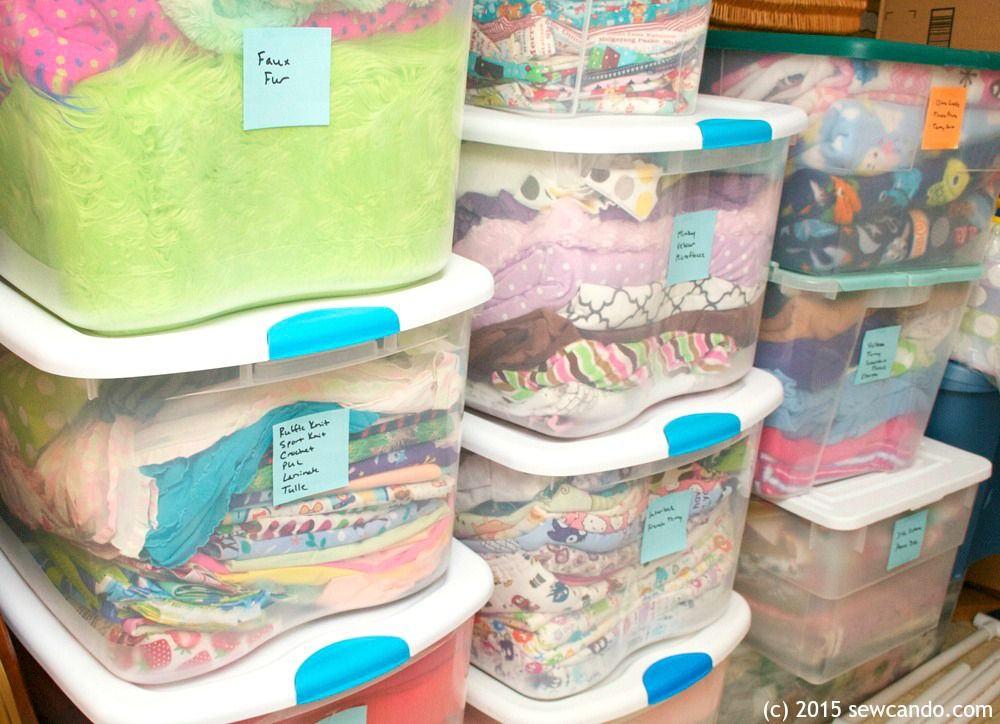 and this: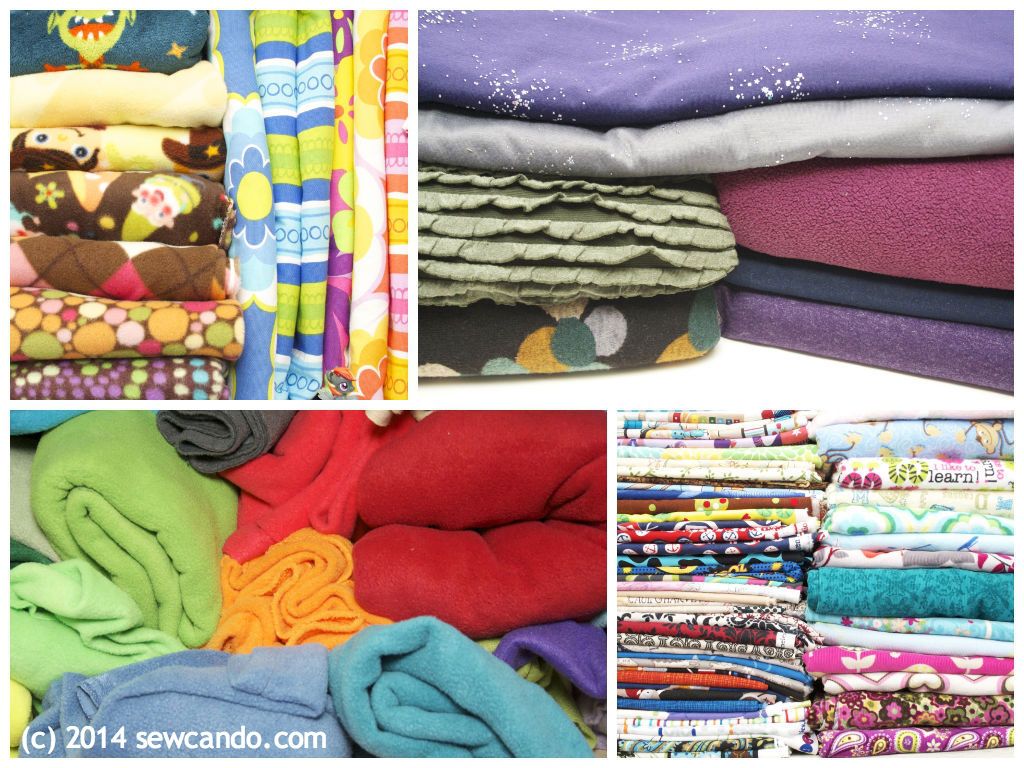 and this: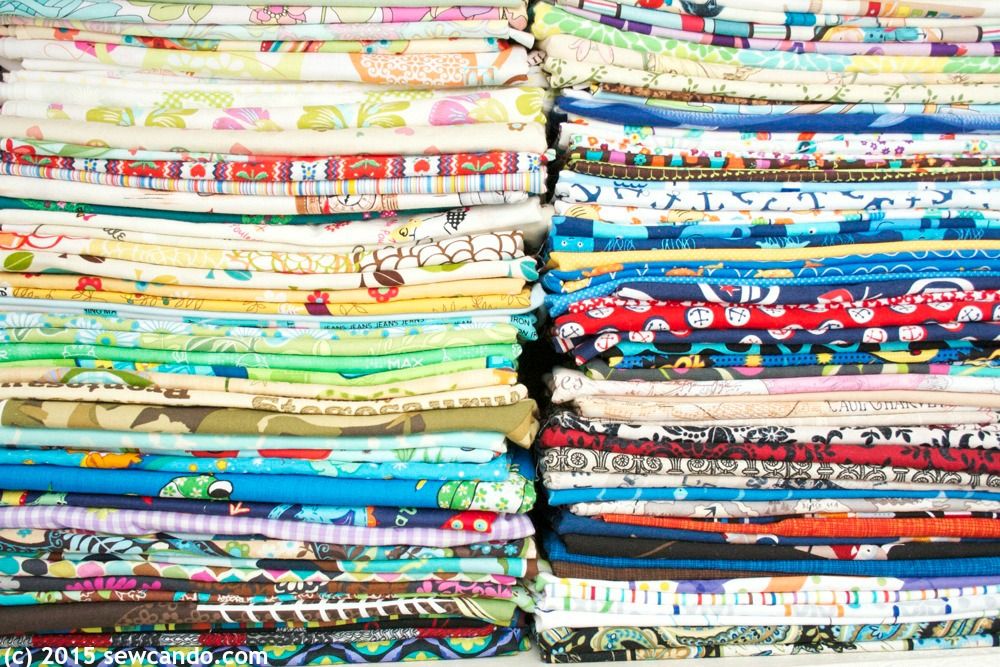 Sure it looks kinda organized, but it's still more than 1 woman can sew through in a year or even five. Plus, free time to actually sew, design and use said fabrics has dwindled more with every year. Kids getting older (aka no naps, more schoolwork, outside activities, chauffeuring, etc.), the house needing serious work/proper cleaning, family time coming before anti-social hiding out in the craft room...it just means less time to do projects folks!
Last year I started out with a solid plan and parts of it worked well. Others, not so much.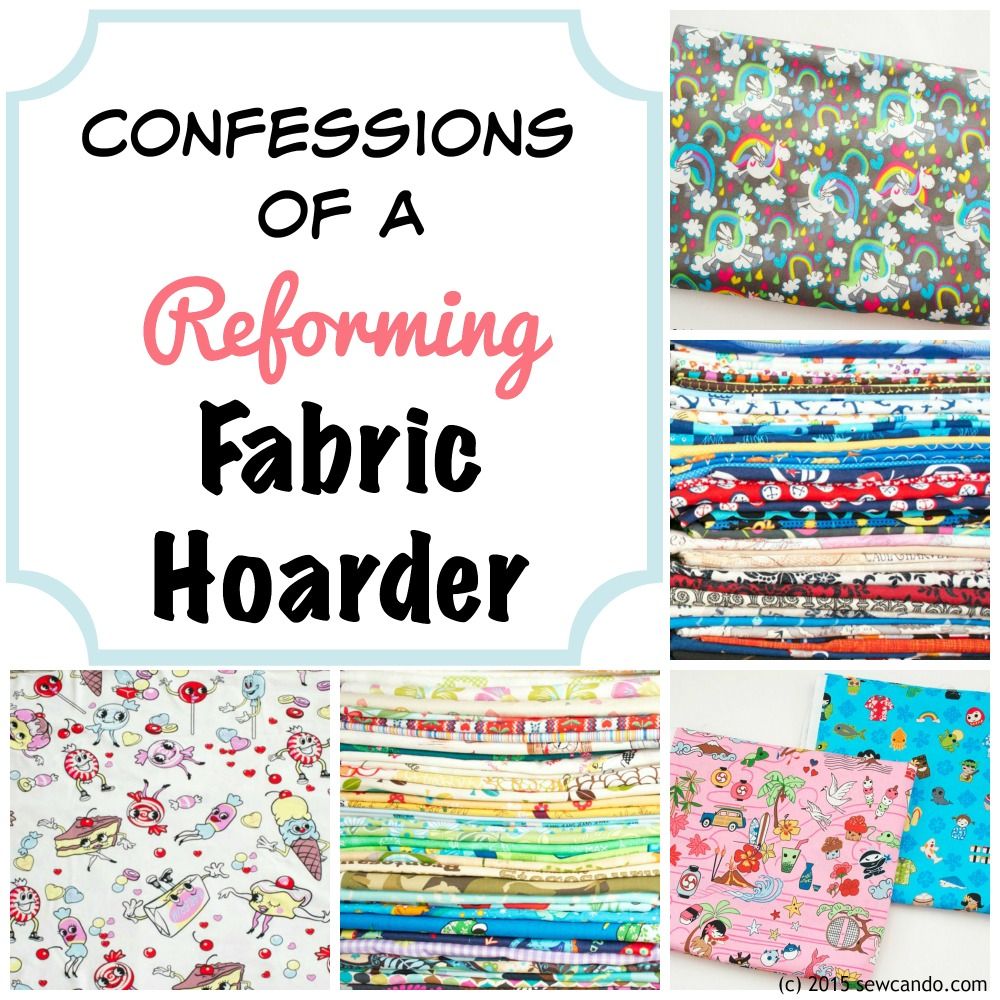 Sewing More. I tried this, but as you can see from the previous paragraph, that hasn't always been possible. I find a get spurts where I can sew a couple of things, but then have periods where I can't even get into my craft room for a week or two. Most of us have a lot of other things to juggle, so while it's a nice idea, it's not always realistic.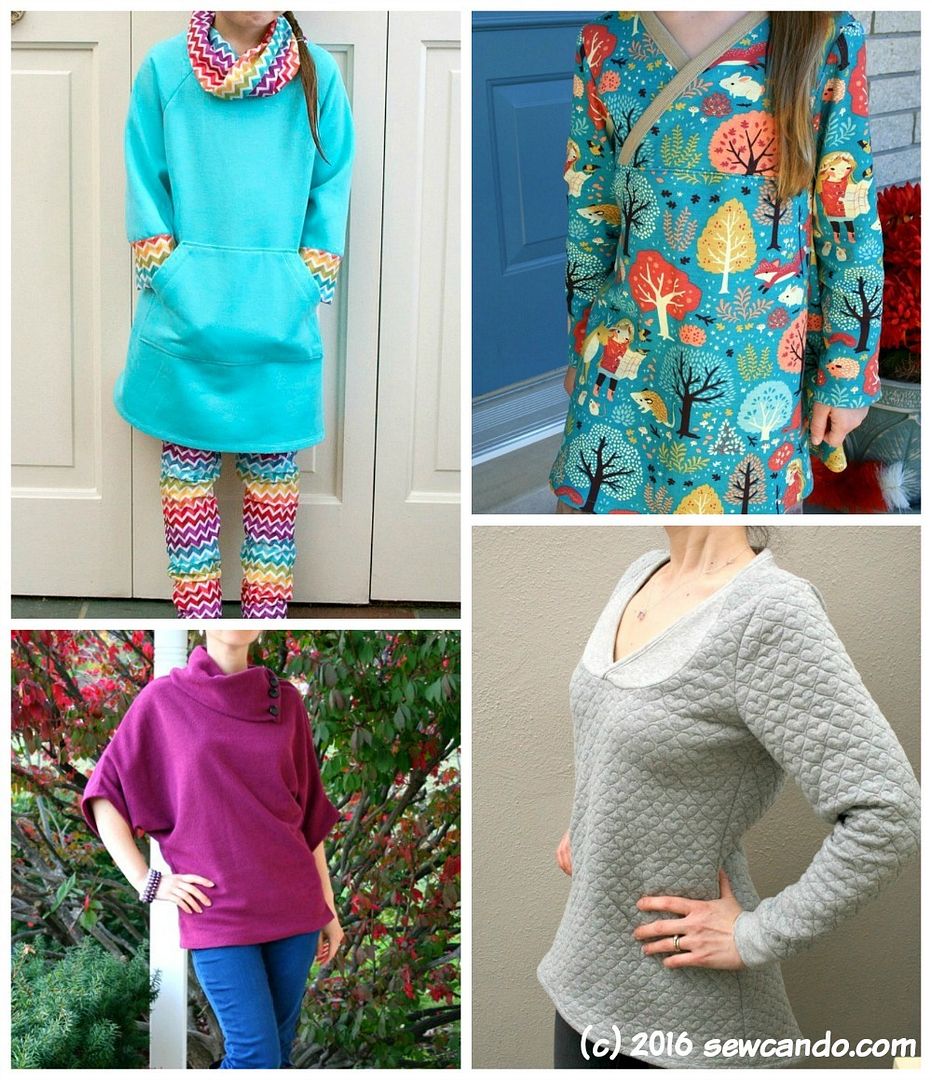 Some more recent stash-busting projects
Donating & Giving Away Fabric. I've continued doing this. It can be hard for fabric hoarders to let go, so I do a bit at a time. Some prints I couldn't bear parting with a year ago, were easy to gift away a few months ago. Time can make that emotional attachment wane and that's a good thing.
Selling Fabric. I've done this too, a bit at a time, via my Etsy shop, The Green Hedgehog. Like the gifting, I continue to add new things as my attachment to parts of my stash decreases. I never thought I'd part with these fun knits, but I listed them recently and feel good about them finding a new home:
Saying "See ya" To Scraps. I just had this epiphany last week. I had two ginormous plastic bins full of fabric scraps. Bins my kids could climb in. I couldn't even close them without something heavy on top because they were so full of fabric bits. FOR YEARS. Ask me how many times I actually dug around in them or used scraps from them? I could count them on one hand. It. Was. Madness. I started my annual New Year's attempt to clean up the basement and realized it was just stupid to hold onto them any longer. So, I put them all in garbage bags and donated them. Two 30 gallon bags full.
It felt great! I wasn't using them, I never even wanted to dig through them when I did need a small piece of fabric and I really needed to cut into the piles of unused fabric, so it made sense. Even seeing bits from past projects didn't get me all sentimental or nostalgically wanting to keep them like it used to do. Lesson learned: unless you actively use scraps on a regular basis, saving them for "something, someday" isn't smart.
Fabric You Can See. Out of sight, out of mind usually leads to fabric not being used. About every 2-3 months I've dug through my bins for seasonal fabrics to work through. It helps remind me of what I already have (as in don't buy more of the same stuff) and I do seem to sew through several yards that would otherwise sit around for another year. On the down side, it means things look like this for a while: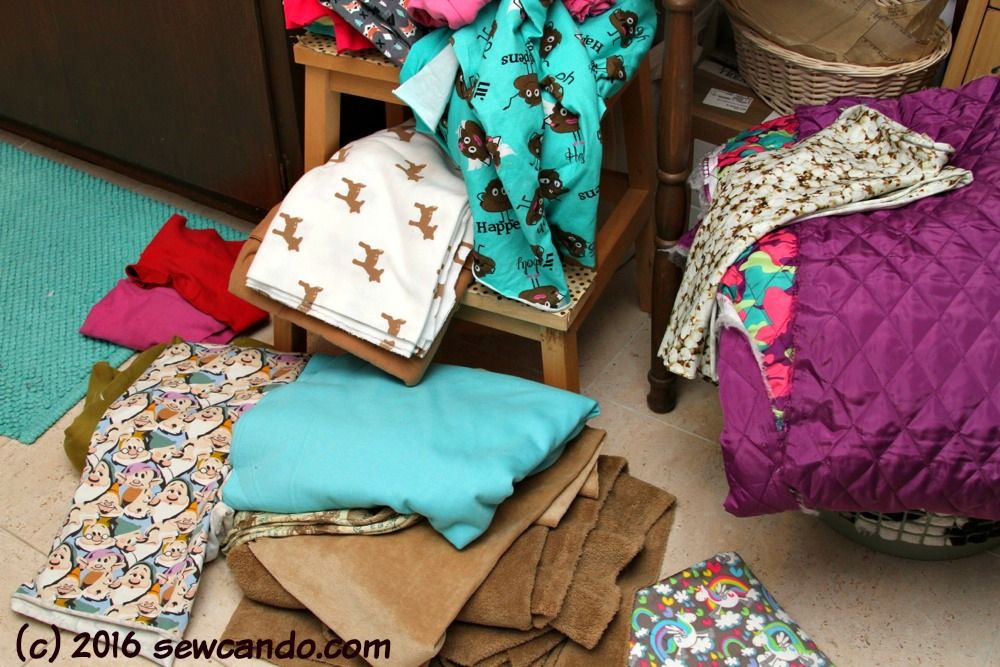 It's not ideal in appearance, but since I took these photos at the beginning of the year, I have used about 4-5 of these fabrics. So, while not the most attractive method, it does work, despite some going back in bins for a while. Now, photographing and blogging about the projects I made....that's another issue.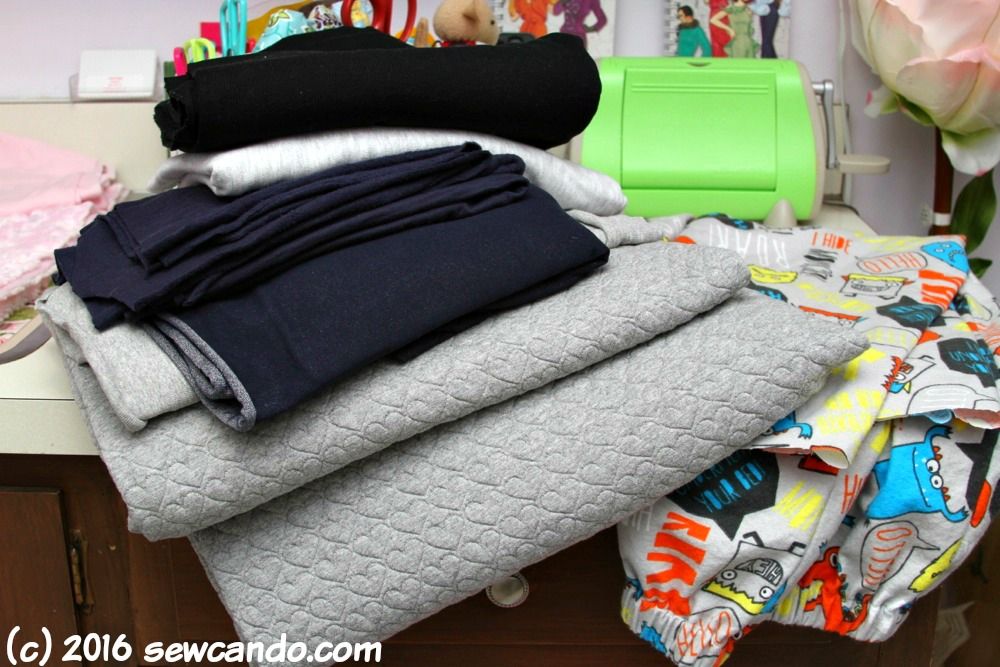 Using Self Restraint. This has been a big one. At first it was hard to stop myself from impulse buying at Jo-Ann's or loading up my cart whenever there was an online sale. Now I've started holding back and instead of going "Ooohh, that's pretty...I WANT it!", I
ask myself do I have an idea in mind
? If I can't think of a specific plan I can start right away (and not a vague, "I'd make a bag", but no idea what kind of bag), then I leave it.
Quality Over Quantity. While I've cut back on buying fabric I now buy differently too. I used to see sale or a low price on something and just buy it. A lot of the time it would end up being the wrong weight/print size/stretch, difficult to sew, or the print/color was cute when I bought it but not really flattering to wear. Now I tend to buy three main kinds of fabric: basics like rib & fleece knits in useful, solid colors, designer quilting cottons and custom print knits with spandex. While these sometimes cost a bit more, they're more versatile, sew up better and since I usually have to wait a bit to get them, I really appreciate and plan for them better.
Now, for the big question - can you ever really stop being a fabric hoarder?
I think it's possible. I can't say I'm not a hoarder yet because I've still got way more than I should, but I don't feel compelled to go wild every time I enter a fabric store or hear "fabric sale" anymore.
I'm a lot more thoughtful about what I buy and what I make these days.
It's true that I still have bins of fabric and that it's taking me longer than I'd like to work through and thin out the contents, but I do see things steadily moving in a pared down direction. I aim to have half the fabric stash I currently have by this time next year. It's a bit ambitious, but I really want to get to the point where it's more about fabric as a way to make things I love and less about having a fabric collection.
Until my next update. The fabric hoarding reformation continues!