Remember how I said I'd be keeping it real over here? Showing the not-so-perfect side of crafting? Well, settle in because today's all about the less than glamorous situation over here: Fabric Hoarding.
Every so often (ok, every time I go in my basement) I look at my fabric stash overflow and say that I'm not going to buy any more fabric until I thin things out. Until I make a bunch of stuff with what I have. Heaven knows there's enough of it accumulated over the past few years.
You may have seen this pic from my craft room tour with a neatly stacked, reasonable amount of fabric. Don't let it fool you - it's just the tip of the iceberg.
I tell myself it's crazy to buy more when I have so much just sitting around. And...about a week after that I will find myself perusing new fabrics online or impulse buying a few yards in the store while I'm there to buy something basic like thread or interfacing. It's not like I've got a specific project in mind and nothing I have will work either. Yes Friends, I'm a fabric hoarder.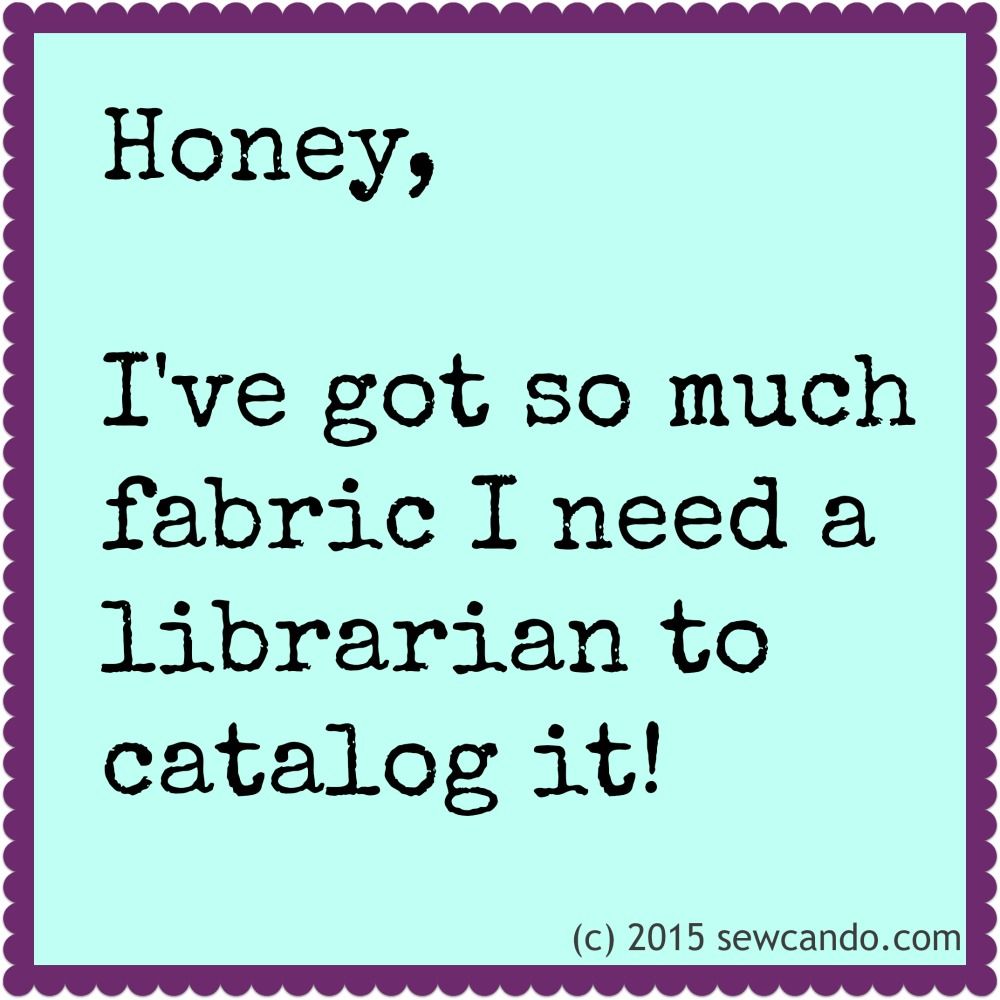 - You could make a project every day for two months and still have enough fabric left to slipcover your house inside AND out.
- You have more than 10 fabrics you can't bring yourself to use because "they're too special" or you're waiting for "the right project" to come along.
- Your fabric stash weighs more than the combined weight of you, your children and husband.
- If you won the lottery you'd build an addition or buy a separate house to properly organize your fabric stash.
Ok, maybe a few of those are a bit over the top, but you get the idea. If you've got a lot of fabric + continue to buy fabric + don't have the time/can't bear to use it all, then you're probably fabric hoarder.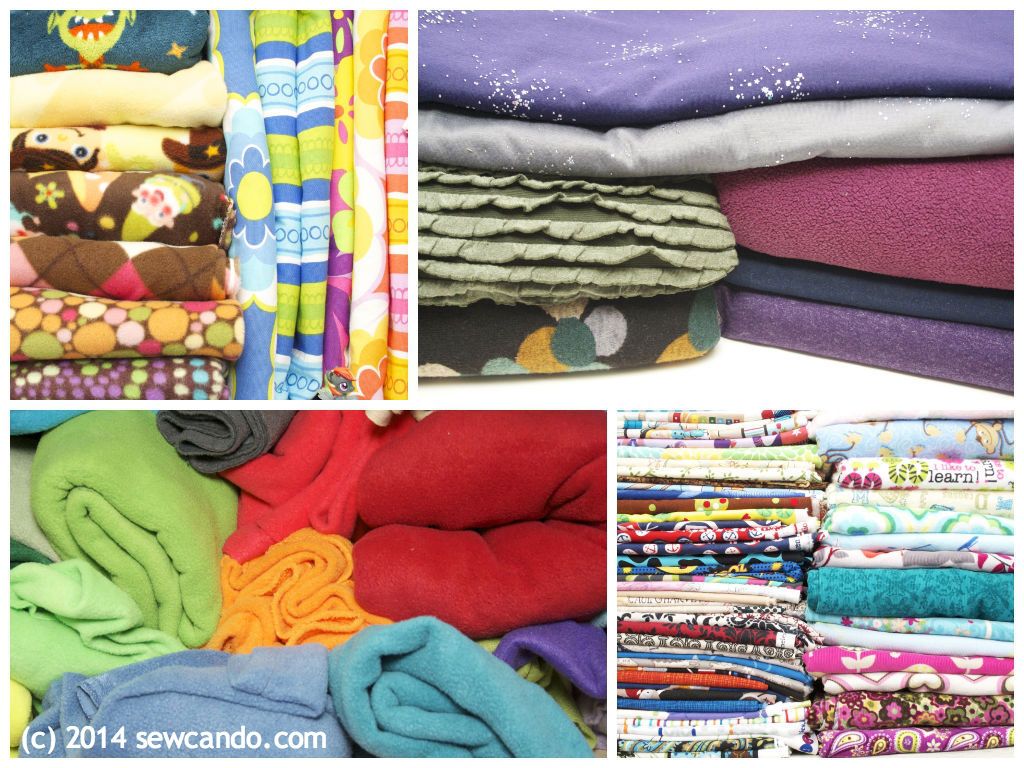 It didn't start out that way for me. I used to only buy what I needed for projects I was working on. Then friends & relations started to give me some of their never-got-around-to-use fabric. I learned how to sew with knits, home decor & other fabric types so I accumulated those. I won fabrics in giveaways & competitions and got some complimentary yards from working with fabric manufacturers and shops. I also got the 15% teacher discount card at Jo-Ann Stores (yes homeschooling qualifies, and yes it's a discount on top of sale prices), which made fabric buying even cheaper. When I was doing my custom hat making I had to start buying several yards at a time of a multitude of fleece colors for making things on demand. And making a little money from that gave me - you guessed it - more pocket money for buying fabric. It snowballed fast.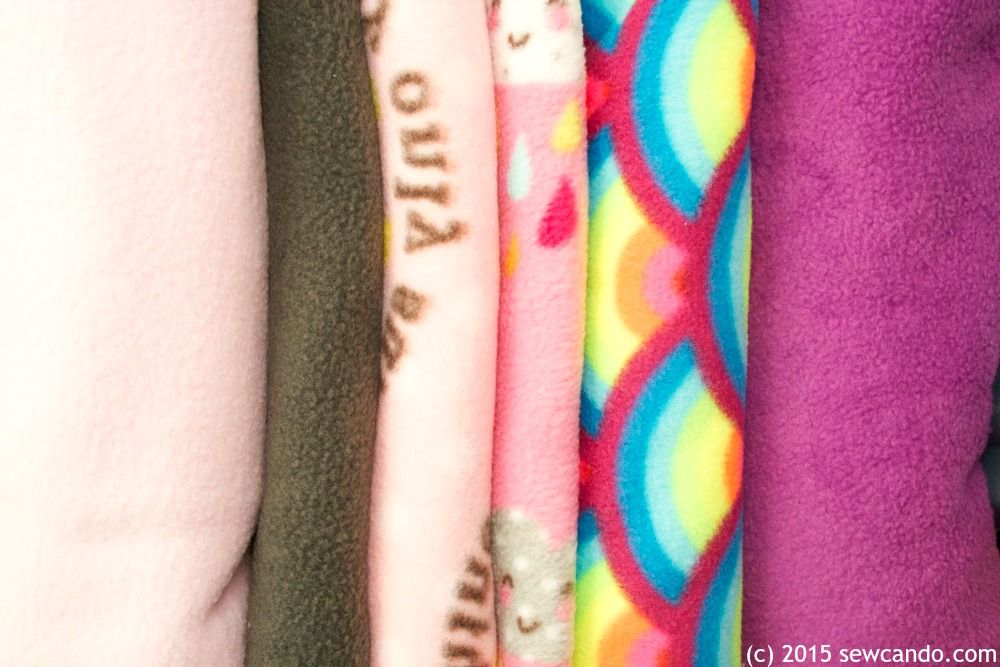 Fleece I bought because there was a huge sale. I already had loads.
I've kept most of my quilting cottons on a shelf in my craft room nook - the theory was I'd always see them so it would remind me of what I have and get me to use them more. Yeah, some of those have been up there for years, so that hasn't worked. The trouble is I'm so used to seeing them that they blend into the background and the only time I really look at them when I'm trying to shoehorn another yard up there. FAIL.
And before you are fooled into thinking "That's her out-of-control stash? Puh-lease, what's she going on about?", the rest is all in my dungeon basement. All my knits, minky, 1+yard cuts, faux furs, felts, fleeces & the like are down there. As well as my scrap bin that's big enough for all 3 kids could fit in. (hoarders can't bear to throw anything out you know). It's fabric bin central. My camera lens won't zoom out enough to get the lower row of bins or the loose stacks on top: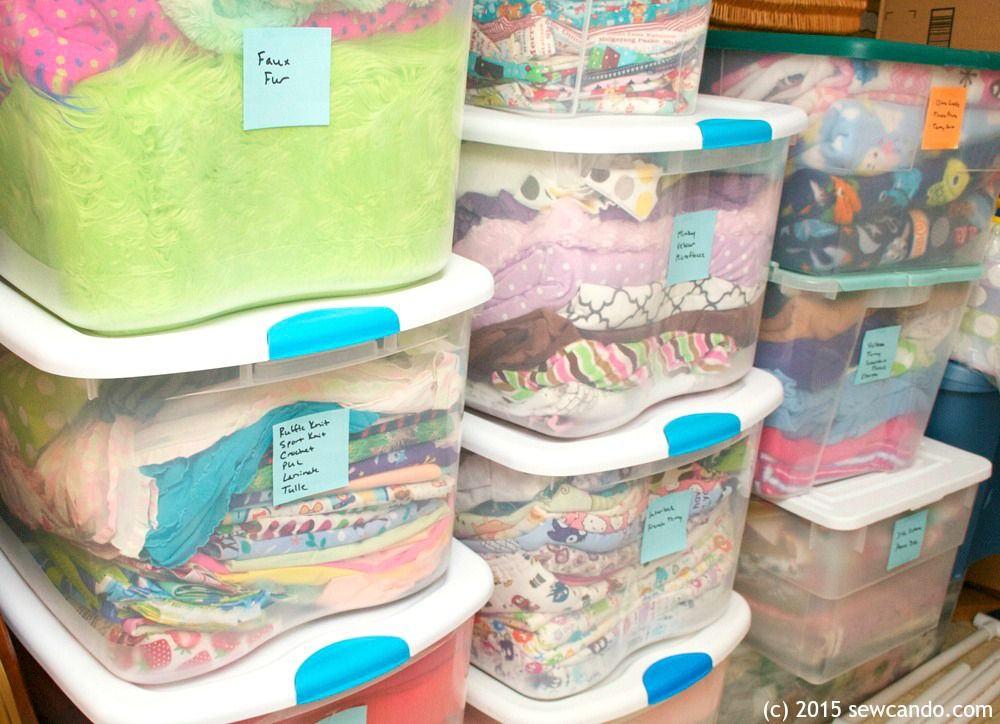 In the summer I told myself the issue was I couldn't see them since they were in cardboard boxes. I'd forget I even had some things until I was rooting around looking for something else & stumbled upon some long lost fabrics. I spent ages neatly folding and sorting them by fabric type. I swapped the boxes for clear plastic bins and labeled them all. I even carved out a section of the cedar closet we have down there to stack them all together so they'd be easy pull out. It's sort of helped - I've pulled out a number of fabrics to make things since then, but I've probably added more new stuff that I've used. It's better organized, but still a SEMI-FAIL.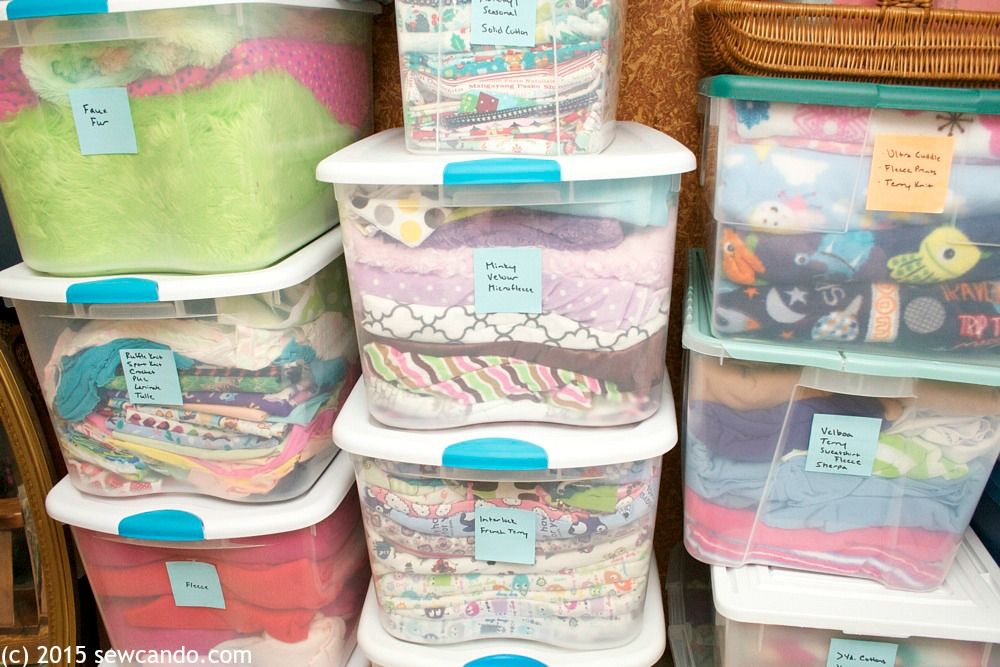 Part of my problem is that I sometimes create things around a particular fabric. The fabric itself inspires me to design something new, so when I see something that really captures my attention I get it. Then the time I was going to spend drafting a project plan for it gets back-burnered because the kids need me, or the dryer burns out, or I get some stupid illness for the umpteenth time (I've already gotten both my first flu and sinus infection of 2015 and we're just 2 wks into the year). Real life stuff getting in the way of craft fantasy time. The momentum gets lost and the fabric goes into the bin for later. Or years later.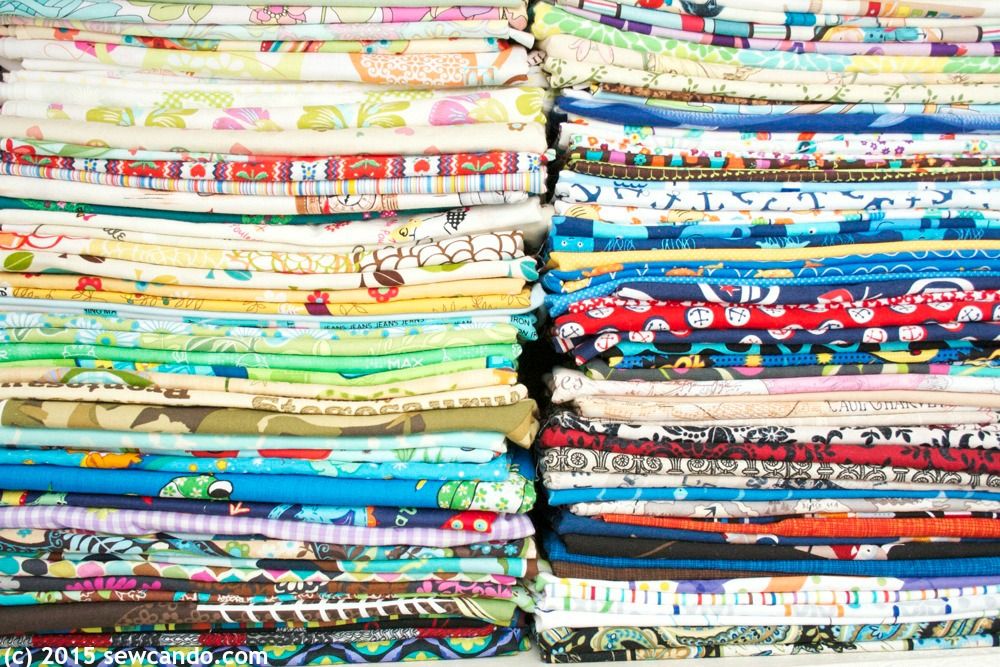 So many yards, so little time.
Another issue is what I call the Fear of Fabric Scarcity. Fabric manufacturers churn out collections at a breakneck pace these days - a print you see today may be discontinued and impossible to find in 6 months, so there's pressure to grab it now or lose it forever if you see something you like. Of course, like with electronics (when there's always a newer, better version out just after you buy yours), there will be even more cute & charming fabric prints out in no time, so the cycle is never ending.
Cute knits I was afraid I'd miss....that I still haven't used.
Don't get me wrong - I'm very grateful to have so much and it is a lot of fun "collecting" fabric, but it does make me feel wasteful having lovely things sitting around unused for so long. Plus, I don't want to hold onto things I don't really need or will use in a reasonable amount of time.
Sell, Giveaway & Donate: To thin things out, I've open a section in my Etsy shop for selling my large assortment of boy prints that are now too juvenile for my guys, smaller cuts I don't think I'll use and the ridiculous amount
(an entire bolt)
of My Little Pony fleece I bought last year that I'm sure I won't use up by myself.
Cottons, Flannels, Knits & Fleeces - ready to find a new home.
I also plan to do some giveaways for other stuff - maybe include some themed scrap bundles of smaller pieces if there's interest in those. Other random, not so great, but still usable fabrics will get donated so they are of use to someone, not just sitting in a pile here.
"1 In, 2 Out" Rule. If a new fabric is really beckoning, then I need to immediately remove two other fabrics I already have in that type before I buy it. Whether it's make something with them or selling/giving them away, more has to go out than is coming in.
Use Self Restraint. New emails & status updates on the latest fabrics from fabric shops. Circulars & coupons offering crazy deals and discounts. Other blogs showing adorable projects in new prints. They all encourage us to keep coveting new fabrics instead of focusing on what we've already got. I'm going to Canada next month and always find great things there, so I've told myself no buying anything before that and anything I buy there needs to have an immediate project plan or it has to stay in the store. To limit buying after that, I'm telling myself I need to have a certain amount earned from my pattern sales before I buy anything else AND impose a week-long "think it over" waiting period to make sure any new additions will really be something I want and will use, not just an impulse buy.
I'm not sure if these will really work to get things under control, but I'm willing to give 'em a try so my family doesn't have to carve a path around my fabric stacks in the future. Are you a fabric hoarder? Reformed hoarder? What do you do to keep your fabric/craft supplies under control?
UPDATE - Want to find out what worked and if I'm still hoarding? Check out my next post in this series HERE: