Sewing with knits. Some people dread it. I LOVE it. It can be a lot of fun if you've know the right techniques and have the right patterns. Finding them isn't always easy, but I'm going to share one I've recently tried that is great - even if you are new to knits.
The
Provincial Knit Top Pattern by Terra's Treasures. It covers
sizes 6 mos to 10 yrs: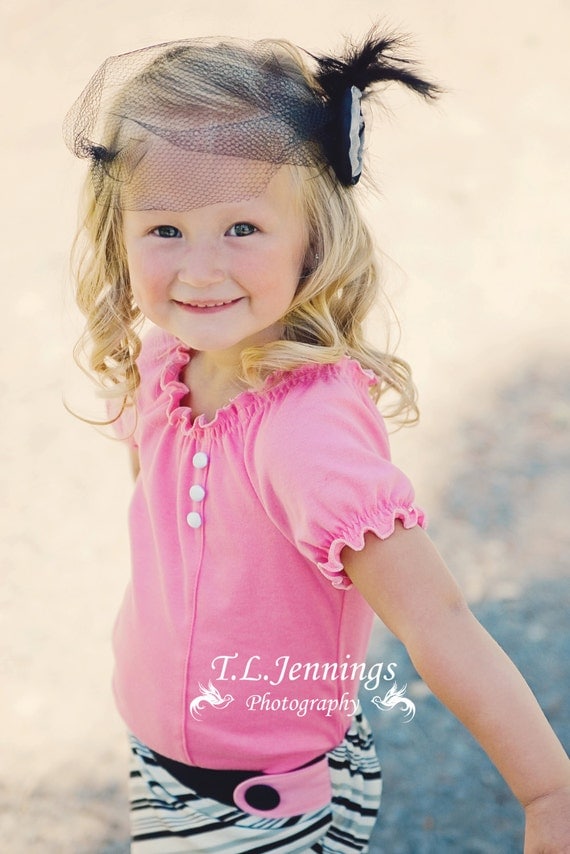 Terra's Treasures
offers versatile children's clothing PDF patterns. Stylish designs mixed with a practical "real kid" fit.
I really loved this pattern.
I chose it because it's a versatile style that works well with prints and solids.
The pattern comes with a short sleeve, but there's also a free 3/4 sleeve download available on the Terra's Treasures
Facebook
page, which I used to make mine. The top
has a cute lettuce leaf edge and shirred neckline & cuffs. And it's biggest draw for me was that it does not require a serger!
While I was trying out this pattern I happened to win a couple of knit clothing patterns from two other PDF pattern shops and noticed a few differences:
- Terra's Treasures pattern had neat, color-coded lines for sizing which made putting the printed pieces together easy. One of the other brands was all black, which was tough to figure out. The third was color, but the lines were so thin it was hard to follow when they overlapped.
- Another difference was the photos.
Another brand
had photos that were small and a bit fuzzy. The pieces of fabric weren't cut straight, stitching was kind of messy. It doesn't exactly instill confidence, does it?
The Terra's Treasures pattern had clear, well lit photos so it was easy to see what was going on in each step.
- And third, and this is a big thing, Terra's Treasures was the only pattern to actually explain what stitches to use when sewing knits and shared some really helpful tips for making it easier. The other two bizarrely showed regular straight stitching, which is a huge knits no-no that leads to broken threads, puckering and stretched fabric.
Is it any wonder so many people give up sewing knits? It all goes to show you need the right patterns to teach you!
I sew all my knits on my regular sewing machine, so I'm always on the lookout for knit patterns that don't require a serger.
The technique Terra provided for doing the lettuce edge on a standard machine is so simple and gives such a great look.
The shirred neckline and cuffs give it fashionable style and also make it easy to get on and off - which is a big plus for dressing my busy 4 year old.
There was also a two-piece decorative front option to give it more of a boutique look or to do two different fabrics.
I used these little forest animal buttons to add some interest to this solid fabric (and match some forest print corduroy pants I'm going to make):
I plan to try the other option of using ruffle fabric when I get a chance. So many looks from just one pattern! There are lots of other great patterns for boys and girls and several non-knit styles too.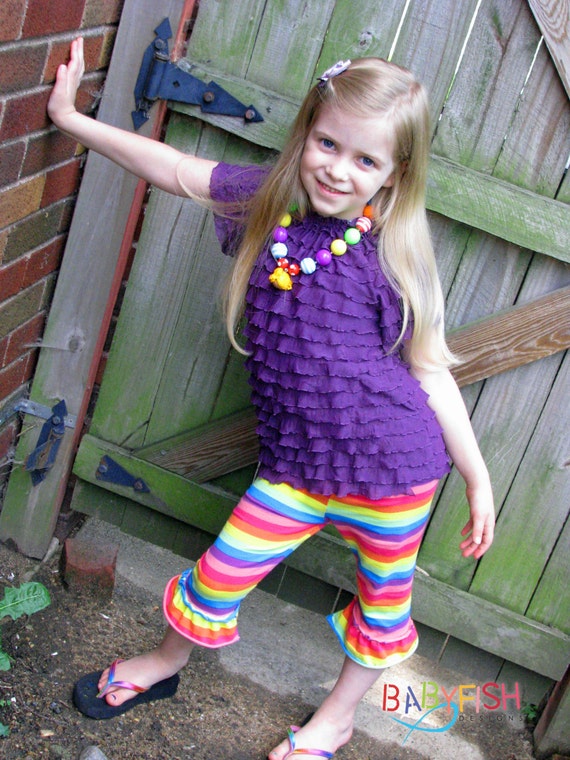 And every Friday, Terra's Treasures has a different $5 pattern deal, so they're very affordable. Become a fan of Terra's Treasures on Facebook to find out which pattern is on sale today and score a discount for yourself!
This is a sponsored post, for which I received compensation. I received a pattern to review. The opinions are completely my own, based on my honest experience with the item referenced.