Do you love fairy tales? Want to make a fast & easy Valentine's Day top that can be worn all year long? Then today's project is for you: a super Easy Fairy Tale Romance Shirt!
What makes this shirt a little "fancier" is what I used for the main design. The cut-out heart is actually flocked heat transfer material. I thought this would be nicer than the usual shiny plastic look of most iron-on transfers and give a richer, velvety finish:
For the lettering I used glittered heat transfer material for a bit of sparkle. It's hard to photograph glitter, but it looks more metallic and eye-catching in person:
Materials:
- Flocked and glitter heat transfer material
- Blank t-shirt
- Iron and press cloth
- Cricut Explore or Expression or other cutting machine*
- Optional: weeding tool/pick
*
I don't get any sort of compensation from Cricut or Silhouette.
I've always bought my own machines and have no vested interest in promoting any particular brand, so what you see here is a regular person experience. No amped-up enthusiasm or over-simplified rave reviews from an affiliate/team member/recipient of free branded products.
Seriously, how objective is that opinion really going to be? I'll be sharing more as I try things further and will do some brand comparisons + detailed reviews in the future too.
Design Info: If you want the same prince & princess heart shape, you'll need to buy it from Cricut's online design store or use the cartridge Love Struck 2010.
I bought myself a Cricut Explore a couple months back, when I saw a fantastic sale price under $200. It even came with a free 3 month subscription, plus free bluetooth, so it's gotten me to try their designs more frequently than I had before. Still trying to decide if I'm going to pay to keep the subscription when the freebie period is up...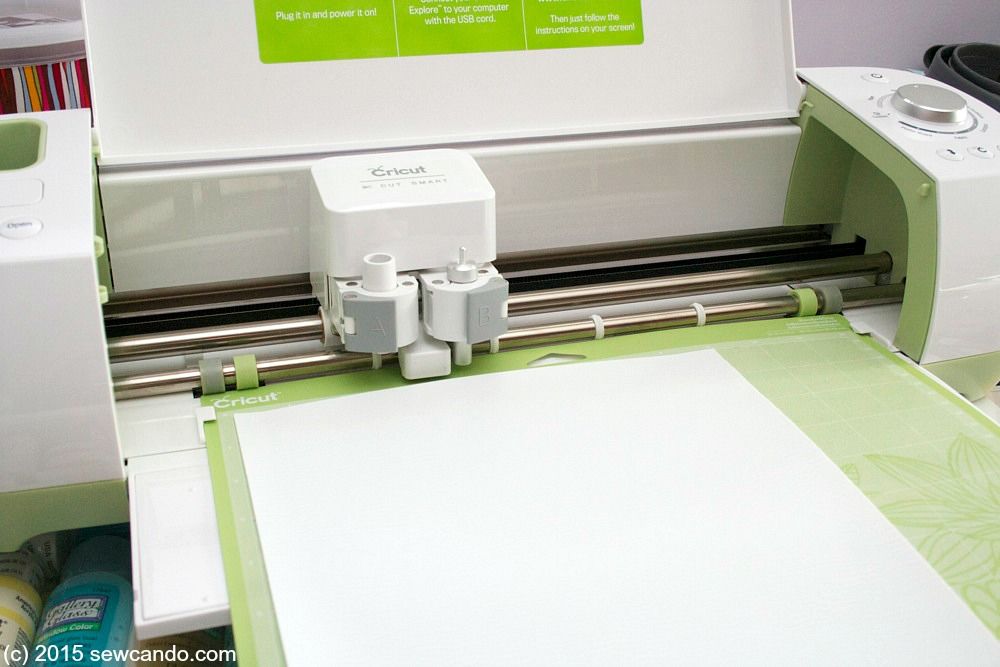 In the Cricut Design Space online software you can select your project canvas, so I picked a shirt. You can also specify general size. I did Toddler (the custom size feature doesn't seem to work right) and picked a pink color close to my actual shirt. This made it really easy to figure out my sizing for the lettering & heart. I hid the background layer on the heart so only the lace bit remained. For the lettering I used the font Nursery Rhymes. I inched the spacing a bit closer so most of them could be welded together for easier placement on the actual shirt. The lettering was also mirrored so it faced the correct side when cut.
The material goes face down on the mat, with the plastic carrier still on. I set the machine to heat transfer and cut. Even though the flocked one is a bit thicker, the Explore still did a good job cutting. I was glad I had a weeding tool though, since it took a little patience getting all the tiny bits out of the nooks and crannies. Then it was iron time.
I'll be honest, I hadn't had success with heat transfers in the past. No matter how well I thought they were fused, they started coming off right away, & got worse after washing. I gave up on them for years. Then I got this machine and figured there had to be some tricks. I researched, then tested a few and found a couple of key tips that really work:
1. Iron the shirt first so it's warm when the iron-on is placed on it - this helps it adhere better. Then use a press cloth between the iron and plastic carrier when adhering the transfer. When cooled turn the shirt inside out and iron on that inner side too. Peel the plastic off when totally cool.
2. Keep the iron temperature moderate - Cotton no steam. It's better to make several passes (with cooling time in between) on that temp than going hotter and just melting the material. Higher temperatures won't make it stick any better - just wreck the transfer.
3. Wash it on delicate, inside out and line dry. Too much turbulence or hot temps in the washer & dryer are just going to stress the iron-on and make it peel off around the edges. DIY versions using a home iron aren't just like manufactured shirts. Nobody really mentions the longevity of their transfer shirts or shows how they look after a few washes, but here's ours after some washing:
4. Be prepared to re-iron a little. After a full day of active wear on my daughter (aka rolling around on the ground, stretching like a maniac...aka a 5yr old being a 5 yr old), I noticed the tip of the heart coming up a little and re-iron it before washing it. I also did a little lint rolling since she'd collected a lot of fuzz on the flocking from the aforementioned rolling around. I examined it when it was dry & it looked just as good as when first fused. Heat transfer success at last!
My little lady's first comment when she saw the shirt was "It's you and Daddy!". It's pretty nice to know she thinks of us as being Happily Ever After. And to know this heat transfer shirt experience has a happy ending too:)