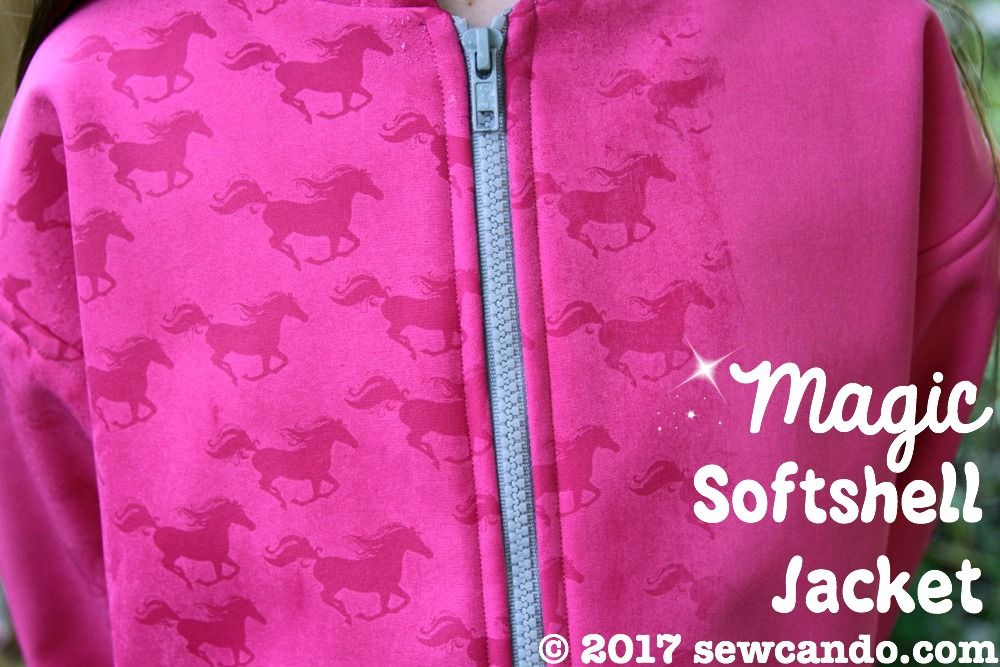 Can a jacket be magical? After this project I can honestly say, absolutely! For my daughter's birthday I decided to make her a new jacket to wear as the weather cools down. I wanted something she could wear in fall, spring & summer and maybe even on a few warmer winter days. Something lightweight, but protective from the elements. So I made this little number: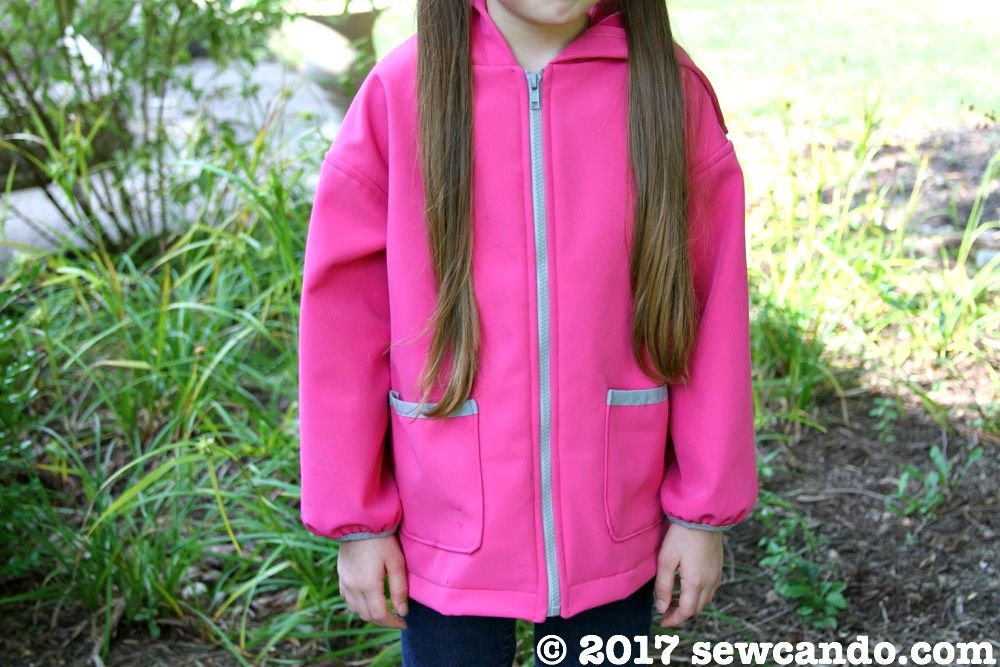 By using softshell fabric it's both wind and water repellant to keep her warm and dry. If you're not familiar with softshell, it's a polyester that is a smooth woven on the outside (to keep the elements out) and napped on the inside for lightweight heat insulation. It's also very breathable and has just a hint of stretch. Perfect for outerwear. Nice & practical, right?
But it has a hidden secret that gets revealed when the jacket gets wet: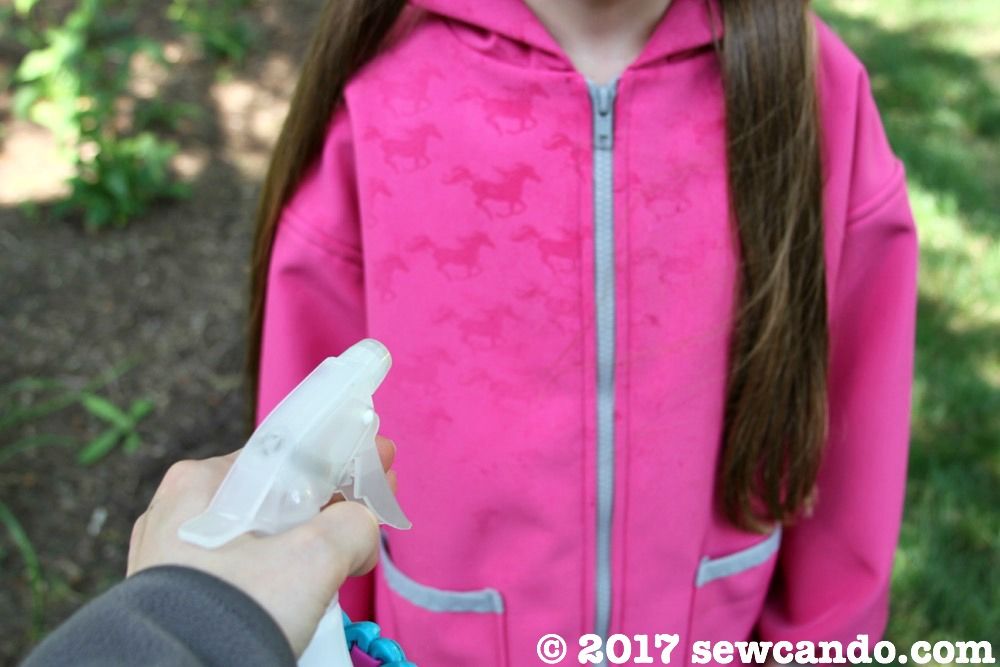 These galloping ponies appear!
It adds a layer of awesomeness to an otherwise basic jacket:
Getting caught in the rain has never been more fun: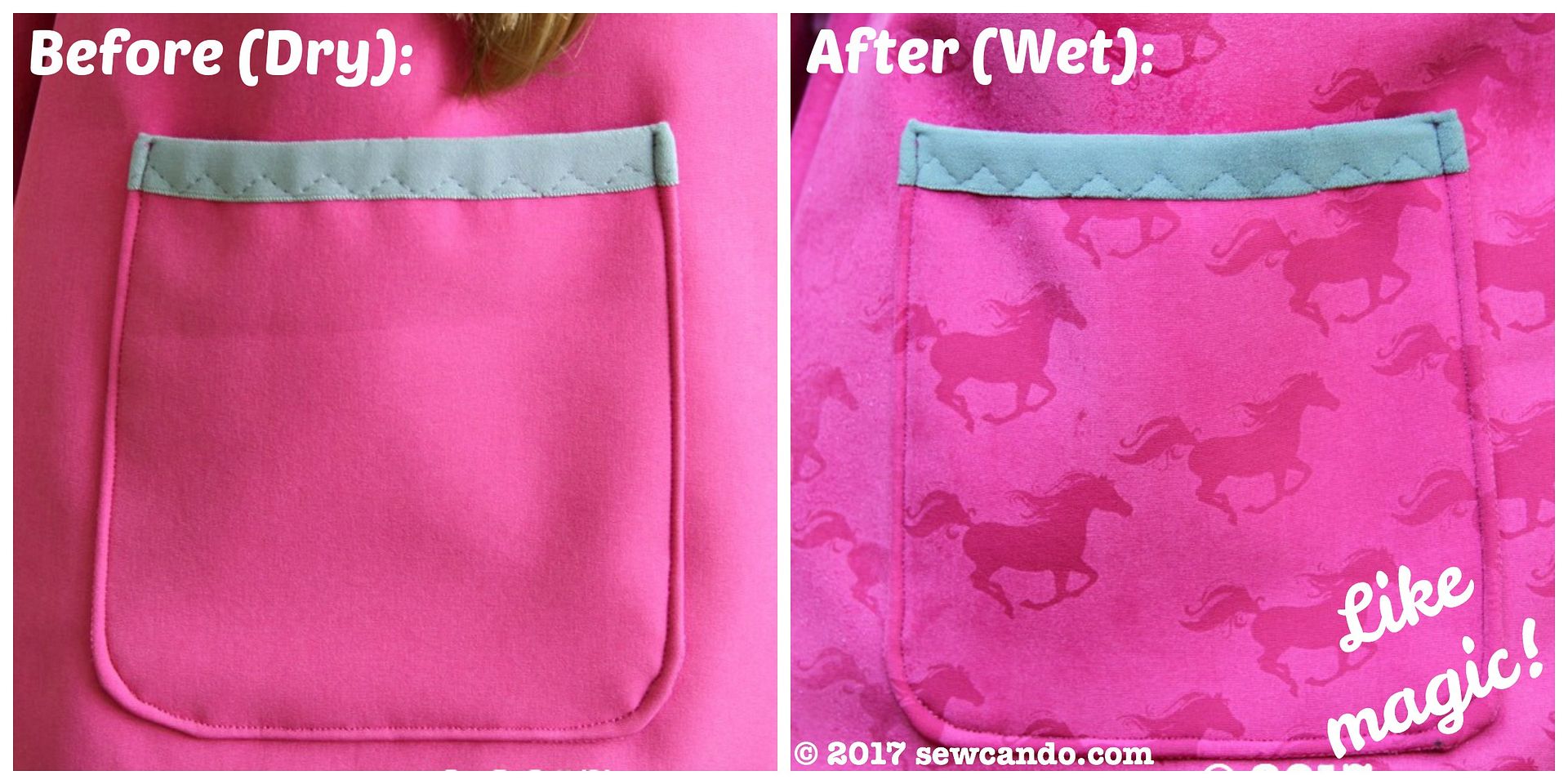 The great thing about using softshell fabric is no lining is required. Just be sure to use clips when stitching, not pins, since pinholes will be visible (much like with PUL or laminate). It has a cozy brushed fleece wrong side, which makes for both any easy sew and a comfy, bulk-free feel for the littler wearer.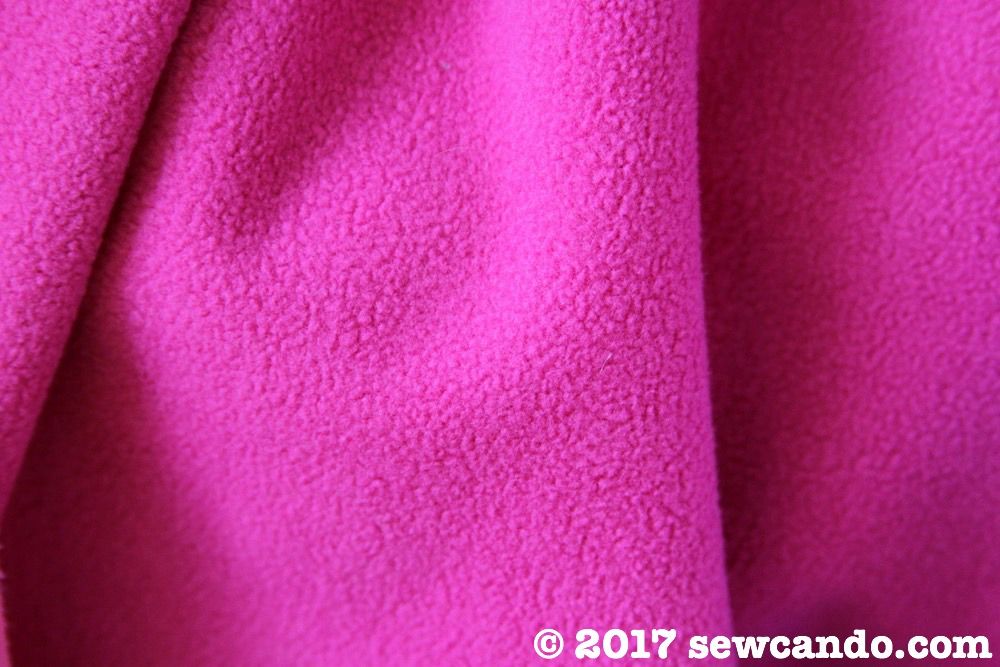 I bought this awesome fabric as an imported pre-order from Frollein S, a custom fabric group that also has a retail site. I shared a bit about How To Shop Custom Fabric Groups a few weeks back here. They have some regular print soft shells and a couple of the magic reveal prints left on their retail site here right now.
The pattern I used is an old one from the 80s my mom gave me from her stash, McCalls 2967. I did make a few adjustments though. First was making it about 4 inches shorter - the original design was mid-thigh length which looked odd. I also used FOE to gather the sleeve cuffs instead of leaving them wide. I liked how the grey trim coordinated with my grey zipper and the snugger fit would keep wind and rain out of her sleeves.
I also had to size down the patch pockets to fit the shorter front and did a little FOE trim at the tops to make everything match-y like a store bought jacket would be.
Except I haven't seen any jackets in stores that make sweet ponies appear in the rain, like ours does:
This was my first experience working with softshell and I'm looking forward to making more things with the other magic reveal prints I bought. I just need to find the ideal jacket pattern for my 11yr old and one for myself. And figure out what to do with the cool scrap bits I have left over - they're too awesome to just toss in the bin!
What would you make with softshell fabric?