As a bit of a wrap up to my summer series Sewing with Knits, I thought I'd share a bit about a fabric source that is somewhat mysterious and not all that well know. In fact, it's a fabric buying option many aren't even aware of: Custom Fabric Groups.
What are Custom Fabric Groups?
For those that aren't familiar, these are similar to co-ops. It's essentially pre-ordering fabric that is run in small custom batches. The fabric is usually only available from that particular group and not something you'll be able to search for in other shops. The
Poo Happens pajamas
I made last year with this panel and matching yardage were a custom group buy:
These groups can be a great source for beautiful high quality fabrics, but figuring them out takes a bit more than just adding something you like to your cart and buying it, so like this custom run hypercolor knit, I'm revealing more details here:
How do they work?
Most use a private group on Facebook to operate. You join the group and read through their terms (often pinned at the top of the page) and agree to abide by their rules. Others are available through a retail shop in a special pre-order section.
Advantages of Custom Fabric Groups:
- Unique prints and fabrics. If you love knit fabric, these groups offer designs and colors you won't see in normal shops.
- Hard to find imports. Some groups special in Euro or Japanese fabric brands that are nearly impossible to find in the US/Canada or are too expensive to ship overseas as an individual.
- Specialty fabrics like double gauze, PUL, soft-shell, milky and rib knit are offered in many too.
- Consistent quality. Most use the same printer or manufacturer for their orders so the quality and weight of the fabric, as well as the printing, tends to be very reliable.
- Customer input. Some take suggestions of designs, themes and color ways or are willing to re-run previous prints that have proven popular.
- Getting ahead of the season. Pre-ordering means prints for specific times of year or holidays are open months in advance so you can plan what you're going to make sooner.
- Strikeoff imagery. Personally I find this a major factor when buying fabric. Actual photos of the strikeoffs. Instead of just a digital image, many owners show these samples from the printer (run to make sure color, scale & clarity are good before printing an entire roll of a fabric). They'll also show the fabrics sewn up by their staff or fellow customers who've volunteered so you can see what it'll look like as a finished item.
Disadvantages of Custom Fabric Groups:
Some of this is purely my own opinion, but they are factors to keep in mind.
- Higher price point. Custom costs more. Supply & demand and all that. I've seen some groups charge over $30/yd for knits, with most over $20/yd.
- Prepaying. To pre-order, you usually have to pay in advance or at least a deposit. Some, however, do offer layaway options if you order a certain amount.
- Wait time. It ain't Amazon Prime fast. Expect it to take many weeks before a pre-order closes, gets printed, ships to the seller and then is shipping out to you. Most groups tell what the approximate lead time is, but it varies. I've seen some be just 4 weeks, others as much as 12. Pre-orders are not good when your sewing is extra time sensitive because delays can happen.
- Frenzy mentality. Kind of like the Lularoe method of doing business, which to me is a horrible & annoying way to shop. Some groups are really haphazard on when they open up preorder rounds. It can be easy to miss a short window to sign up or keep up when they have many different rounds overlapping. Some also have a limited amount of yardage allotted so unless you're stalking the page and signing up asap, you can miss the chance to order. A few were too much effort for me to constantly keep tabs on, so I left them. Buying fabric should be fun, not work!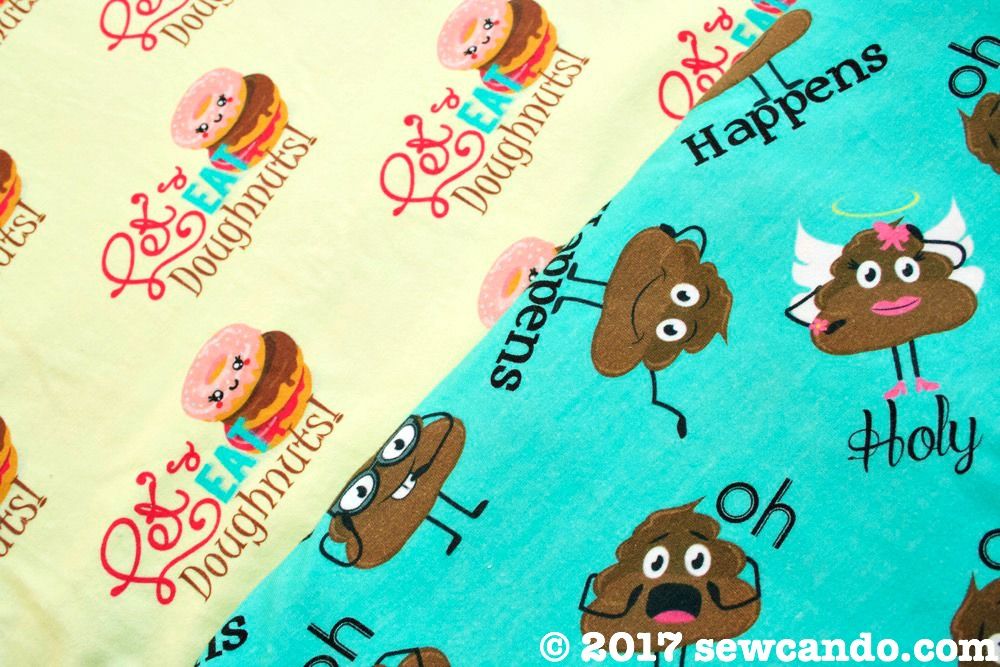 Let's Eat Doughnuts & Poo Happens from now closed Bebe Flow Fabrics Group
Beware of Scams
- unfortunately there are some custom fabric groups that are shady. Sometimes it's because the person running it lacks any business sense or because they don't have enough money to actually pay for the fabrics they're having printed and in over their heads. Or they let their personal dramas impact their commitments to customers. Sometimes it's just someone trying to swindle.
One group I'd bought fabric from one time changed owners. The new owner wasn't responding when fabrics didn't arrive when promised and then had excuse after excuse of why things were (held up at customs, printer problems, orders stolen off her porch, etc.). People demanded refunds and it was messy. I was grateful I hadn't ordered anything new and left the group.
Some shady types have even closed up, only to open under a new name. On the plus side, there are some Facebook groups, like Fabric Scams & Information Group where people review these groups. If you're not sure what the track record or reputation is (or you've had a problem and want others to know to avoid it), a quick look there could give you a solid answer.
A Word on Licensed Designs:
This is an area that appears very grey in Custom Fabric Groups. A lot of groups run their own prints using licensed characters from popular tv shows & movies. Disney stuff shows up A LOT. Many believe since they are redrawing it themselves or tweaking it somewhat that it falls under "inspired by" and is not copyright infringement. Sometimes that's true. Others copy characters exactly. Some even blatantly copy exclusive designs created by other custom fabric groups!
I try avoid buying those - a few years back I assumed designs like that were licensed or authorized, but it's clear they are not.
Many buyers just don't care because they want prints with their favorite characters. You have to decide where your comfort level is with buying those. And making anything with them that you sell can transfer the risk to you. Personally, I feel like there are enough other prints available that are beautiful and haven't stolen designs from somewhere else.
Best of Both Worlds Option:
Online retail shops that offer pre-order options. These fabrics are from one - Sahara Fabrics (2020 update: unfortunately this shop closed at the beginning of the year, but when shopping small fabric shop websites that sell knits just look for a pre-order section)
- Usually these shops have a retail FB page and a private FB group where all the pre-order news goes first.
- Fabrics are offered at a special pre-order price, but whatever is left then goes in the retail shop. So if you're eyeing a print, but can't get it right now, there's still a possible chance to buy some down the road.
- Reputable. You're ordering through a business storefront, not just signing up via a Google doc some random lady has on Facebook.
Last Thoughts:
- Each group is a little different so it's important to read through the terms before you order anything and not be afraid to ask questions.
- Using PayPal to make payments is key since it offers buyer protection to get money back in the event something doesn't work out.
- Custom fabric can be awesome, but also very addicting. It's hard enough for many of us not to buy pretty fabric as soon as we see it, but groups add a level of urgency and impulse buying, so stick to a budget and be ok with walking away from an amazing print if it's not a good time personally. There will ALWAYS be more pretties!
- And if a group is offering too-good-to-be-true prices, use common sense and run for the hills.
If you've got any tips or suggestions about Custom Fabric Groups, share 'em below!