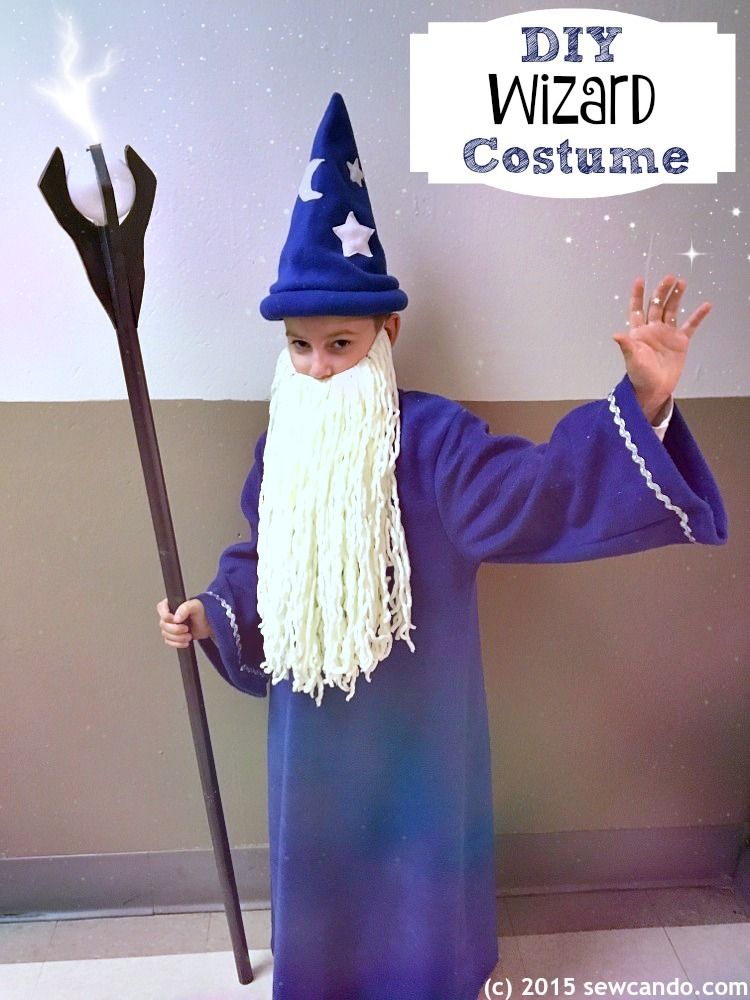 Behold - it's the mystical & magical appearance of a powerful wizard....who is also small and cute at the same time!
Some years I really love my kids' Halloween costume choices. This is definitely one of those years. Last week I shared my daughter's Fluffy Chicken costume and today I've got my middle guy's Magical Wizard. Every time I look at him costumed up I can't help but smile.
He even promises to use his powers for good...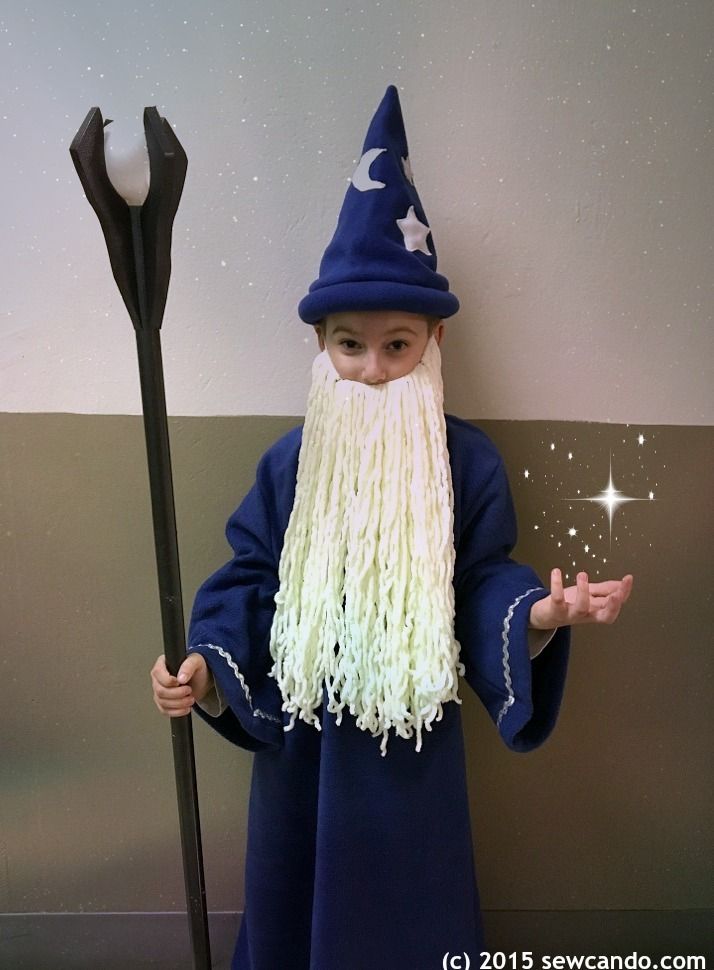 but he's prepared to throw down some serious power if challenged. Look out evil-doers!
The idea was actually developed around this blue fleece wizard hat I'd made for him years before as a dress-up play item. I'd gone a bit Sorcerer's Apprentice with the appliqued moon & stars and thick stuffed brim. As my hard drive blew up a few weeks ago, I have no idea where all my "how I made it" photos from back then are for the hat, b
ut I can share how to do everything else!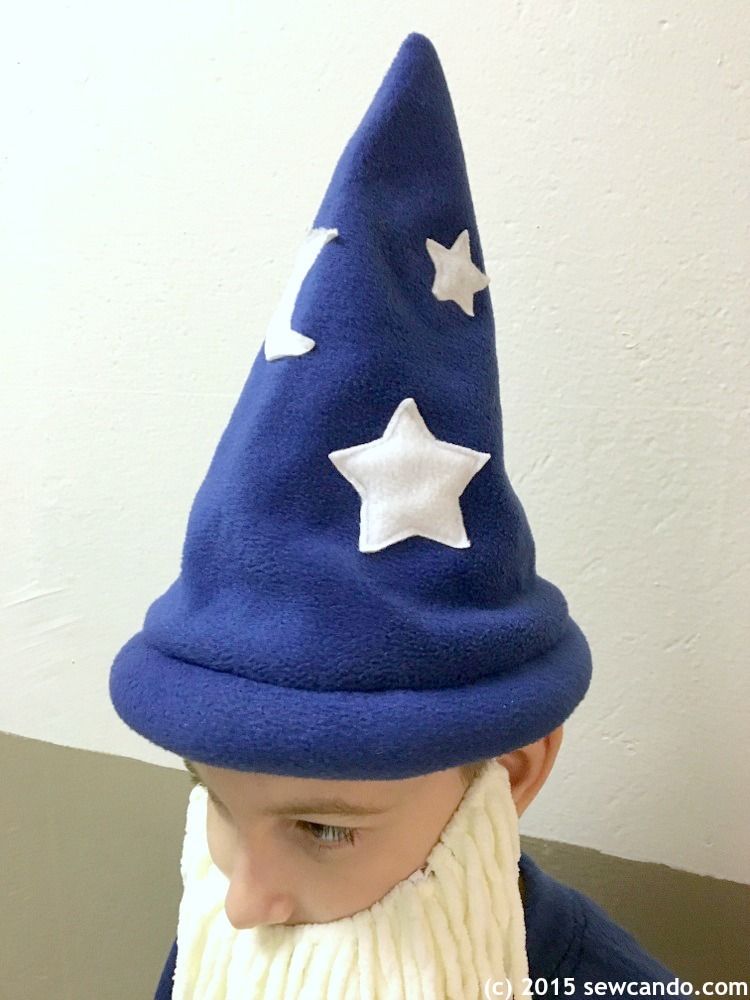 For the wizard robe, I didn't want to have to spend time drafting a completely new pattern (would I ever need to make another floor length tunic for a 10yr old? Probably not), so I just modified a pullover top pattern I already had: KwikSew 2745. It was ideal with a v-neck shape and loose fit, which would be perfect over his normal clothes by making it two sizes bigger than his usual. I extended the front & back piece lengths by about 19 inches and flared out the sides starting 4 inches from the underarm, and then out about 4 inches wider than the shirt's normal bottom edge, using a yardstick: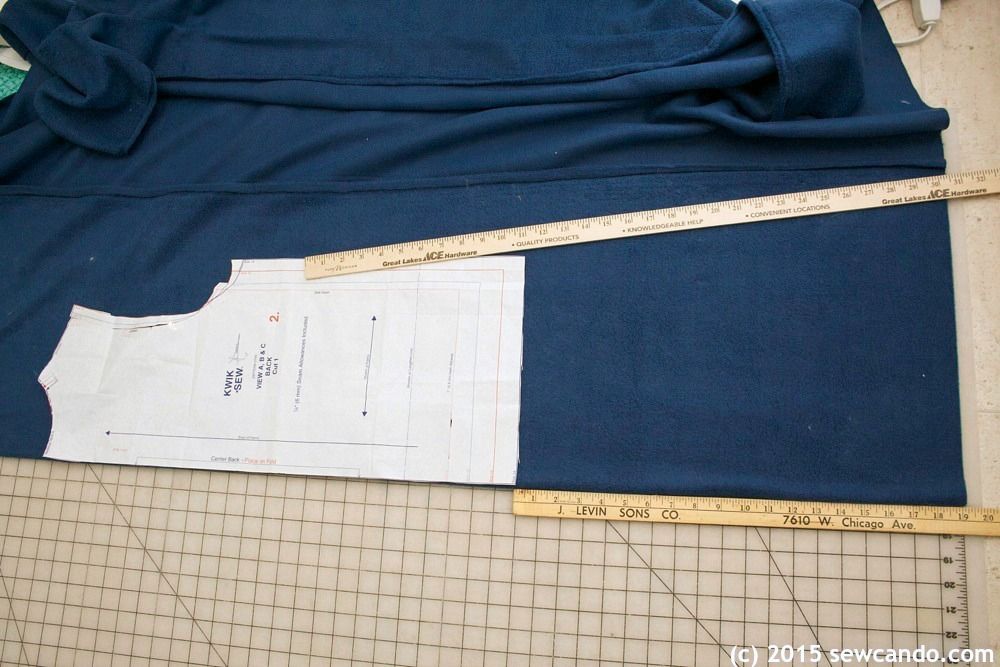 When both sides were done, I had a proper robe shape: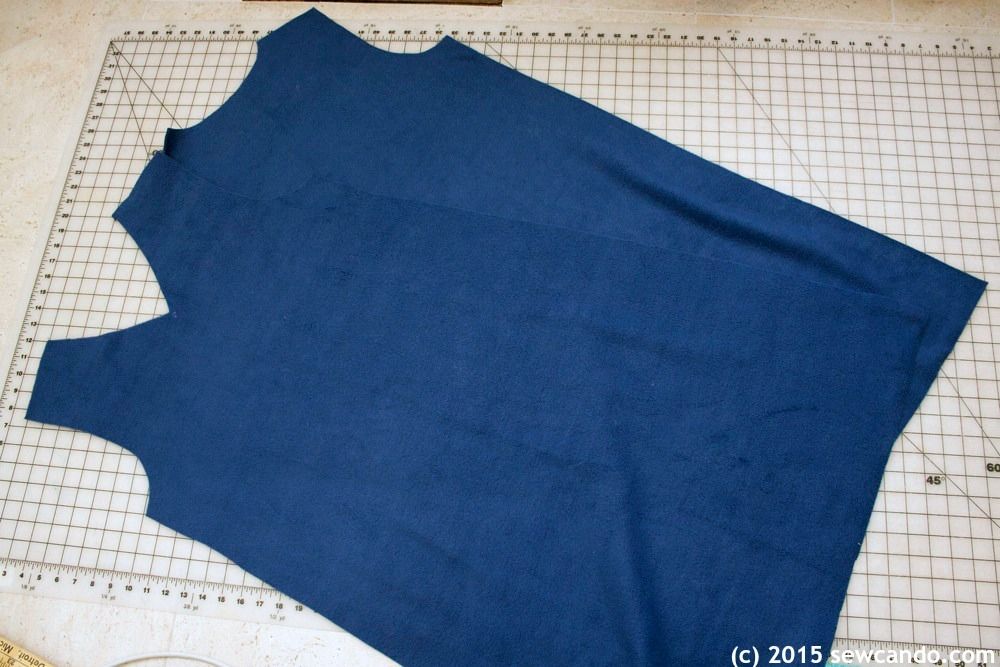 I also widened the sleeves with yardsticks, starting at each side and widening them out 4 inches on either side at the bottom.
Then I created the bell-style sleeve hem by folding each sleeve and, using my yardstick again, started inward 2 inches at the fold and then cut it diagonally down to the bottom ends: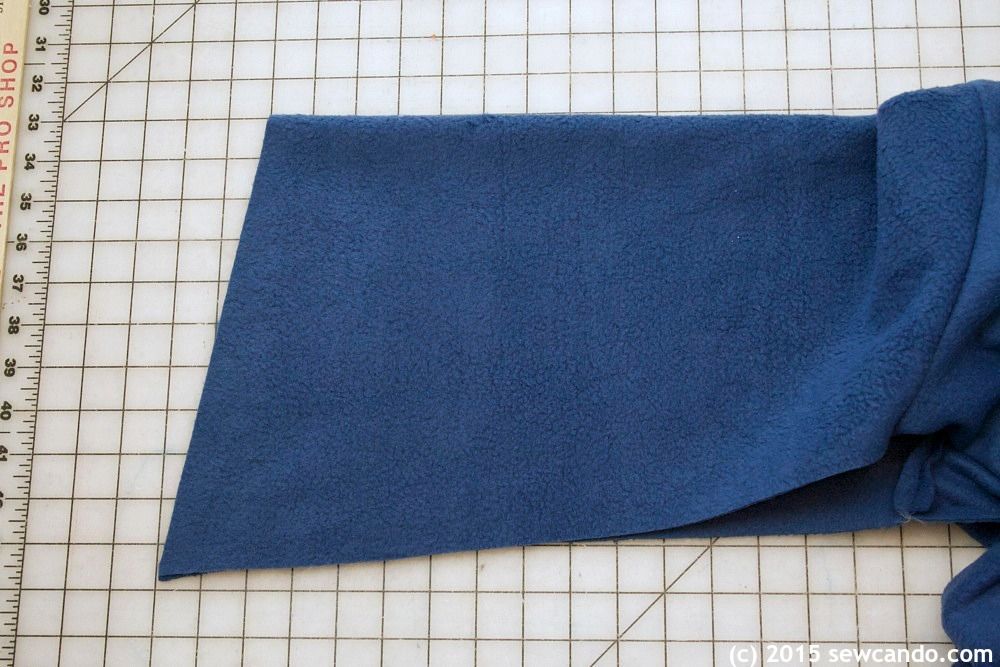 I sewed it all up as specified in the pattern and added some silver ric-rac at the cuffs for some wizard bling trim.
My husband made the magic staff for our little guy: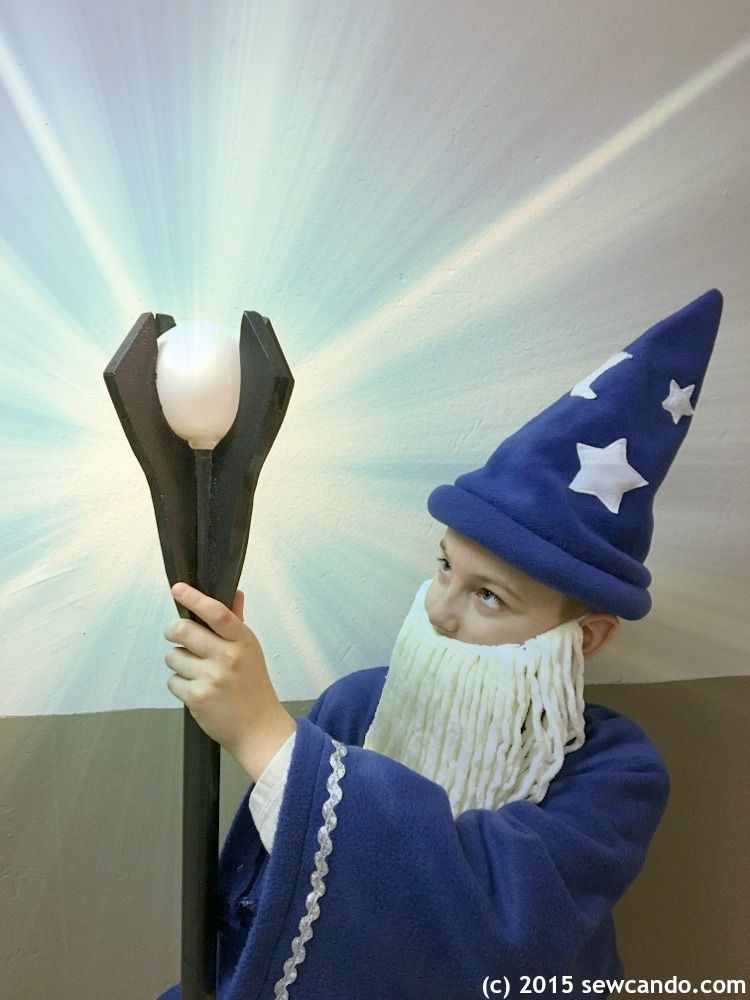 The staff's rod is a just a piece of pvc pipe and the mystical pearl is a clear plastic ornament that's had some opalescent decoupage (mixed with a little water) swirled inside it and then dried. The anchor pieces around the pearl were cut from some foam, then glued to the pipe and all spray painted.
He used this linking mat foam which was ideal. It cut easily and also makes it quick to add & remove the pearl - we're hoping to add an LED light to it before Halloween so it'll light up as well (without photo-editing magic that is).
My crafty husband also made the beard using some leftover chenille yarn from when I did my DIY designer pillows. He used this awesome yarn beard how-to to make it in no time: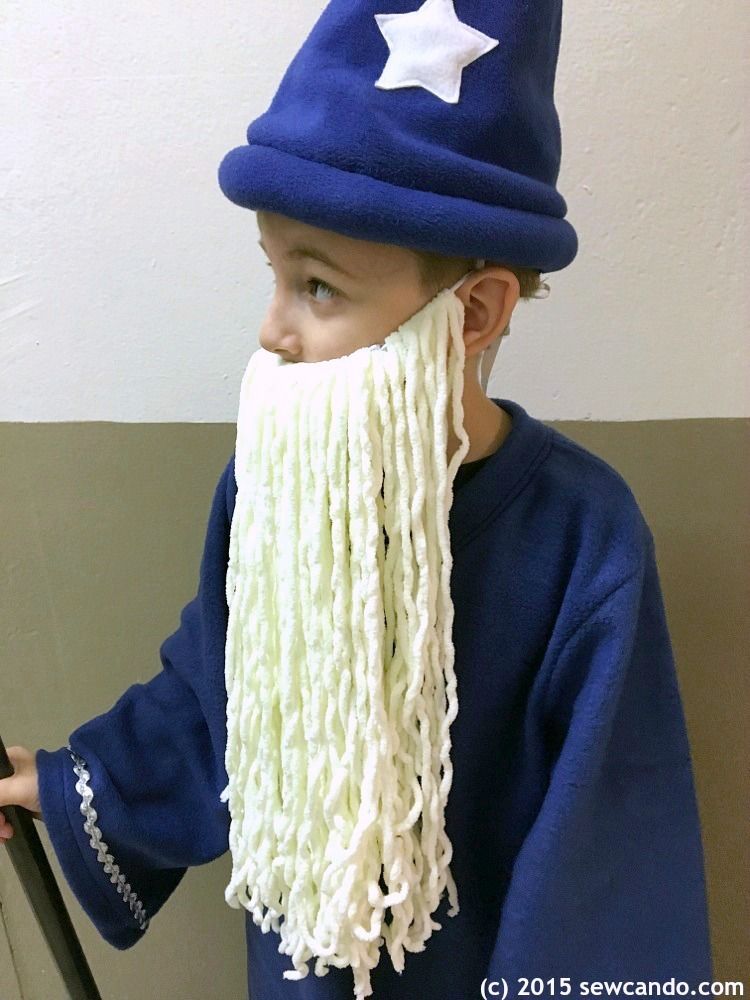 We've already gone to two Halloween events and this spellbinding guy has been a hit with everyone. He's totally enjoying his new ability to enchant - with or without magic powers;)