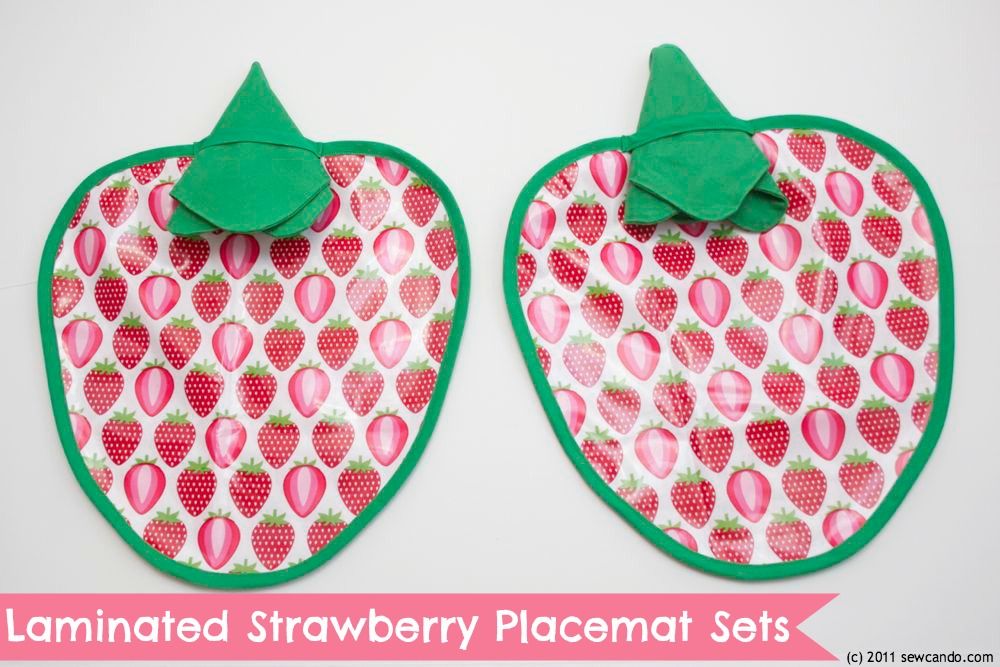 Want some summertime tableware that's practical and has a bit of fun? Since it's strawberry season, how about these festive laminated cotton placemats that have a napkin stem? It seemed like the perfect way to use this newly released Strawberry the A-La-Carte fabric by Hoodie from
Timeless Treasures
. Now see how you can too!
What You'll Need:
1 yd of laminated cotton
5/8yd of cotton, broadcloth or lightweight canvas
1-2 packages double fold bias tape
Paper (for making your pattern)
Small glass or jar (for tracing)
Yard stick, marking pen, cutter/shears, basic sewing notions
= This will make 4 placemat + napkin sets.
Take the paper and make a large strawberry shape that is almost 14" wide at the top and 14" tall. Make the shape several inches narrower on the sides towards the bottom. Round the edges until satisfied with your strawberry shape.
Now with the laminated fabric folded in half (selvedges together), cut out four strawberries so you'll end up with a total of eight. Grab a pair and with wrong sides facing, slip into the bias tape and sew it on all the way round. Leave an inch of overlap when you reach the end, so the raw edge can be folded inward and sew in place.
For the strap that will hold the napkin in place, cut four strips of bias tape that are 5" long. Stitch the open side closed. Then take one, fold under the two short ends about 1/2" and center it in the middle of the top portion of the strawberry (over the bias tape edging) and sew sides on so it will be like a small opening. Repeat steps above for the remaining three placemats.
For the napkins, cut eight squares from the cotton/broadcloth that are 11"x11" each. Use your round glass or jar and place in corner of each square and trace to get a round edge. Cut curved edges.
With right sides facing sew two napkin squares together with a 1/2" seam allowance. Leave a 2" opening on one side for turning. Turn right side out and fold in the raw edges of the opening. Then topstitch all the way around the napkin very close to the edge:
Repeat for the remaining three napkins. Fold napkins in half and then again, fanning the corners. Slip into the placemat strap and your strawberry tableware is all ready to use!
Want a chance to win your very laminated cotton from this adorable collection? Click
HERE
to enter the giveaway!!