Want to make the ideal bag for summer? Something big enough to haul loads of stuff, but still fold up small? Repel water, sand and spills, inside and out, yet still look stylin'? Then today's tutorial is right up your street: it's my Wonderfully Waterproof Tote Bag.
I originally created this bag design years ago for use as a diaper bag. This was my first version that I still use every week for swim class, 5 years later.
Thanks to the combination of bag design and laminated materials, this baby has worn like iron. I'm not exaggerating when I say it hauls stuff
like a boss
:
I decided it was time to make a second bag and change the dimensions a little for a fresh look. I'm loving this new one just as much. It's generous size holds almost anything, but it doesn't look crazy bulky:
You can fill it up high.
It's finished size is 14 inches wide, 6 inches deep and 14 inches high,
yet it can be snapped closed to look smaller when carrying less stuff.
These are two obnoxiously large 6ft+ beach towels - totally contained:
And it still looks cute to carry because you can get all designer-style with your fabric choices: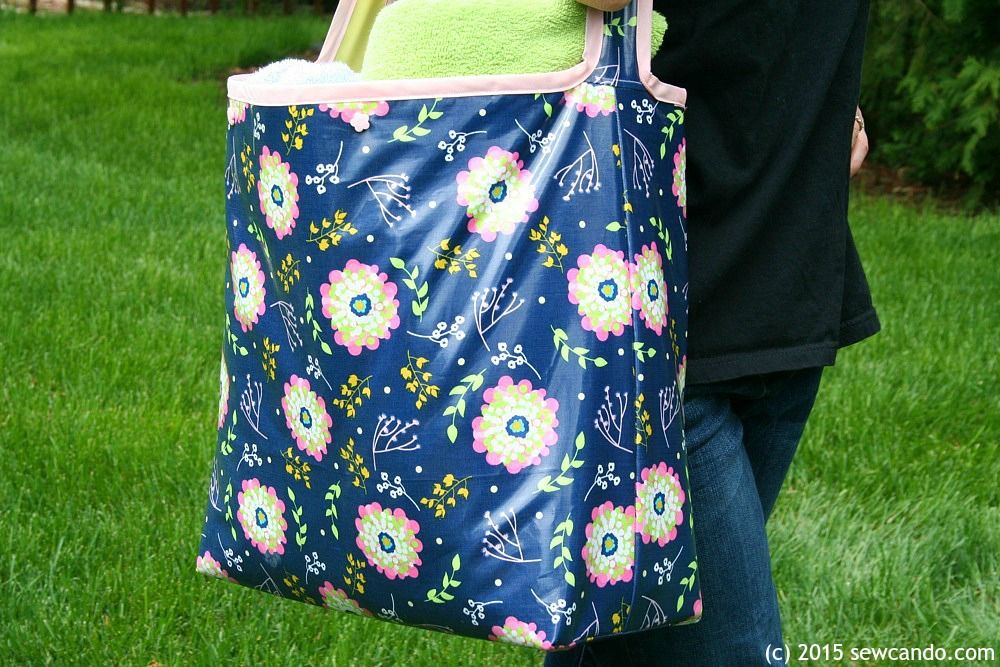 I used to sell this as part of my previous Around Town Bag PDF pattern, but now I'm offering my how-to here for FREE. 'Cause I'm nice like that;) Plus, in my new version I've also added a firm, removable base piece to help the bag retain it's shape and give extra support. And that base is totally waterproofed, just like the bag's interior, so go ahead and toss those soggy towels & swimsuits in there - this bag don't care!
Materials: