As much as I hate to admit it, I haven't done a lot of crafting this summer. Between being sick on & off, a ton of home/yard improvements and all the kids' activities, there just hasn't been much free time. And when I do get a little window I just haven't felt the creative bug like I usually do. This project however, had been on my mind and got me out of my rut because my kids were so excited to have them: our Sun's Out, Guns Out Shirts!!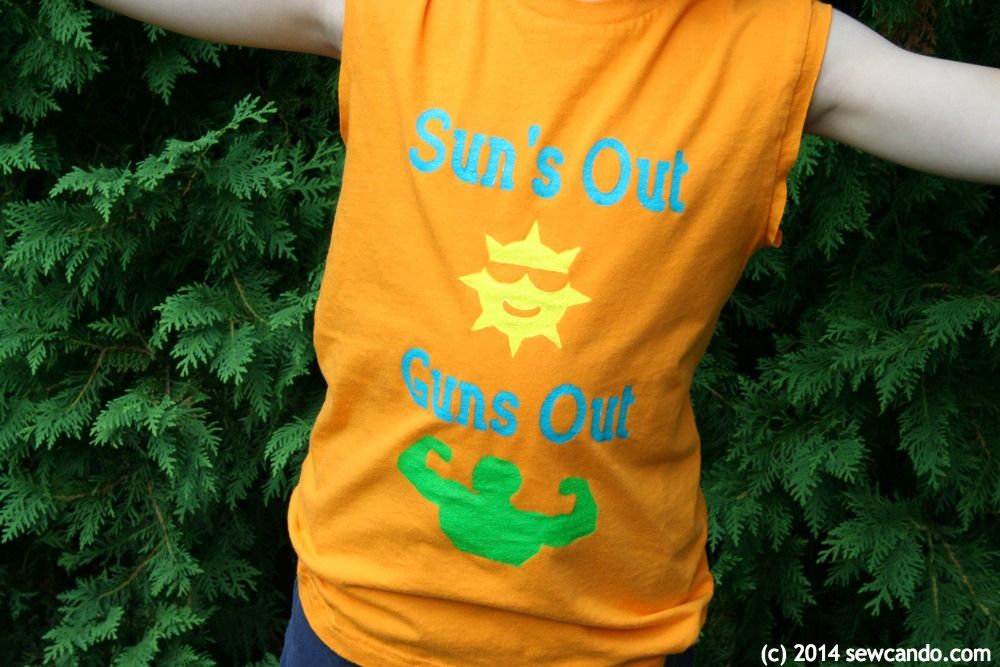 The idea for this came from some summertime people watching. I saw a totally 80s looking guy when we were out one day. He was wearing a neon pink tank top that said "Sun's Out, Guns Out" across the front. He looked somewhat ridiculous (his muscles were practically non-existent), but the phrase stuck with me and I thought it could turn from cheesy to cute if done up right for a kid. I think these "guns" are much more fun to see flexing than those on some middle aged dude with a mullet:
So, to bring our own version to to life I made a freezer paper stencil design and whipped up this baby. Here's how you can too:
- Freezer Paper
- Fabric paint or Acrylic paint + fabric medium
- Sponge pouncers
- Cardboard
- T-shirt
- Iron
- Cutting machine (Cricut, Silhouette, etc.) or an exacto blade + patience
- My FREE svg file: Download
HERE
First, I created a design as an svg file using my handy Sure Cuts A Lot software. I created the shades-wearing sun and modified a clipart bodybuilder silhouette I found online to be just the arms (aka guns) to go with my phrase. I also reversed it so it would face the right way when cut out.
Then I cut out my design on freezer paper with my old Cricut Expression. I know I'm "behind the times" since I'm not using a Silhouette here. I actually have a new Silhouette Portrait I won in a giveaway in January, and hear everyone rave about all the projects they make with it, but I still find my Cricut/SCAL software combo to be easier to use for designing. Maybe it's just because I'm lazy and don't want to spend hours relearning how to do everything on another tool. Sooner or later I'll have to just bite the bullet and do more with it. Much like I'll have to finally get a cell phone with a camera & texting. Yes, I'm still using a prehistoric flip phone. Can you tell I'm a real technology wizard?
Anyway, in case you're not already a pro at machine cutting freezer paper stencils (I've only done a couple myself), it's key to load the paper shiny side up:
Also be careful when weeding (removing the excess paper). You'll need the centers of the "O"s for the shirt: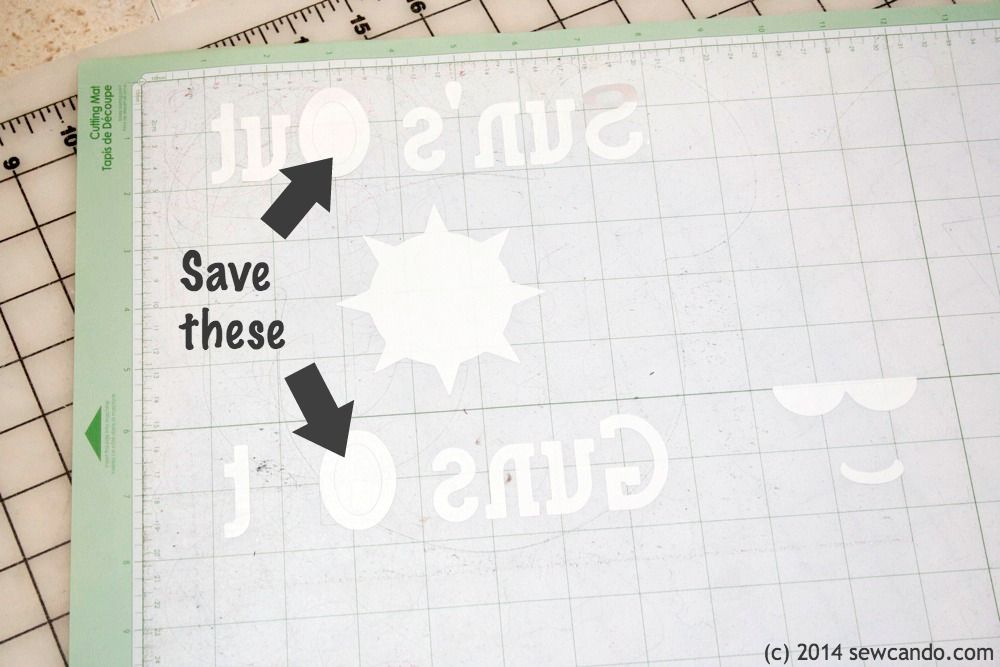 Slip a piece of cardboard inside the shirt to prevent the paint from bleeding through:
Iron on the freezer paper, shiny side down, using the cotton setting. I added the shades and smile to the sun after the outline.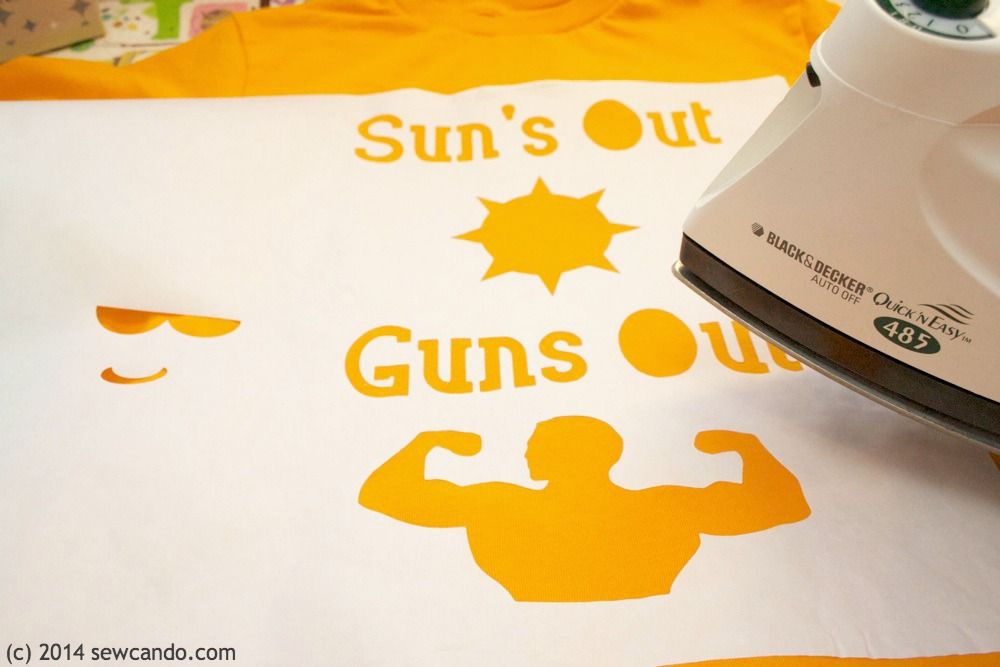 Now you could just start painting if you have fabric paint, but of course I never make it that easy for myself. When I was shopping for the paint for this I fell in love with colors that weren't fabric paint. I really liked the brightness of these and the fact they also glowed in the dark. I figured I'd use them for other things besides fabric, so I bought them knowing I'd need to use fabric medium to make these washer-friendly.
To blend the paint & medium, I did one spoonful of medium to two spoonfuls of paint and mixed with a toothpick in some little plastic paint jars I found in the same aisle. These were really handy because they have lids and can be reused. Since I want to make more than one of these, it means no paint gets wasted and I can easily work on the second one a few days from now.
Once the paints are well mixed with the medium, grab some sponge pouncers and start painting. I did several coats, with dry time in-between, to make sure the colors were nice and solid.
Side note: I wrapped my pouncers in cling film between coats to keep them moist and when all done I used brush cleaner to make them good as new. I used to think that stuff was a waste of money "Soap & water works the same and it's practically free!", but I've realized the cleaner is totally worth it. Sponge, bristle, whatever the brush is, the paint comes off easily and they look & feel like new. No stiffness and I can use the same few over and over so it does save me money. I happen to like the Martha Stewart Crafts version, since I also like using those paints (and btw I'm not getting these for free or paid to talk them up, I just like 'em). Any kind is better than having to throw away your brushes after one use!
When the last coat is dry, pull away the stencil and heat set the paint with the iron, using a press cloth in-between. Now you can either roll up the sleeves or cut them off to fully expose the "guns". I'd wanted to just buy a blank boy's tank top from the get-go, but it proved impossible to find (isn't it still summer?), so I just used t-shirts and cut the sleeves off with my rotary cutter: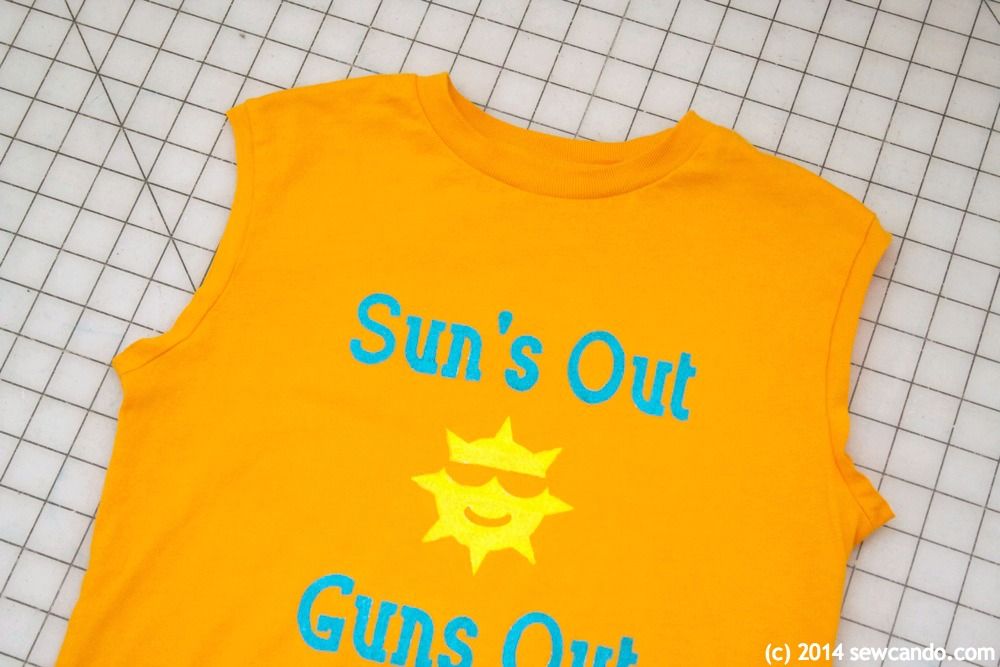 Now all we need is a little muscle man to rock the look. This guy hopes you've got tickets 'cause he's about to start the "Gun Show"!
And it also works in serious mode, for when a tough guy doesn't need to flex his muscles to show he's strong: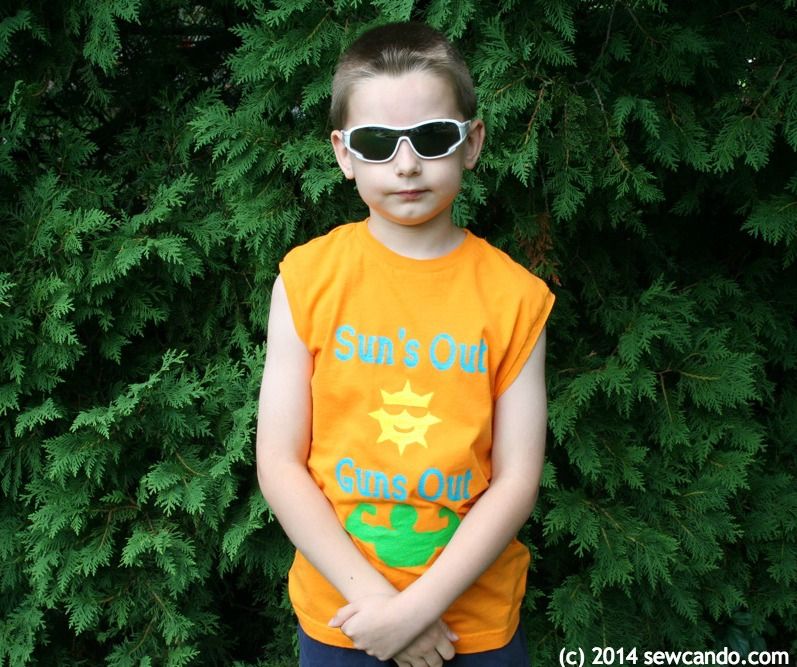 But this look is definitely the most fun: