Last month I shared some super cute pants patterns from one of my advertisers, Terra's Treasures. There was one I just HAD to have: The Monkey Pants Pattern. I bought my copy that day and couldn't wait for my break time between the holidays to try it out. To say I fell in love with this pattern is an understatement - look at the backsides you can make with it: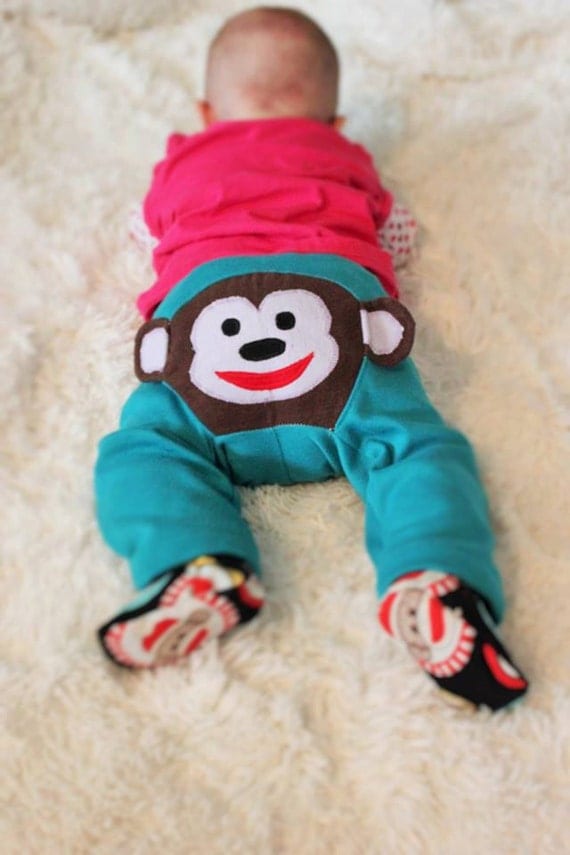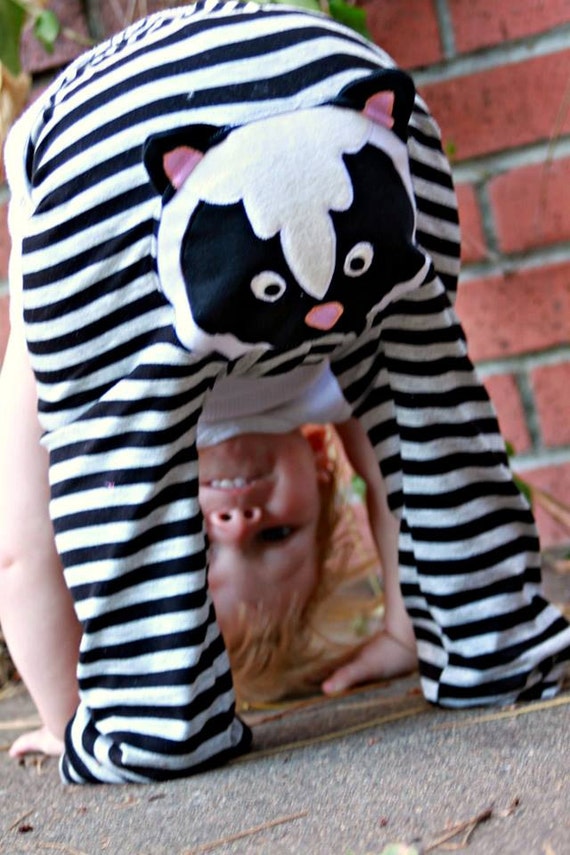 Appliqued animal bums. Beyond cute. I made my first pairs out of fleece and they are fabulous. The polar vortex isn't getting to my little miss when she's wearing these babies! They're warm, cuddly and hardwearing.
The best part of the pattern is the cute critter applique designs that are included; 7 different animal friends. I tried the penguin and the owl first.
I really love them. I literally squealed when I pulled them off my machine. And they look just as adorable on too.
Everyone who's seen her wearing them has commented on how cute they are:
I did the appliques in fleece, but using jersey, interlock or any other somewhat stretchy fabric would work too. I like the professional look of doing a satin-stitch on the edges, but a plain zig-zag or straight stitch is even faster to do. The 3-D ears really make the designs stand out and since you can pick whatever fabrics & colors, you can really make your own unique looks.
Making them without the appliques is crazy quick too - less than an hour. Definitely a great pattern for any sewing skill level and an enjoyable sew.
I made this pair with some leftover lime & pink organic velours and they are SO buttery soft. My daughter's worn these at least 4 times in the few weeks since I made them.
If I hadn't needed to get other sewing done, I'd have a giant stack of these pants by now, but I've already earmarked a bunch of other fabric in my stash to make more.
Terra recommends using old t-shirts too and I realized this would be a great way for my daughter to continue to wear some of our favorite outgrown items by using their appliques or prints as the bum panel on a new pair of pants. I'm also planning to do some machine embroidery options too since that bum piece will easily fit through my machine's hoop.
I specifically made the owl pants to pair up with this little forest friends shirt I made using another of Terra's patterns, The Provincial Top (my review of that pattern can be found here). They've both been worn many times already, so I'm definitely getting a great return on wear time versus time mom spent making it.
As someone who loves fun knit fabrics and sewing without a serger, these patterns have been ideal.
I'm also very happy to say the sizing is generous too (the smaller sizes are perfect for cloth diaper wearers). My little lady usually wears 4-5T in store sizing, but the 3T of this pattern was perfect. Which means I can still get a couple more years out of this new favorite pattern and continue to cover her backside cutely. Yay!!
I received compensation for this post. I purchased this pattern with my own funds and the opinions are completely my own,
based on my experiences
. For my complete disclosure policy, see
HERE
.