I've been a little short on time to work on new stuff lately. Filling orders in
my shop
for the upcoming Halloween season hasn't left much room for much else these past few weeks. But before I get too neglectful I thought I'd share this Little Wolf Costume Set I just created as a one-time custom item that I took on as a bit of a challenge to myself.
You may remember the hat is a design I came up with earlier this year,
This creation was for a 5 month old, so I made a tiny version of the hat and sewed on felt eyes instead of buttons.
I was asked if I could create an outfit to go with the hat, so I came up with a matching union suit in the same cuddly fleece with a fuzzy tummy, lap shoulders and snap up legs. The cuffs on the arm & leg holes can be folded up and down so it has some extra growing room too.
Of course the costume couldn't be complete without a fluffy tail:
I made the tail snap on & off, so the suit could be worn by itself as a regular outfit long after Halloween is over:
I really hope the recipient likes how it turned out as much as I did (and I'll get a chance to see how it looks on the little guy!).
2013 UPDATE NOTE:

I've gotten a lot of inquiries asking if I can make this set for the current Halloween season.
The full costume was a one-time custom order. Being

more laborious to make than my usual items, it has never been added to the shop. Any items not currently offered in my shop are "retired" and not available at this time. This is so I can spend more time with my family this Fall.
The wolf hat itself IS available in my shop, and can be found HERE.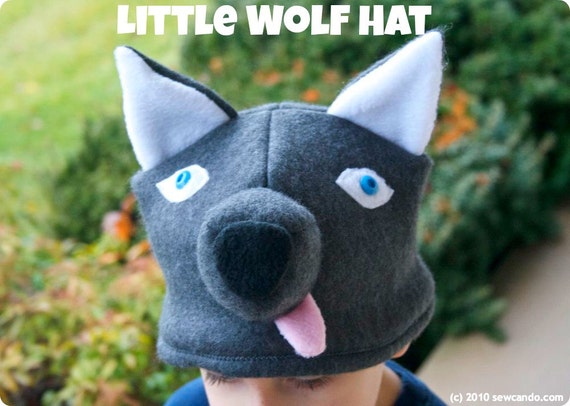 Sharing this with my FAVE LINK PARTIES too so click HERE
to check them out!