While I was making some recent projects for my shop (where I just started to carry some Christmas-themed Minky Fabrics), it occurred to me that I've never done a sewing with Minky post. I've been using Minky fabric for many years now and love the results. There have been a number of projects with it here on Sew Can Do, sharing a tip or two in the post, but not something complete. So it seems it's definitely time to do a Sewing With Minky Guide!
Ok, So What Is Minky? Minky (aka Cuddle or Softie depending on the manufacturer) fabric is a versatile plush low pile polyester that features two-way stretch with a velvety napped finish and a smooth backside. Soft, warm & cuddly like fleece, but much trimmer and with a fluid-like hand.

There are also many textures beyond the usual low pile too. Some are embossed, dimple (bubble) or ribbed style:
There's a swirly cabbage rose type:
And some even have thick furry shag like this:
Sew many options, right?
Minky fabric adds loads of new possibilities to your sewing projects and since we're about to drive into the cooler season, it's ideal for lots of things. However, there are some key things you need to know before diving into sewing with it, so it stays fun and frustration-free.
Find out all about how to use it to take your latest creations to the next level and the best tips & tricks for sewing with this incredible fabric.

What Can You Make With Minky? Since Minky washes incredibly well and does not pill or fray, the project possibilities are endless. Quilts, blankets, pillowcases, rugs, tree skirts, Christmas stockings, table toppers, soft toys, scarves, lounge wear and more!
I've even used it to upholster a kid's chair!
It has a nice medium weight and comes in a generous 58-60 inch width, so much more fabric per yard for lots of project sizes.

How do you wash it? Wash in cool water. Tumble dry with low or no heat. Minky dries fairly quickly, so no need to overdry. Minky does not shrink. Do not use liquid fabric softener, which could coat and degrade the fabric over time - you want to keep that cuddly soft finish!

How do you cut it? Minky is a low pile fabric so it has a nap (direction the pile lays). Check the nap BEFORE you cut each piece to be sure it is going in the right direction. Minky is easy to cut with a rotary cutter or shears.
Handy tip: Since it is a plush fabric, Minky gives off some fluff when cut. And the more pile it has, the more it gives off when cutting:

Have a vacuum attachment or sticky roller on standby to grab loose bits to make clean-up easy. A quick shake outside or a few minutes in low or no heat in the dryer with a damp washcloth can get rid of any clinging to the fabric too.
What kind of needle? Use a ball point or stretch needle is best for sewing Minky since it is a fabric with stretch. A stitch length of 3.5mm is ideal. Regular 40wt sewing thread works great.
Long flat head pins are best for keeping long amounts of fabric together for larger projects and are also easy to see when pinning on the right side of the fabric.

Use a walking foot. It provides even pressure to feed multiple fabric layers at the same speed, so they won't shift or stretch while you stitch. Just like with quilting cotton, it's best match grain and stretch of your fabric pieces. Stitch stretchy sides together and non-stretchy sides together.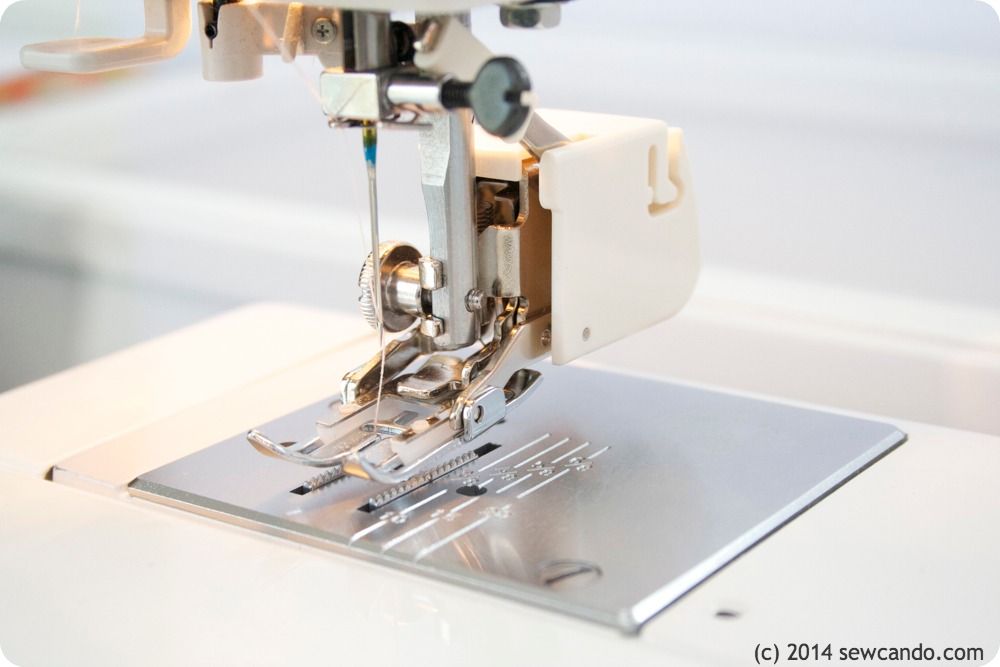 Can you sew Minky and quilting cotton together? Yes! As one has stretch & the other doesn't, these tips are key to successfully stitching:
- Always pre wash cotton since it does shrink (Minky does not)

- Use a 1/2 inch seam allowance, stretch needle and walking foot
- Pin frequently
- Keep the grain lines the same direction for both fabrics whenever possible
- Sew with cotton on top, Minky on bottom

I did this self-binding blanket with a quilting cotton top and Minky back & border:

Can you iron it? Minky is wonderful because it doesn't wrinkle easily, but if you must iron it, you can use low heat and a press cloth.
Can you quilt it? Absolutely! Recommended stitches for top stitching or applique include straight, blanket, zig-zag and satin stitches. When quilting with batting between the layers, or doing applique, it's very handy to use basting spray to hold fabrics in place to make stitching easier.
That's what I used to do these Minky applique flowers for my Plush Garden Rug:

I'll be sharing some new Minky project tutorials in the coming months, since I'll be getting more Minky prints to play with in my shop (and I've already got quite a bit in my personal fabric stash). But here are a few favorites to get you to love using Minky too: