I'm finally sewing more again and it feels so good! Partly because I need a mental break from everything else right now and partly because it's slim pickings from stores thanks to the 'rona ridiculousness. Less selection, more hassle filled shopping experiences and smaller budgets mean a lot of us have to get more creative with clothing the kids. The good news is that it's forced this fabric hoarder to actually turn to my stash more regularly. Prime example: this Fairy Friends Knit Fabric Dress.
I'd bought this knit fabric from a custom fabric group called MK Designs a few years ago and had been hoarding it big time. I just loved the colors & original fairy design and the quality was exquisite. Finding the right project was hard, as I didn't want to waste any bit of it since it was kind of pricey. I did a whole post about buying fabric from custom groups here.

I wanted to mix it with a quick sew project to make something for my daughter's 11th birthday. She's now at the tricky tween stage & size so coming up with the right item was key. I decided to repeat a pattern hack I'd tried before when I made this Boden Style Dress: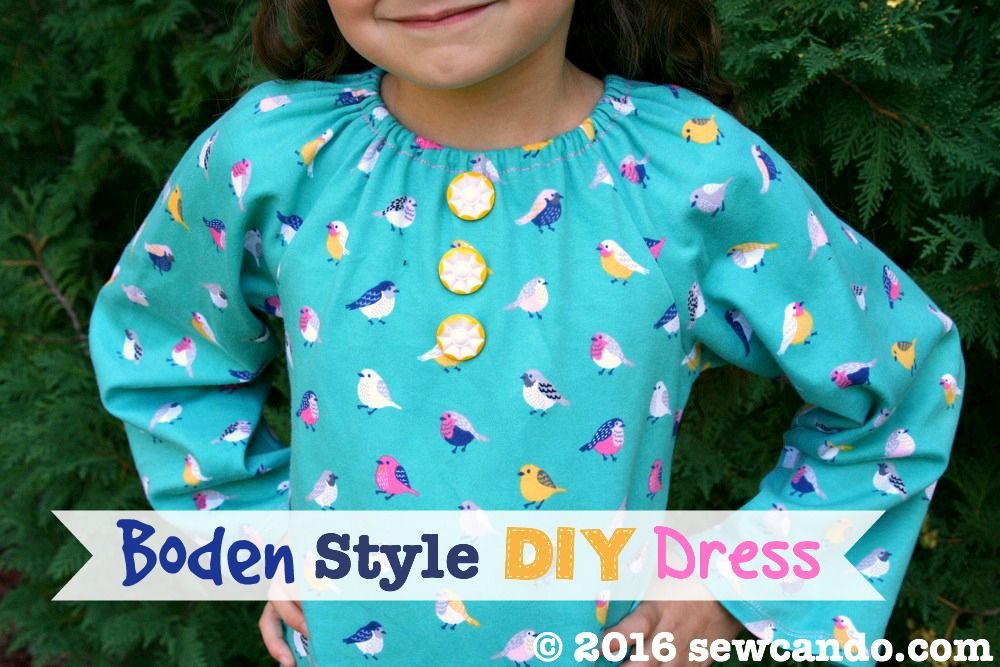 You can see the full how-to in that post, but the gist was I took this knit fabric top pattern, the Provincial Top Pattern by Terra's Treasures (now called New Horizons):
And extended it to make an A line dress, made a casing neckline instead of lettuce edge shirring and added longer sleeves with cuffs to turn it into a cute & comfy dress.

The elasticized neckline makes it easy to wear and also adds pretty shape to a basic design. It also means you can totally sew the entire thing on a regular sewing machine using just straight & triple stitches:
I used the patterns biggest size (girl's 10) and the full length of my fabric (which was a yard with a few bonus inches). Despite this being an incredible, versatile pattern that I've used many times, it doesn't look like Terra offers it anymore:( Maybe with some requests she will again. Alternatively, a basic girl's pleasant top pattern could be used.
Since the original design only had short & 3/4 sleeves, I extended the length. I'd planned to do an elastic casing for the sleeves to have them gather at the wrists. Of course I realized after I cut them that I should have factored in the neck to shoulder measurement too, since raglan sleeves include that. Mine were going to be a bit short. What to do??

I grabbed some rib knit I had (that thankfully was the perfect shade of turquoise) and cut some extra long cuff pieces. I made them 10 in long by 8 in wide, since my sleeves were 14 inches around.

I folded them in half width-wise and stitched along the long side.
then I folded them length-wise, matching up the raw edge,
then pinned the cuffs and sleeves in quarters to evenly stretch the cuffs enough to stitch them to the sleeves.
It gave a nice gathered effect and, at her current size, she can wear them either extended or fold the cuffs up.
Since I made it below the knee and the dress has a forgiving gathered style, it should fit for quite some time too, so an afternoon's sewing was well worth it.
Most importantly, it was a great way to finally use this precious fabric and she just loves wearing it. Big win for this mom!