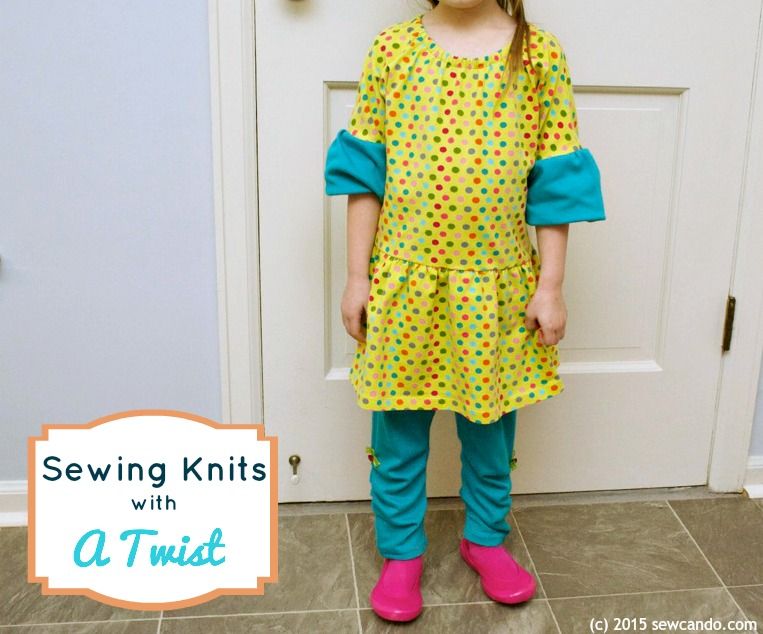 I really like sewing knit clothes. The clothing wears well, rarely needs ironing, feels comfy and doesn't fray. It does take a little getting used to (for some of my tips & tricks see here), but it's worth doing. However, it can be tough to find patterns for looks beyond the basics, which is why I loved trying today's designs. I used two patterns from the Ottobre Design 1/2010 magazine, the Suklaatwist Tunic and the Ruusunnuppu leggings. I thought the twist look they both had would make a great outfit.
The sleeves on the tunic have this interesting swiveled shape which is achieved by adding a small facing, folding the cuff and then twisting the raw edges so the seams don't match up.
While the leggings have these adorable cascading folds on the sides: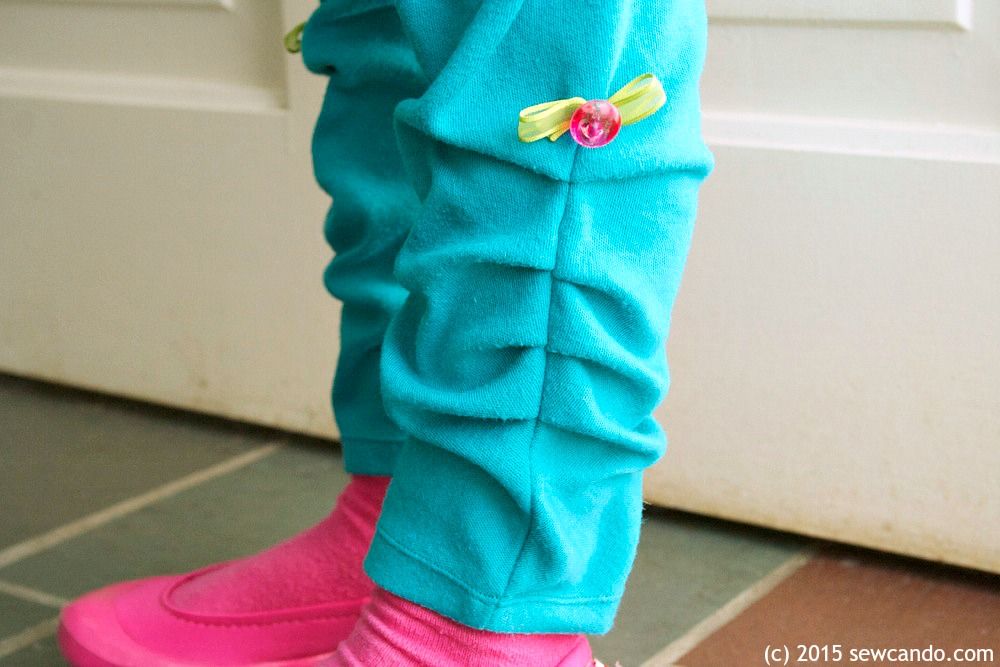 I thought these colorful polka dot and bright turquoise solid knits had that European vibe that fits with Ottobre Design's patterns, but without the hefty imported fabric price tag of the fabrics they use in their magazine. I found my interlock knits at Jo-Ann Stores a few months back and on sale.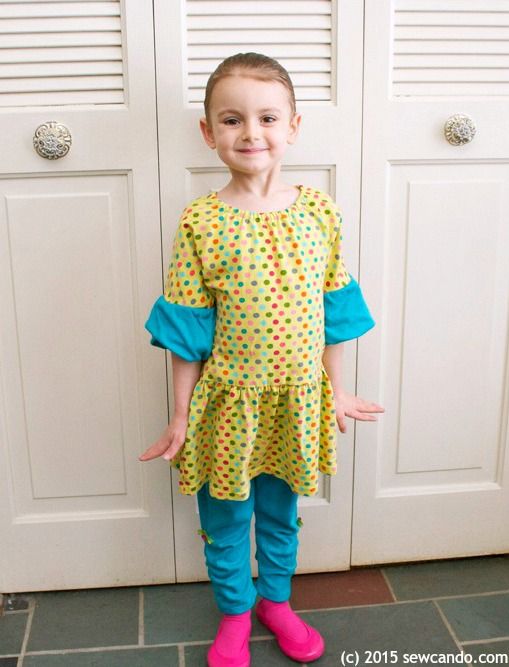 As I've said previously, I love the style of Ottobre Designs patterns and the huge range of sizes included in each magazine. I've had this particular issue for years and have made several other things from it (including this tiny trench coat) again and again. Yet, I frequently get frustrated with their somewhat ambiguous instructions and lack of photos of key steps or even of the finished items. I was pleasantly surprised that these two patterns weren't as maddening as usual - and actually had a few helpful hints!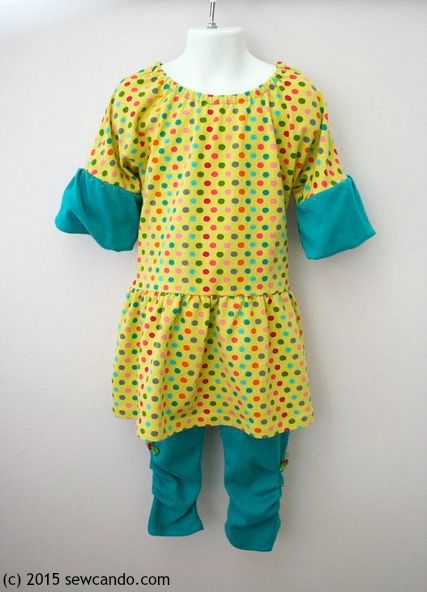 One really handy tip the pattern used was gathering the skirt with clear elastic instead of having to do several basting rows and then cinching and adjusting the gathers by hand to make them even.
This is A LOT easier and quicker than the old baste & pull method. And it makes for a perfectly even gather. I'm totally going to do this on future items.
To get a smooth twin needle hem on the skirt I used some paper backed fusible tape to easily iron up the hem and give it some extra stability. This really helps avoid the dreaded tunneling that happens so often when twin needling on knits (and it means lazies like me don't need to use pins either). It also helps the hem stay crisp looking after washings.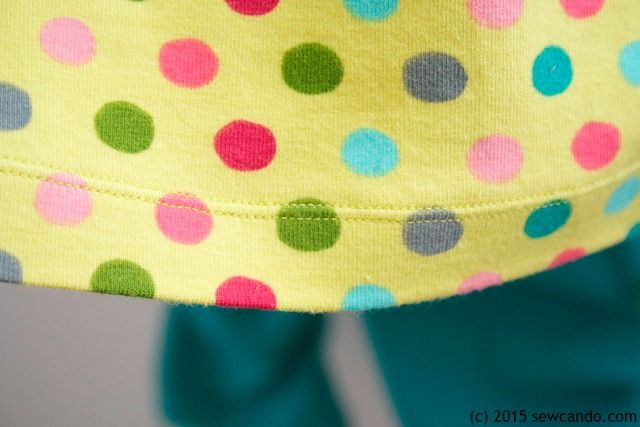 I also decided to add some contrast color topstitching to the shoulders since they looked a little plain with the seam running all the way down the top of the sleeve. I used a triple stitch so they'd be nice & thick and still stretch well:
My only gripe with the tunic was the neckline instructions. It just said to finish the raw edge (aka serge or overcast) and make a casing. It didn't say how far to fold it down. So I used past experience to figure out how big to make it so the elastic would fit through an there was still enough room to stitch it down. Since my fabric wouldn't fray & I was using a regular machine, I just left the edge raw - it still lays nice and flat: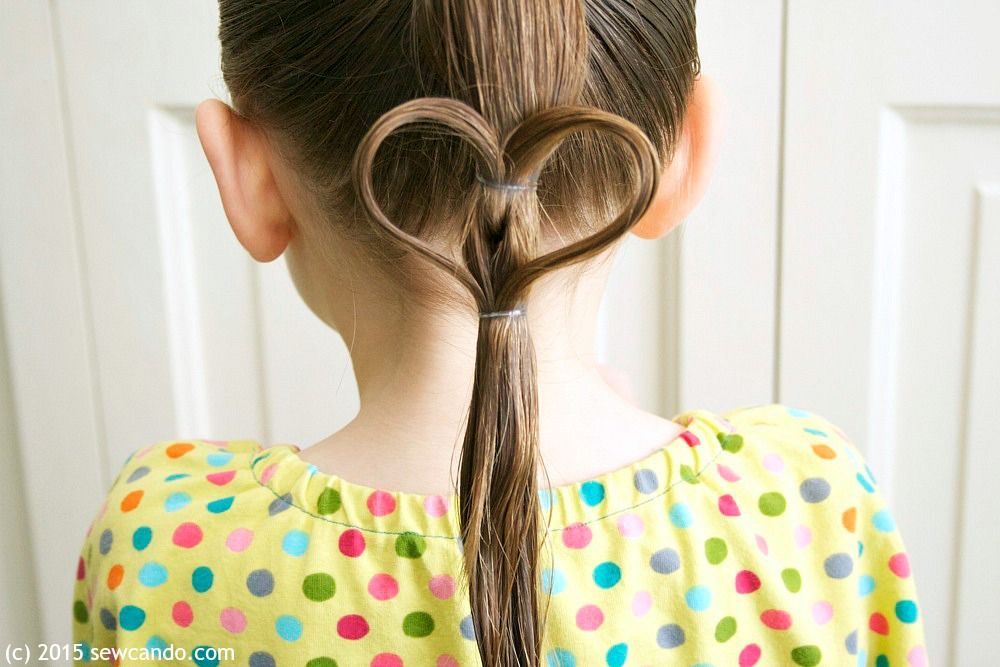 The Ruusunnuppu leggings (which, fyi, means rosebud in Finnish) were a little trickier to do than the tunic. I was too busy trying to get things right to take photos while I was making them, but getting the cascading folds nice and even was a little challenging. You're supposed to machine baste the folds and then stitch a dart, but it's not as simple as they make it sound. You need the sides of each fold to be even as well as have them smoothly fold downward.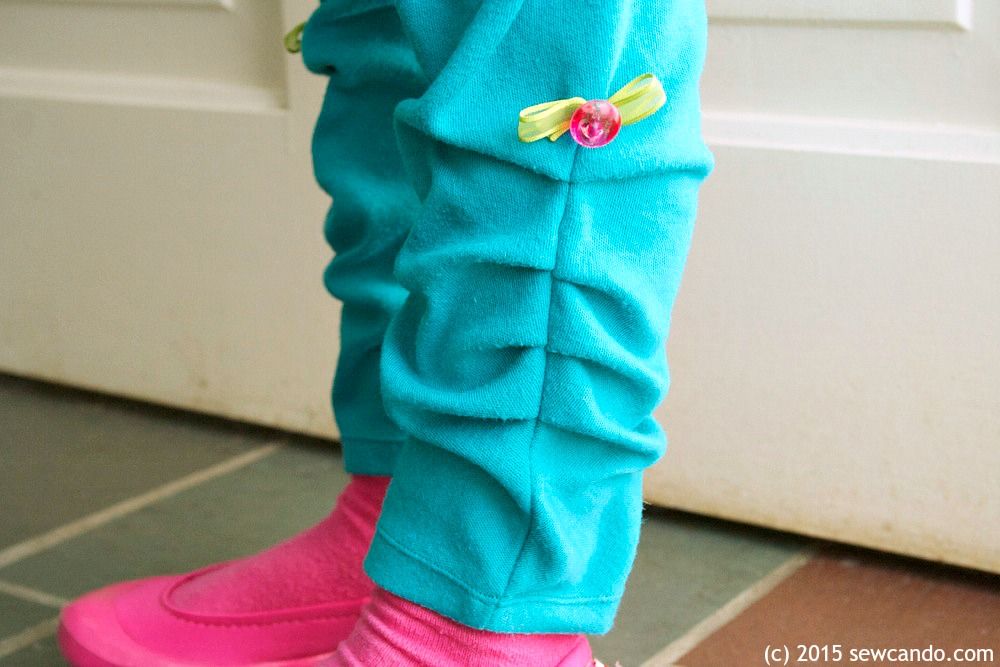 I
ended up pulling one side out and readjusting it a couple times before finally sewing it down. It's one of those things that has to done perfectly or it looks totally wonky. The little ribbon accent they recommend at the top is for more than just cute detail - it's meant to hide the top of the darts. I love how cute they are and think with some more practice they'll get easier, but they definitely take a bit of skill to do.
I'm pretty pleased with the final results and like how the tunic can be worn alone or with tights for more looks. It's any season style is ideal too - I absolutely plan to make more of these.
My daughter also loves this outfit. She even started posing, unprompted, when I whipped out the camera: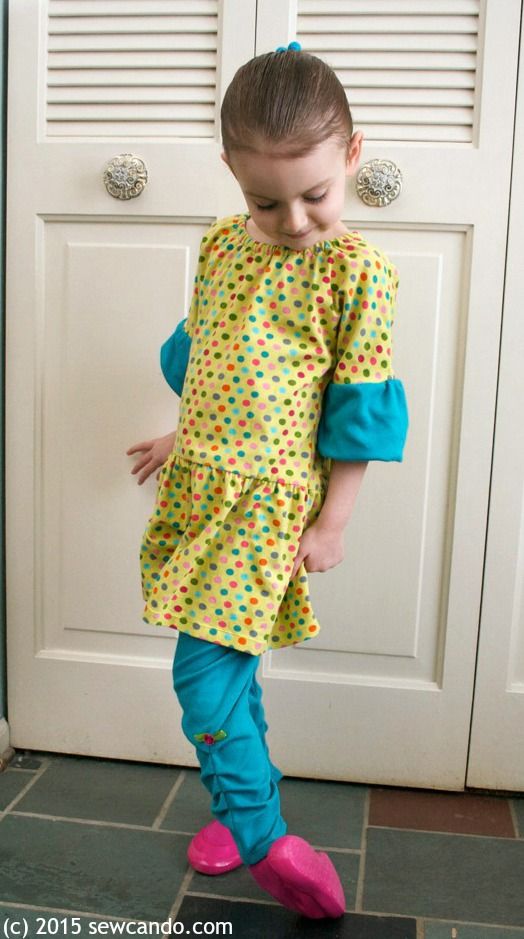 Such a little ham!