My daughter recently turned 5 and asked if we could do a My Little Pony theme for her birthday. To say she's obsessed with My Little Pony is an understatement, so it wasn't a big surprise. And I'll be honest, I was relieved it was something I could easily find party gear for around our house and at most party supply stores. For the past 4 years I went into crazy mommy crafter mode for each birthday. I'd come up with themes that required elaborate DIY'd decorations, fanciful favors,
making the cake myself and sewn-by-me matching birthday attire (you can click on any of them to see the level of insanity detail I went to):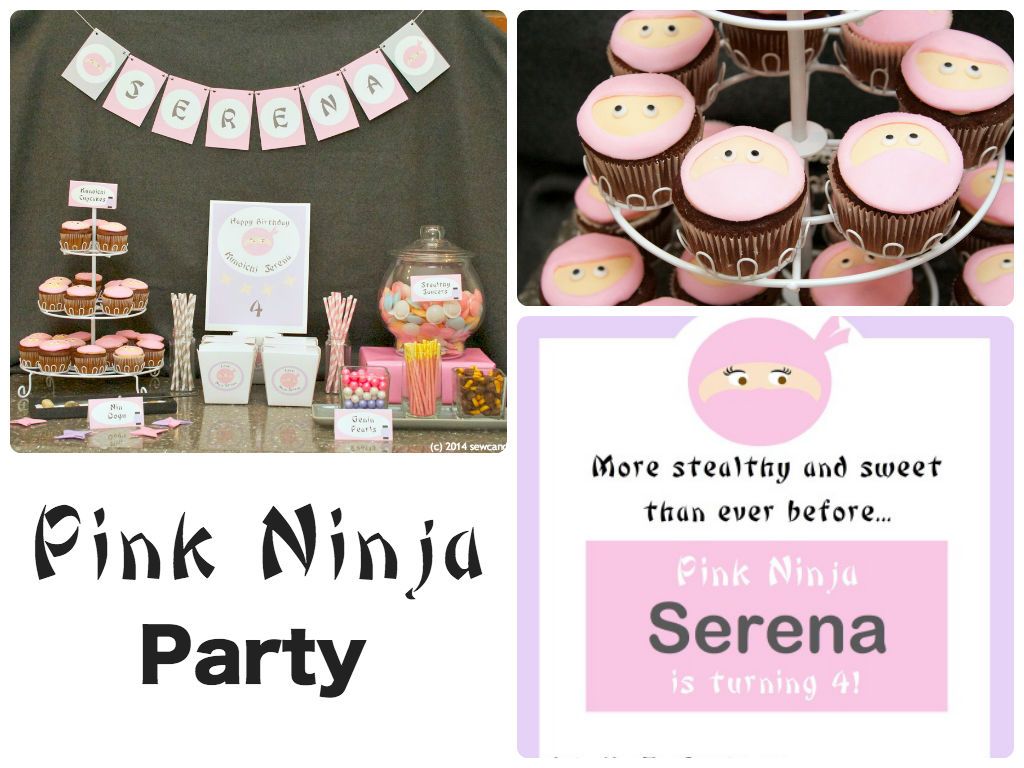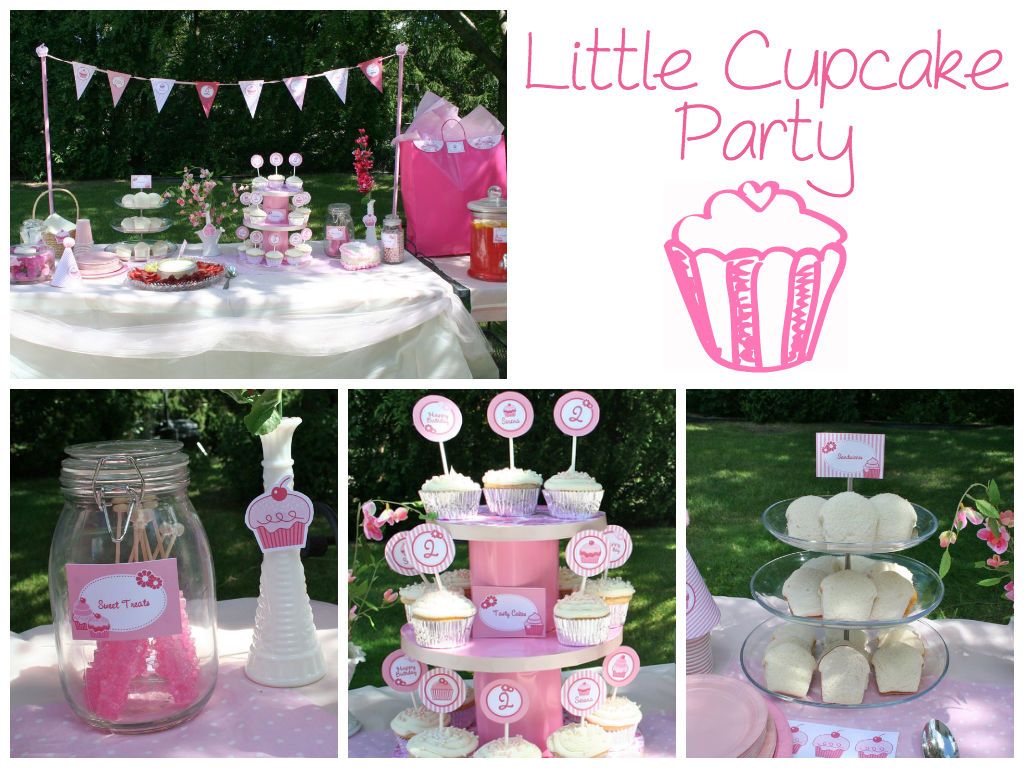 Sure the planning was fun and it felt great to say I'd made it all, but it also meant I had to make it all. And that was exhausting. Truthfully, kids don't notice - or care - that you spent hours handcrafting an entire party. Most of the adults attending don't either. Have some general party decor, a cake & some activities and they're happy. Usually it's just other crafters who really notice all the small, labor intensive details, so who are you really killing yourself for in DIY-ing a party? Complete strangers? That's CRAZY.
So I vowed this year would be fun to put together & not require weeks of preparation.
As I mentioned in last week's confessional post, in an effort to be less stressed and more fun, I've been scaling back my crafting & blogging efforts.
Trying to keep things more real life and enjoyable and less of the popular "look at how magazine perfect what I'm doing looks, despite killing myself while pretending it's effortless" blog style. Let's get real - who's got spare time to maintain that faux perfection ? I know I certainly don't!
Since ours was just an extended family party, emailing invitations was cheap, easy to send and didn't require my horrible handwriting to be on display (seriously - even when I try to write neatly it looks atrocious and illegible). I did a quick online search for some My Little Pony images with a transparent background and used those + a free Equestria font download to make this digital invite with PicMonkey in about an hour and for free:
Decorating-wise, I let the party store do most of the work - there were tons of MLP-themed and matching solid colored paper products. I didn't spend hours picking stuff out either - just grabbed it all in one go. I've seen a lot of custom My Little Pony parties online, but kind of scratch my head at why you'd spend hours of time hand-adding pony cutouts or stickers to paper products or pay $$$ for custom printables when there's tons of cute MLP stuff already available for just a couple of bucks at every party place. Add in a yard of MLP-themed cotton I'd found at Jo-Ann Stores (but hadn't used yet), and we were fine for table decor:
Our big splurge was ordering a couple of themed standees from an online party place. I was just going to get one, but the husband convinced me to get both Princess Celestia (her fave) and the Canterlot Castle. I did have a coupon code to keep it reasonable and since the kids play ponies around here on a daily basis, it's not like they'd only get the one-time use.
My daughter actually gasped in awe when she saw them outside.
Since the party, we've flattened the stands on the back so they fit against the wall in her room for double decorating duty. She loves having them next to her bed. Tacking the $7 pin-the-cutie-mark game poster to some cardboard on an easel added extra big scale pony flair with minimal price/effort too:
My little miss picked out her ensemble from her
already accumulated
pony-themed attire. Even her footwear was pony-tastic (the My Little Pony socks were found in the $1 bin at Michael's, shoes we found at Journey's Kidz months ago for under $25):
I'd made her some pony bows last year, so those topped off her all-My Little Pony appearance without me having to put anything new together:
I'd always made her special occasion cakes/cupcakes, so I figured I'd treat us both to the ease and loveliness of a local bakery cake this time around. It made turning 5 a little more special: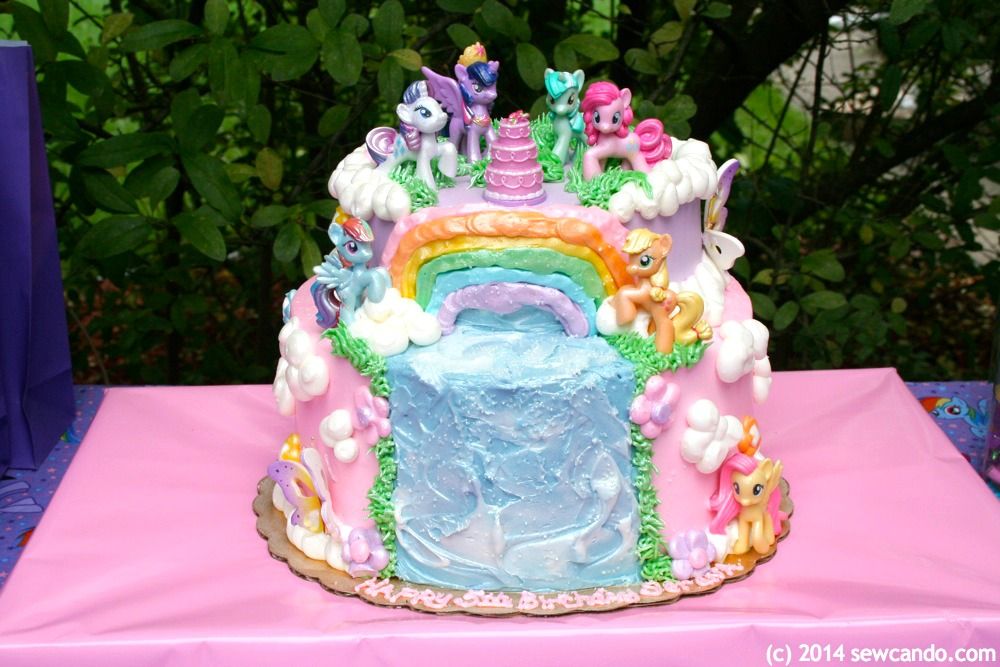 Cake by Sorella's Bakery, MI
I covered a cardboard box in pink wrapping paper about 15 minutes before the party to make a quick stand for the cake. This also meant cutting the cake was less messy since I could just toss the paper out after and added the bonus of not getting frosting all over our pony fabric. I told the bakery we wanted two layers, a rainbow and some flowers & clouds and they came up with this beautiful design. It was a delicious as it looked too:
I will take credit for the idea of using some of her mini figure collection as pony props on the cake. The bakery sprayed them with a bit of shimmer to make them look more magical and also added some surprise hard sugar butterflies to the sides:
Activity-wise w
e did a little pin-the-cutie mark on Pinkie Pie (ready to use from the store). Even the adults participated, but for the sake of staying on speaking terms with my relatives I'm not including those pics:
We also did "Guess how many mini figures?". I have to say I was a little shocked at how many I counted in here...and that we still had more left even when it was full:
I think the MLP pi
ñ
ata was one of the things I liked best. We found that in the My Little Pony section of the party store with all the other themed paper products. I was also very relieved it had pull strings at the bottom instead of the usual bat-the-heck out of it until it breaks way to open it. Assault & battery of one of her favorite ponies would have been more traumatizing than entertaining.
My husband came up with the clever idea of stringing it through some plastic pipe we had in the garage. He was able to bob it around a bit for the older kids so it was more of a challenge:
The main "crafty bit" I did for the party was to make some pony soaps for the goody bags using the silicone molds from my DIY Soap Painting post. Melt & pour soap is ideal because it only takes a few minutes to make - I just had to do a few small batches since I only had 2 pony molds. I didn't do the detail painting this time, but I did represent the colors of the Mane Six ponies Twilight Sparkle, Rainbow Dash, Fluttershy, Pinkie Pie, Apple Jack and Rarity:
The other goodies were easy mints, tattoos and unicorn horn suckers. Again, bought with the other stuff in my single visit to the party supply store:
And since she's a mega Celestia fan, we got her the new Rainbow Shimmer™ Princess Celestia snowglobe pony as her main gift. I'd seen this on a My Little Pony fan site from the big NY toy fair earlier this year and thought it was so cool.
There was no estimate on when it would be available in stores, so I was thrilled to find a prototype for sale on eBay. I'm usually pretty skeptical about that sort of thing being legit, but I just went for it. It was definitely worth it - even husband & I were wowed by its sparkle + water-filled interior and it was pretty neat to have something before it was even in stores. We also got the Princess Luna version but I couldn't wrestle both away from her pony pile for quick photo.
The funny thing is that is party was just as fun as the ones I slaved over and probably cost about the same. Everyone had a great time and the birthday girl loved her party & all her pony presents. It felt so good to give her a great party AND be able to enjoy it myself for a change!