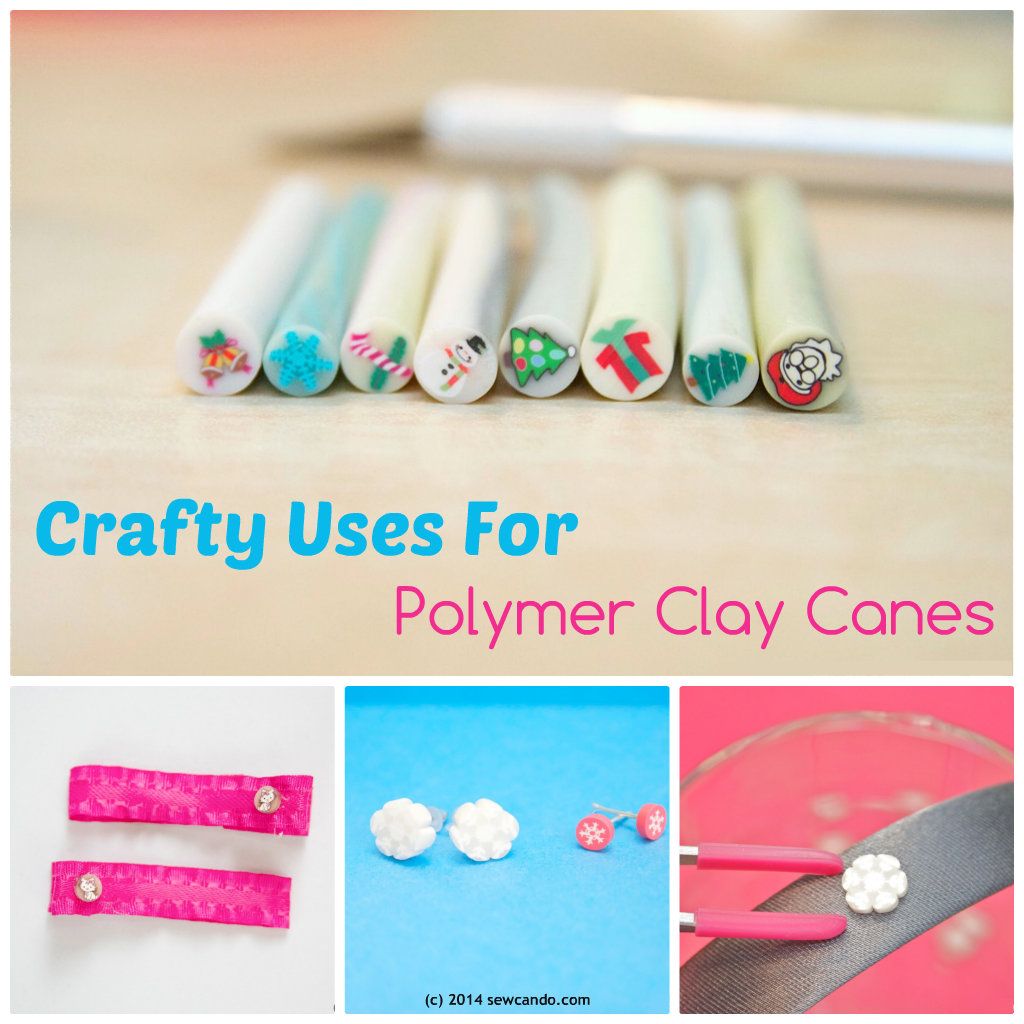 With the right supplies you can craft up some great creations using minimal effort. Today I thought I'd share something I used during my holiday break to craft up some seasonal goodies in mere minutes: polymer clay canes.
I discovered these babies on Wholeport and thought they'd be a good way to get the maximum crafting options, for minimal cost & effort. I wasn't sure if my plan would pan out, since I haven't done much crafting with polymer clay, but I thought I'd give it a go. It's not like I have to sculpt the designs - just cut them!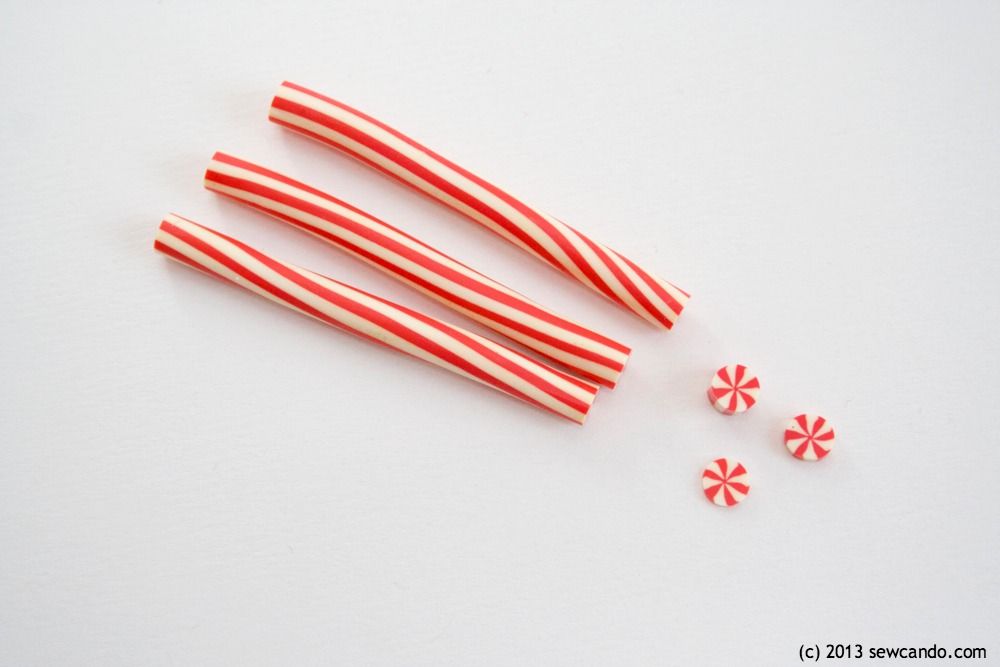 Now, in case you're wondering what I'm talking about, polymer clay canes are rolled sticks of hardened clay that have fun millefiore-style designs inside.
Just cut them to the desired thickness with a sharp blade and they can be used for all sorts of things. Earrings, barrettes, card/scrapbook embellishments, decorations - whatever you can dream up.
I got an assortment of wintery-designs. Each cane is a couple of inches long. I was a little worried about them being so small (the diameters varied between 1/4-1/2 inch), but I had no trouble coming up with loads of ways to use all of them.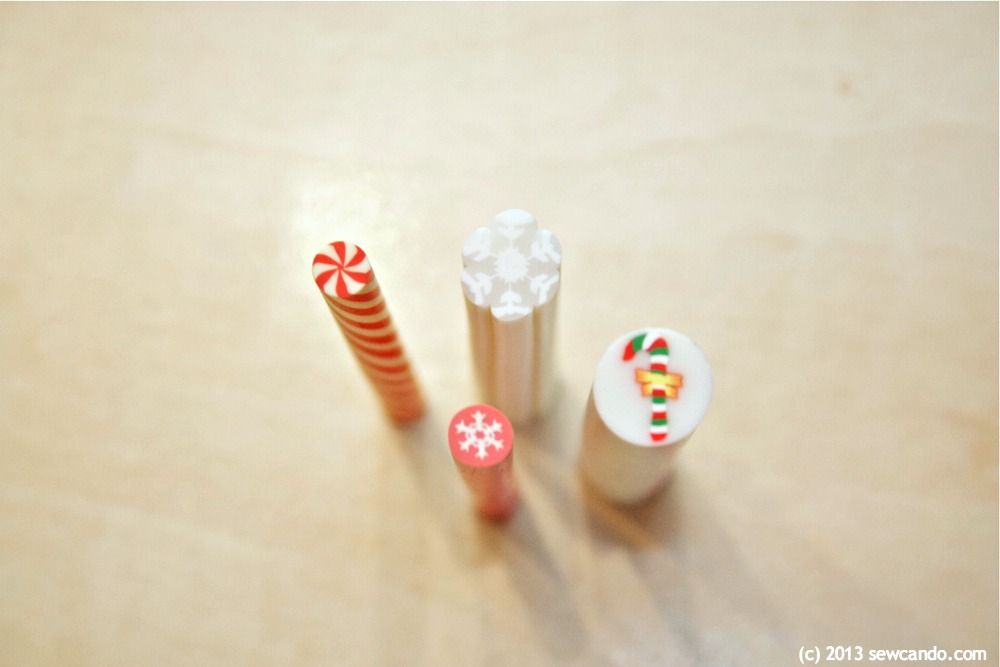 This set had 8 holiday sticks for less than $1 total. Seriously, that's it. Talk about budget friendly. And I've made lots of things and still have a good amount left. The cheapskate in me LOVES that.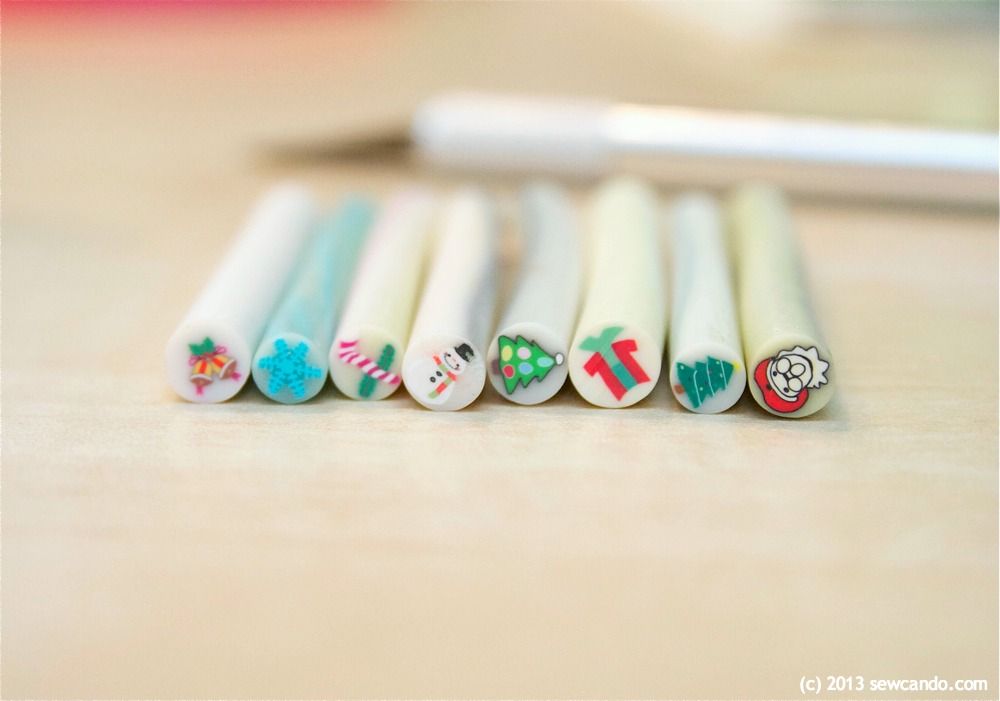 I found it easiest to cut mine with a razor blade on a cutting board and doing it slowly to keep the slices even.
Slice them super thin and they can even be used for nail art!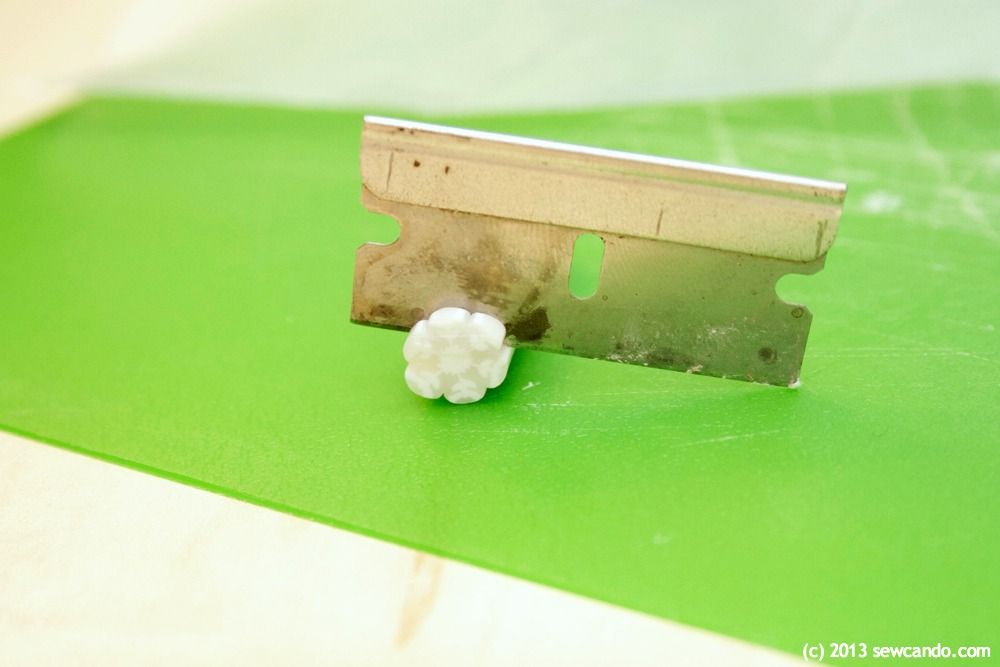 To adhere my clay disks, I used E6000 glue. It's super strong and easier to use with small items than hot glue. It is a bit noxious, so have some good ventilation and try to keep it off your hands. Using tweezers made it easier to adhere mine: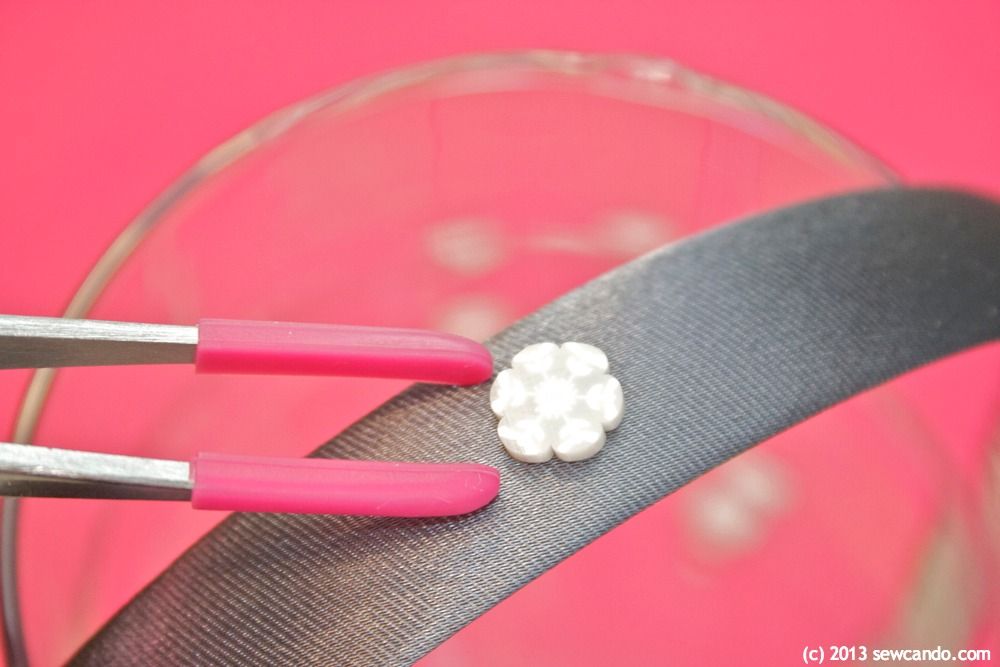 I glued a few pairs to some earring posts to make these cute seasonal studs: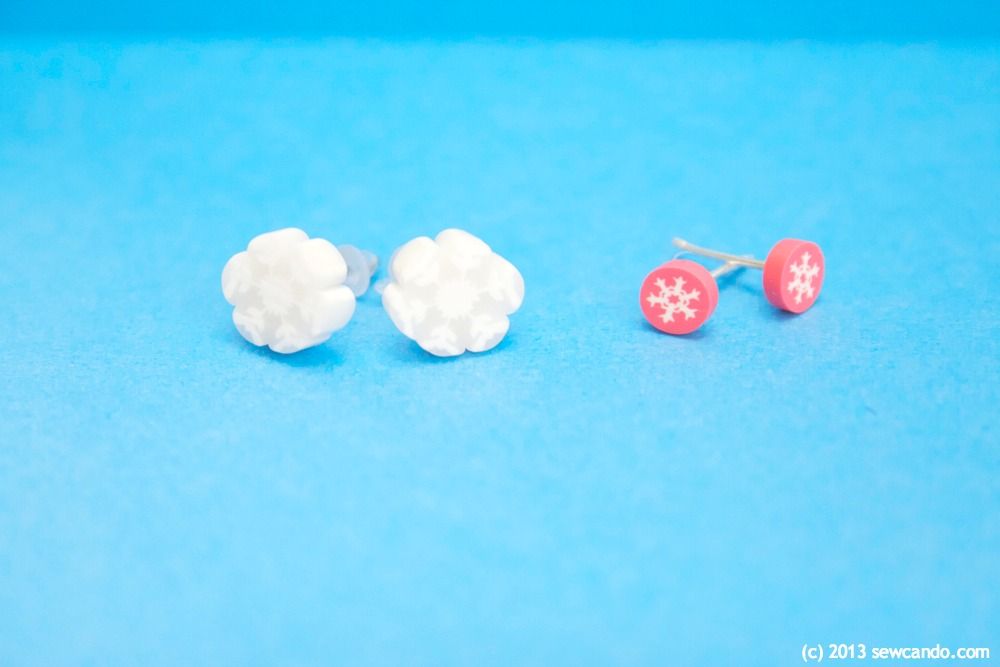 And added a handful of the larger snowflakes to this satin headband to go with a silver snowflake dress I recently made (dress reveal coming soon):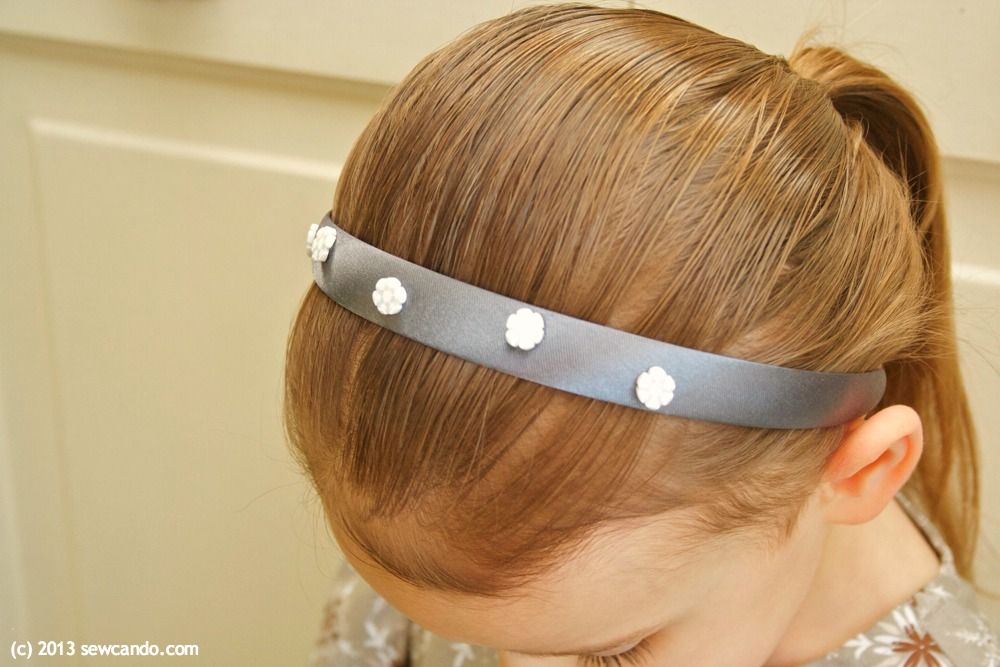 I made several ribbon covered hair clips with them too. Here's a little peppermint & snowflake combo: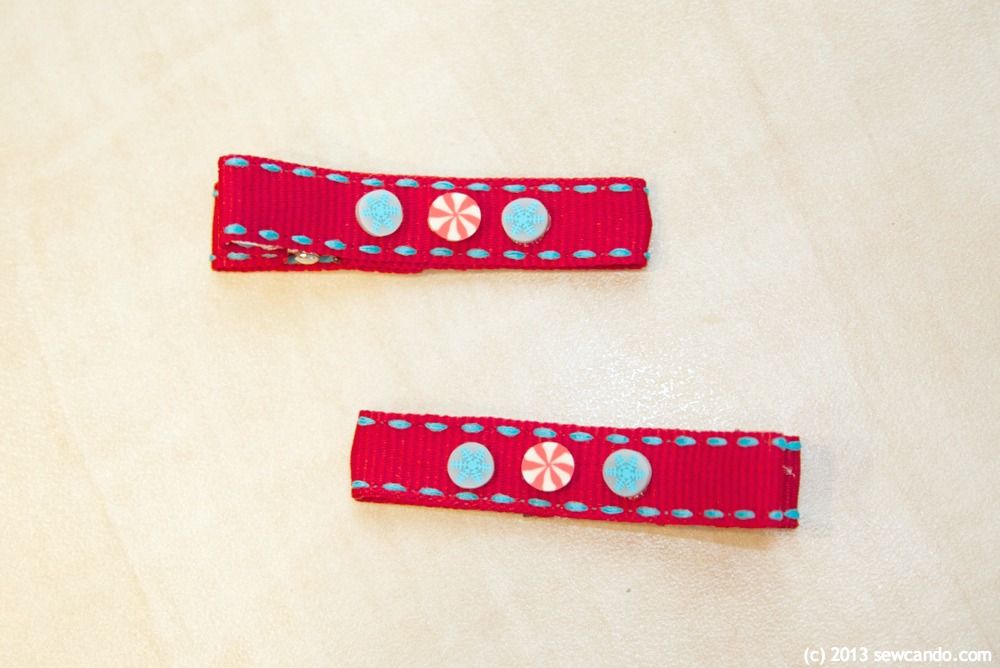 And a winter medley that is holiday festive, but won't be totally pass
é
now that Christmas is over: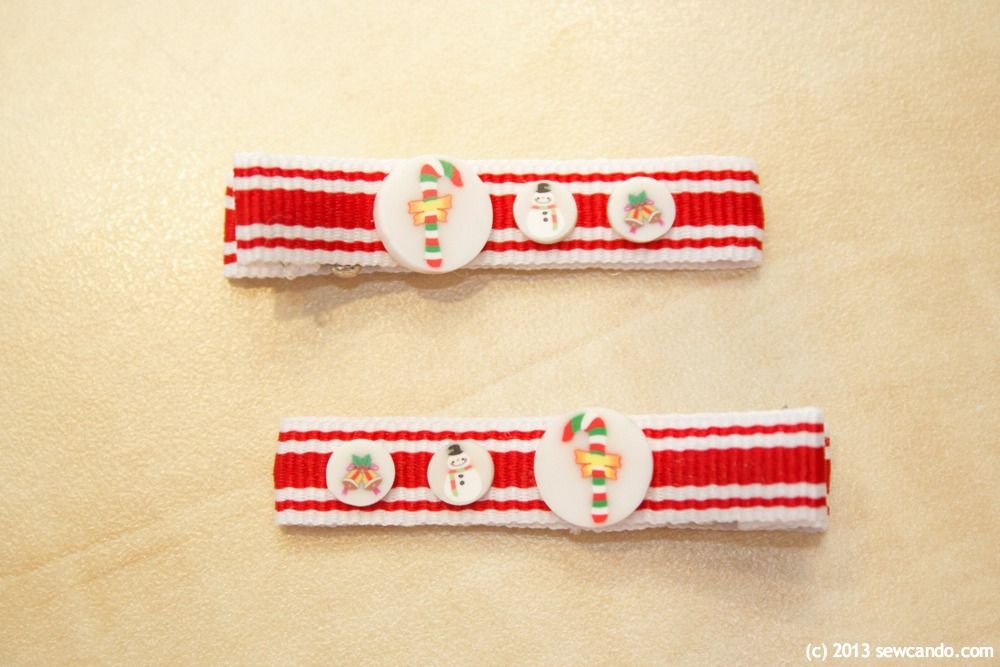 I especially loved using these tiny grey kitties with a little ruffle edged ribbon. So dainty!
I'm thinking about gluing a few onto some bottle caps to make some dollhouse/My Little Pony play food cookies for the Little Miss and maybe slicing up a bunch for the kids to use for art projects. I'd definitely get these again & as an added bonus, they don't take up much space, so storing the leftovers is easy too!
You can find lots more polymer cane designs here. There are flowers, fruits, cute critters, colorful shapes, etc. I can't wait to expand my stash with some more:)
I'm also sharing this project with my FAVE LINK PARTIES.
I was not financially compensated for this post.
The opinions are completely my own based on my experiences.
I selected several items from my Sponsor, Wholeport, to review. I am an affiliate of Wholeport.
For my complete disclosure policy, click here.