This week I tackled the drive-thru bank wall for
my felt playhouse
. I started out by chalking out the ATM & teller window and then cut out the window hole & slot for deposits.
I made a roller shade that can be up or down by sandwiching two strips of felt on either side of the top between the shade piece and stitching them on together. Then I stitched on the letters (3"x3" each on this side).
For the ATM I cut out a big rectangle of white felt, a smaller square of gray for the screen, nine - 1in x1in squares of blue & a few rectangles for the buttons & stitched them all together (pins are yourr best friend here).
I used my ever-favorite printable fabric sheets to make the ATM & deposit signs and then stitched those on. I added a long strip of green (cut half way down every 1/4in) at the bottom for grass and was done. My 7yr old is really into playing bank, so he was way excited to see this was "his" side.
Sharing this with: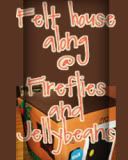 Show Us What You're Working With @ Me & My Bucket