Oh boy, is this week's Craftastic Monday Link Party starting off with a bang! In addition to linking up your latest & greatest craft projects, recipes, DIYs, etc. this week, I'm also inviting you to share any crafting disasters/horror stories in the comments. It's in honor of my most recent crafting escapade & its horrific wrong turn:
On Sunday I sat down for the first time in a long one to do some sewing. Everything this summer seemed to get in the way of my sewing time, but we'd finished our last big household job of painting our shed the day before. Yay! Finally working on a little fall outfit for my smallest child, and it felt so good. Ahh. My 4 yr old was even behaving by quietly playing nearby! Everything was going great and I was just thinking to myself how much I'd missed this kind of time. Then my 4yr old said "I see some paint dripping.". He was referring to the shed's paint can that was on the floor in the corner of the room. It had some dried drip marks on it.
I was planning to touch up our front door with it & since the room has a kiddie gate on the doorway it had seemed like a safe place to keep it since the gate is always closed when my 2yr old is loose.
I told him "Those drips are dry, but just don't touch it."...mere moments later, he knocked the paint can over. The lid popped right off and half a gallon of paint poured out. Right in front of my storage closet, where it seeped under the door into the messiest stack of stuff I've been avoiding sorting out.
I yelled for backup and my teens bucket-brigaded the entire contents out overhead while my husband sat on the floor scooping paint up with a dustpan. I ran through an entire package of baby wipes and garage rags trying to remove paint from the wooden door, grout and a bunch of canvas bins full of yarn, card stock, trays (and everything else I almost never use/had forgotten about). The good news is we were able to get most of it off, apart from the bottoms of some canvas containers. The not-so-great news is my family room looks like a garage sale threw up in it while I try to get everything contained again - and I have to use nap time/any free moments available on that so I can keep two nosy toddlers out (before they find a part 2 mess to make).
Needless to say, the sewing has taken a back seat. Again. Sigh.
Have you had a craft-related mishap like this or had a project end in disaster? Share it in the comments below! It does feel better when you know you're not the only one these kinds of things happen to and it makes for entertaining stories later on....most of the time;)
Here are this week's Craftastic Picks:
She's Crafty created these faux terra cotta pumpkins from, would you believe it, styrofoam?!? This kind of non-breakable decor is a must in my house these days (see story above for proof):
Must Have Mom did this cute diy yarn pumpkin craft that looks like a lot of fun to do with the kids:
Big Green House shared how to make apple pie pastry cups, which is ideal timing since we just went apple picking (and there were loads of other great apple recipes linked last week too):
If you're one of this week's f
eatures, be sure to grab
my Featured On button over on my
Buttons Page
to share the good news.
Link back to the party
somewhere on your blog.
I can't feature your post if you don't share the party.
Ready to link up your crafty creations?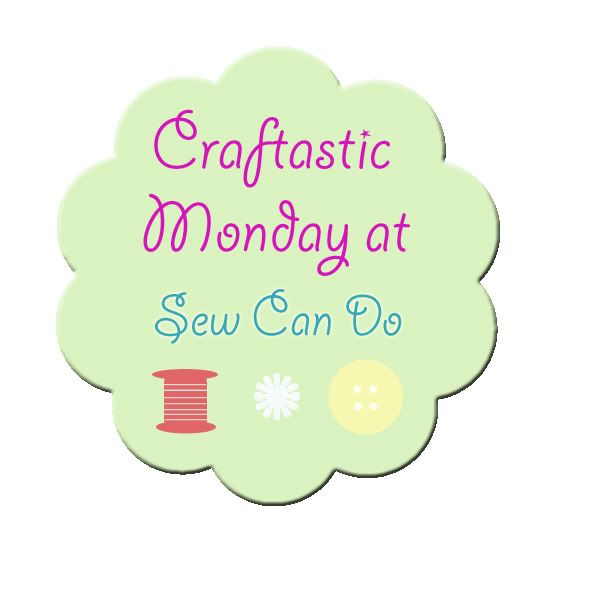 As long as it's crafty, and made by you, it's Craftastic (no links to other people's work or to businesses/shops).

Add the link to your specific post.

Product reviews, plagiarized or sponsored posts for random items

will be immediately deleted

.

Grab my party button & put it on your post, party page or blog somewhere. If you want the chance to be featured, this is key. The button code can be found HERE.
Check out some of the other fabulous links and share some crafty comment love. We all love getting comments!!