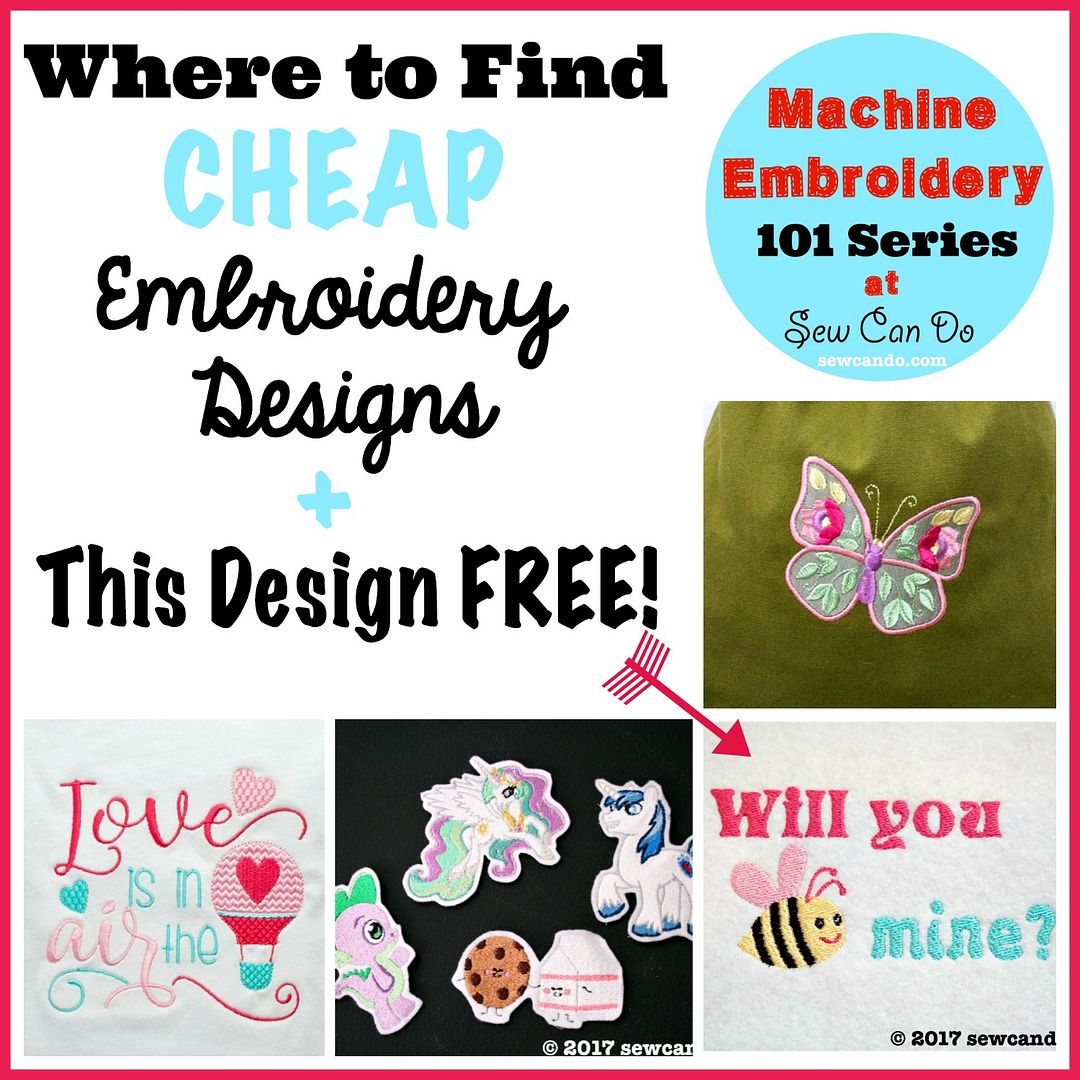 Last week I launched my new series Machine Embroidery 101.
Figuring out how to get started can be tough if you're new to machine embroidery, but once you do it's SO fun & simple. My goal is to make it a littler easier for others to get into, so they can enjoy it as much as I do.
Now let's get to the latest info on how machine embroidery saves you money and where to find cheap or FREE designs!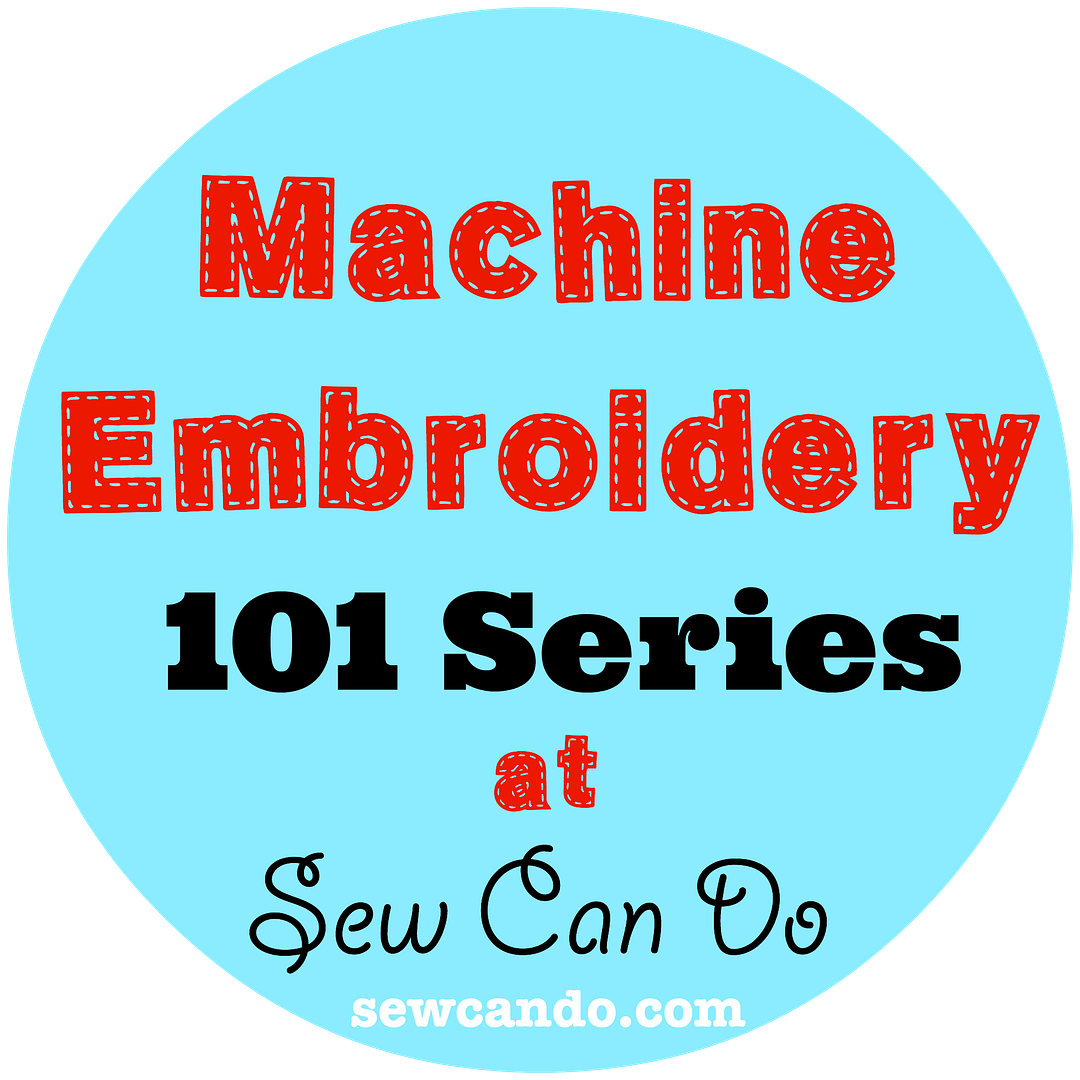 In my previous post about What's Needed to Get Started in Machine Embroidery, I shared all the gear required. While it can seem like a bit upfront, the reality is you can save money big time going forward. How? Consider this:
How Machine Embroidery Saves $$

Personalizing is now cheap. All those retail premium-priced personalized products are a thing of the past when you can embroider any name yourself in any color you want:
Custom Decor Matching Is Easy. Struggling to find towels, throws and other fabric accents with the colors and/or theme to match your kitchen, bathroom or a particular season is a thing of the past.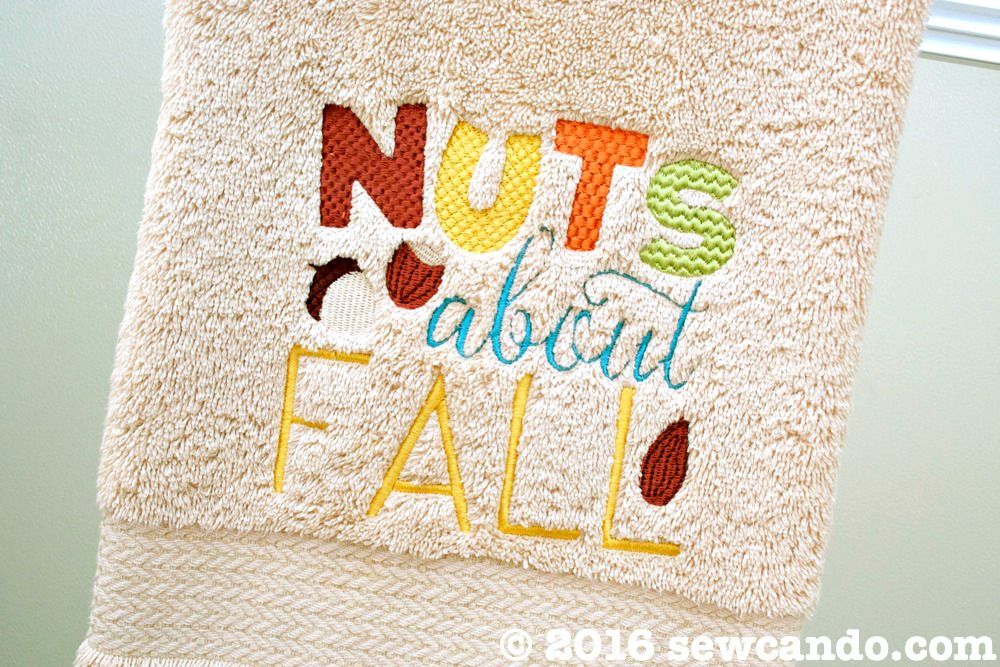 Team With The Theme For Less.
If there's a particular motif, themed character, especially if it's not super main-stream, it can be tricky to find merchandise or custom themed fabric that isn't $$. Not so with machine embroidery files. Sky's the limit with what you can find - I made these patches with some favorite characters that aren't common on fabric or mass produced items:
Even these old school Fraggle Rock themed bags were a cinch to do (please forgive the grainy photo - of course I forgot to take beauty pics before I gifted them!):
Inexpensive Kid's Clothing.
Adorable embroidered designs on clothing adds up. With 3 kids I used to spend a lot. Embroidering plain things yourself is a fraction of the price and just as beautiful. This shirt cost me under $5 total:
as did this one, which gets compliments everywhere we go: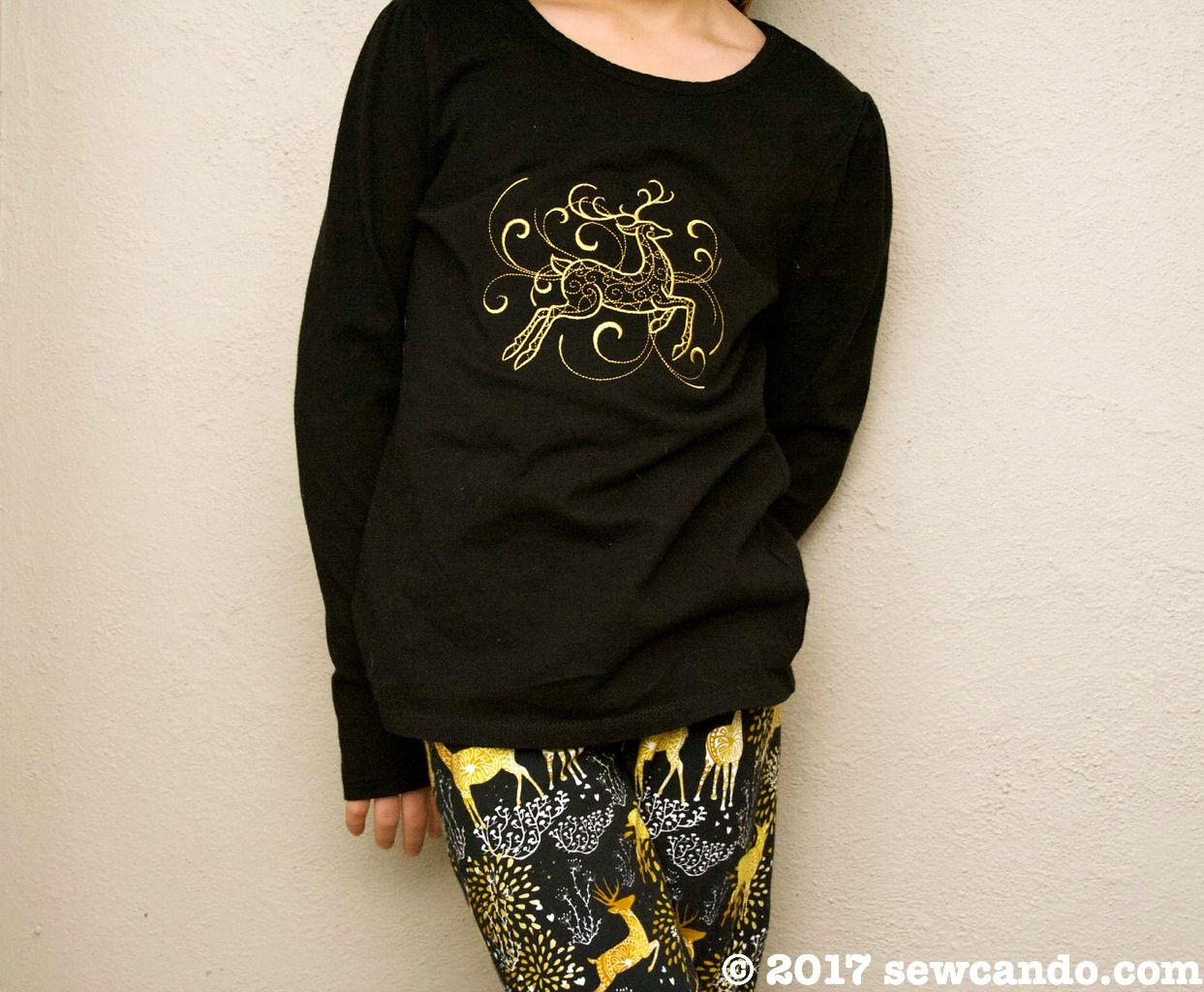 Simple, Yet Striking Gifts. Instead of shopping or DIY'ing for hours, you can
embroider the wow factor onto a basic item. This basic drawstring tote went from boring to beautiful with a little embroidery appliqué:
A Christmas file + felt scrap + plain mini hoop became a pretty gift topper ornament in under 20 minutes and still has a high end feel: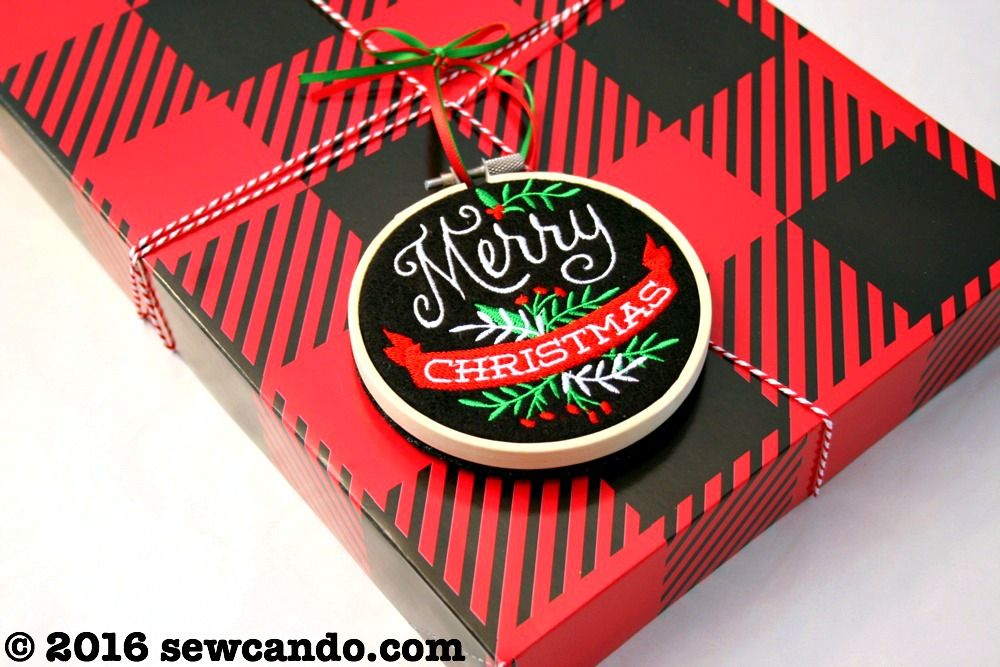 Now, the real question:
Where to find cheap & free
embroidery designs?
There are tons of places online. A quick Google search will probably find you lots. Once you buy a file you can use it as much as you want and change colors to make new looks. Which sources are good? Here are a few I use (and FYI no one is compensating me to be promoted!):
Breezy Lane Embroidery. Loads of cute individual and bundle designs for kids (or kids at heart) here and for just a few dollars. The I Want It All membership is totally worth it since you have access to every design EVER for a small flat price. Coincidentally, I see there's a big sale on the membership today, so it's a good time to grab it for a great price. The number of designs I've used vs. what I paid has made it a smart buy. There are also some nice FREE designs available there too.
Embroidery Library Inc. A massive selection of individual and bundled designs (tens of thousands) in every style imaginable and low prices. Frequent sales, plus quantity, Happy Hour and free with purchase discounts. There's also a changing selection of a few FREE designs.
EmbroideryDesigns.com. Huge selection of designs, fonts and bundles, including licensed designs
and digitizing services
. Many unusual designs. Prices vary more, but they also offer your choice 3
FREE designs
per week from several thousand options.
All these shops have a variety of file types and design sizes to work with most machines. The free files are a
great way to build up an embroidery file library, so go for it!
What about design cards? I've got a few of those from my early days with a machine that didn't have a usb port, but I don't buy them now. With all the other options being , unless there's some rare designs you just can't live without, they really aren't worth buying.
There are also several options of embroidery digitizing software out there. With them you can turn a digital image into an embroidery file, which is awesome. Like the machines, software prices can be all over the place though. I've just started getting into making my own designs using software, so I thought I'd offer my very first made-by-me design file for FREE right here since Valentine's Day is just around the corner: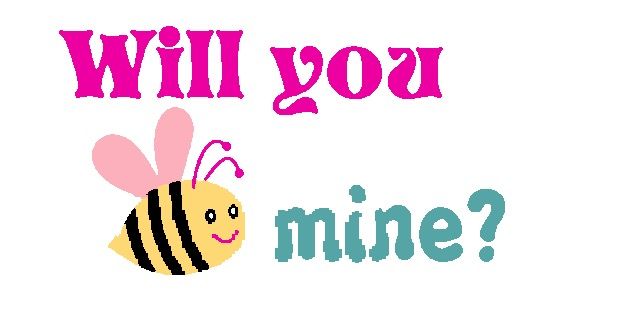 It looks a little pixel-y in the jpeg, but here's how it looks stitched out:
This design fits a 5x7 hoop (or larger) and is in PES format so it will work in a good number of embroidery machines (consult your manual to be sure). I feel like it would look super cute on kid's shirt, pillow or tea towel.
Here's where to download my files for FREE:
I'd LOVE to see what people embroider this on, so if you try it, please share! It feels so cool to be able to digitize my own files and share them.
If you've got some great sources for embroidery files, add them in the comments below, because I'm always looking for new places to try.
Got embroidery questions? Add those in the comments too and I'll try to
answer
them in an upcoming post.