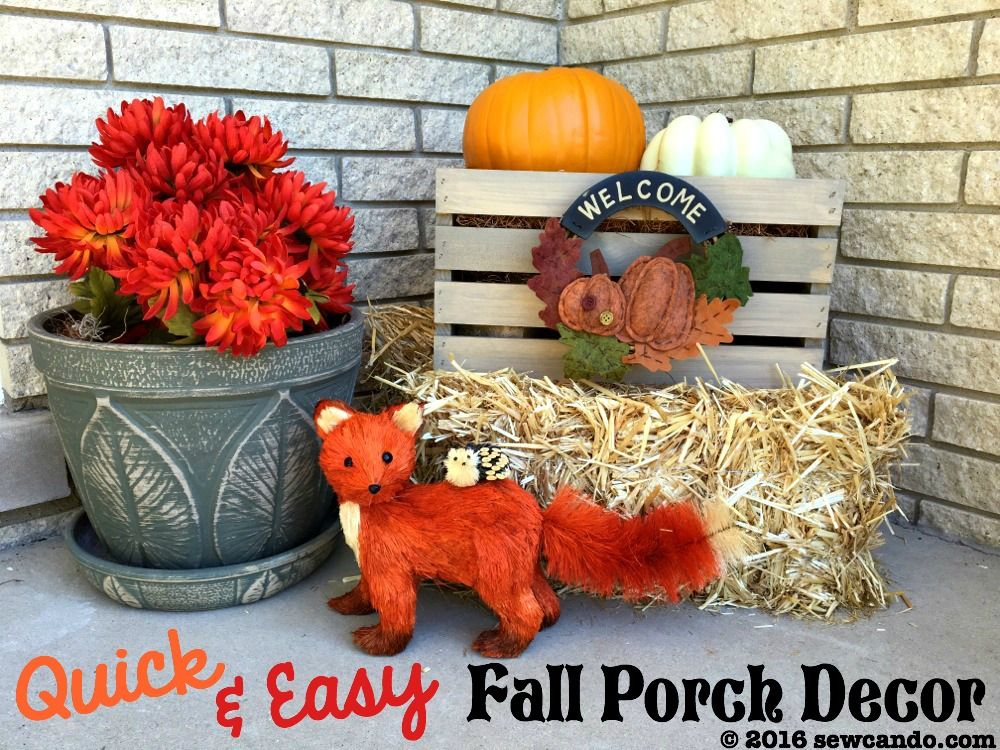 Love Fall decorations, but don't have a lot of time to DIY the decor? I'm sharing how I made my front porch festive
in record time
this year by reusing a bunch of stuff I already had in a new way.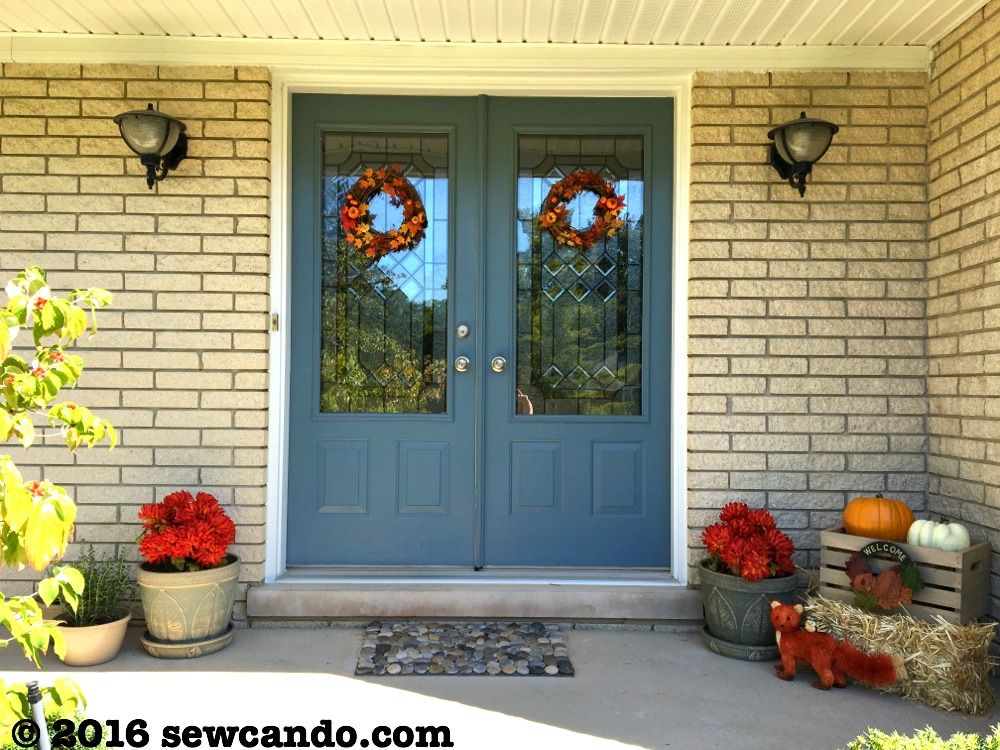 While I really enjoy autumnal decor and all the beautiful new items shown in the stores, I just can't see spending a small fortune on new decorations every year. I'm not in love with the idea of having to store even more stuff either. I've got enough hoarding issues with fabric going on chez Sew Can Do. I aimed to freshen old things up by using them differently this time around and it's worked out great: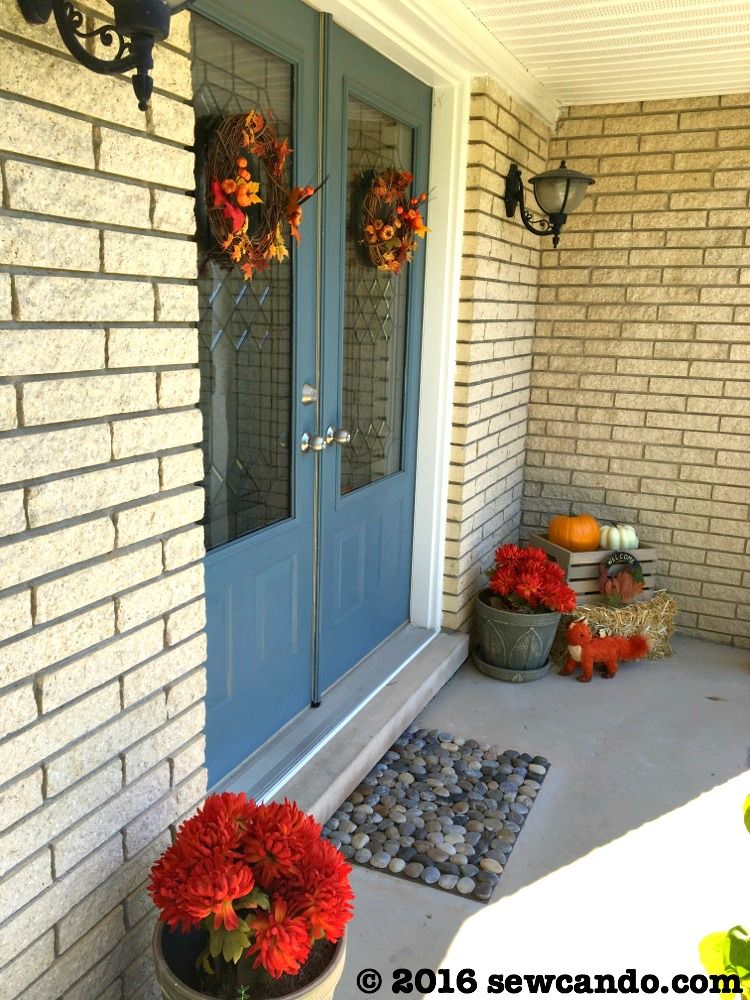 Here's how I did it:
The ceramic pots are my "always on the porch" pots. In the summer they held dahlias, trailing vines and germander herbs, but the first two plants were pretty much done. I transplanted the still growing nicely germander into a smaller pot and plopped my trusty silk mums into my big pots. I've used these mums every autumn for about 8 years now. Why buy real ones that will just get thrown away in a month or two? These look vibrant & pretty real (at least to me) and when the first sign of winter comes, they get tucked away for the next year. So easy - totally worth the $12 total investment they were when I bought them way back when!
I bought a good sized unfinished crate for just a few bucks. It was the only slightly crafty thing I had to do and even that was simply painting it with some grey wood tint: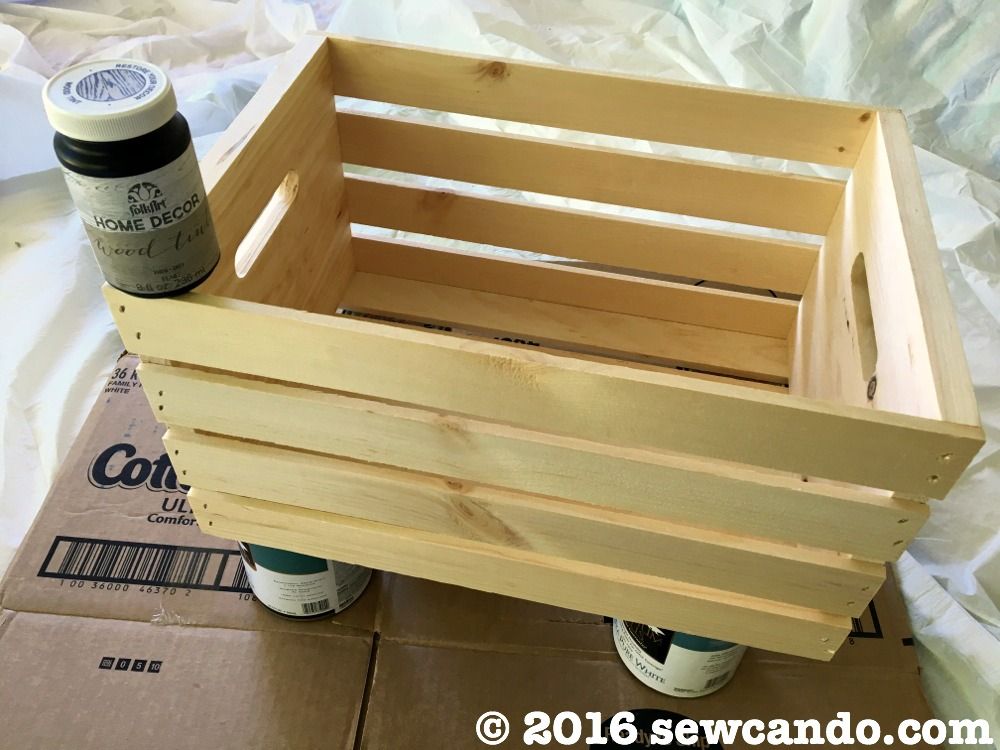 I painted 2 coats and then sprayed some polyurethane sealer on it for durability:
I bought straw bales to set the crate on and then stacked a few bricks inside the crate for sturdiness and so my old faux pumpkins would just peek out the top.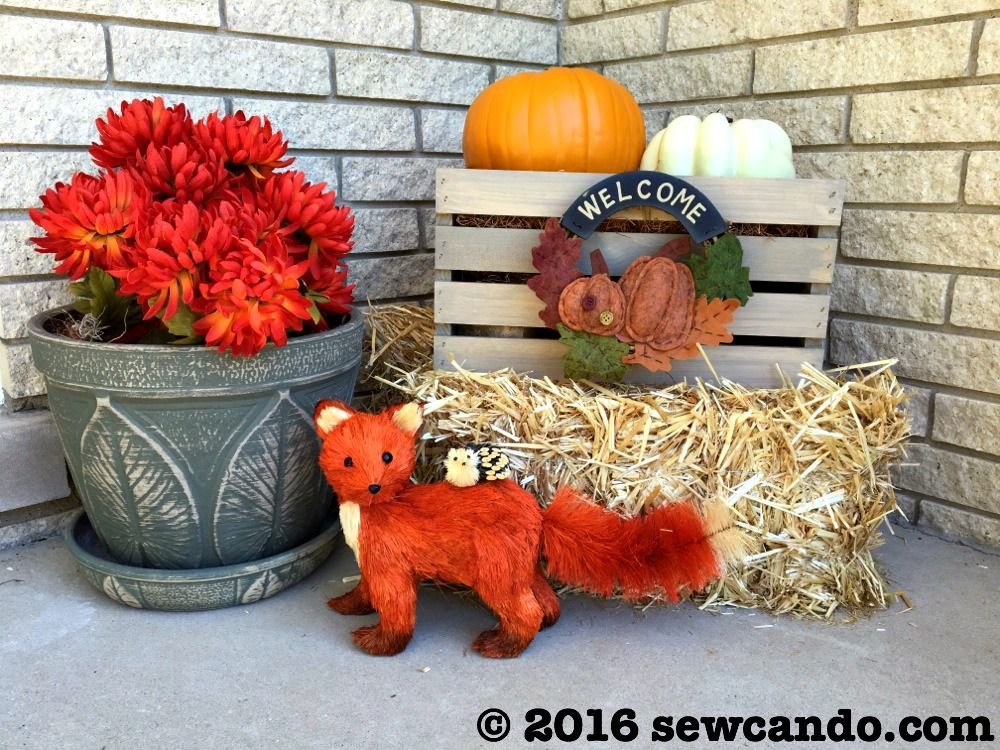 I spread some spanish moss to hide the evidence of the bricks.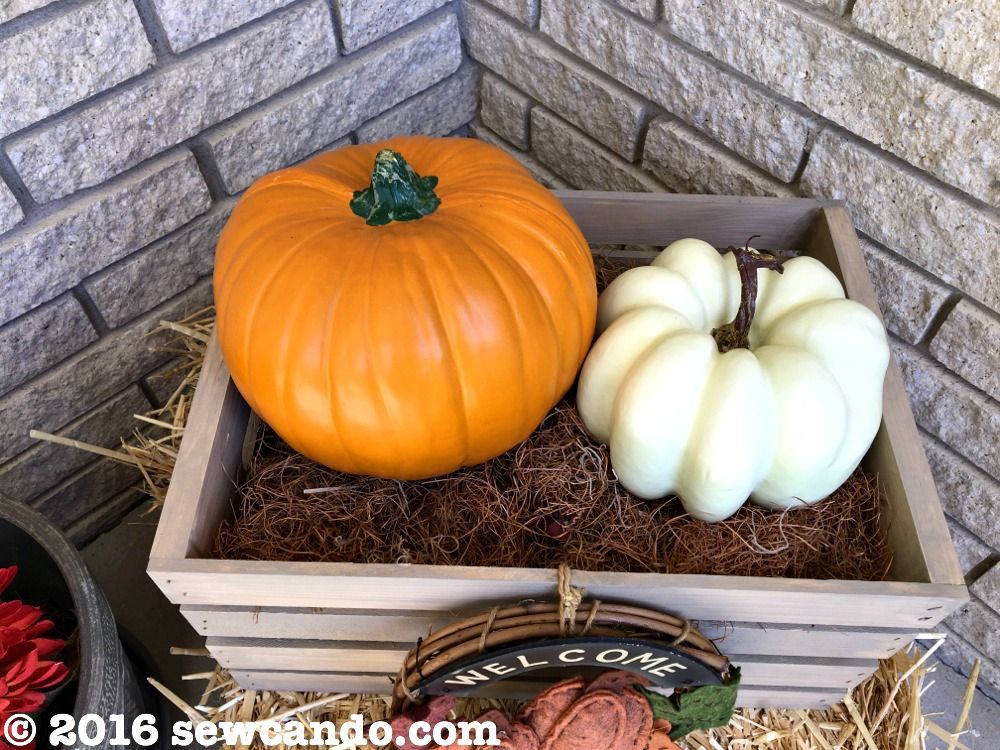 I'd bought this straw fox last year and used a wire to attach his little hedgehog friend to his back (last year the wind had blown hedgie around a bit too much):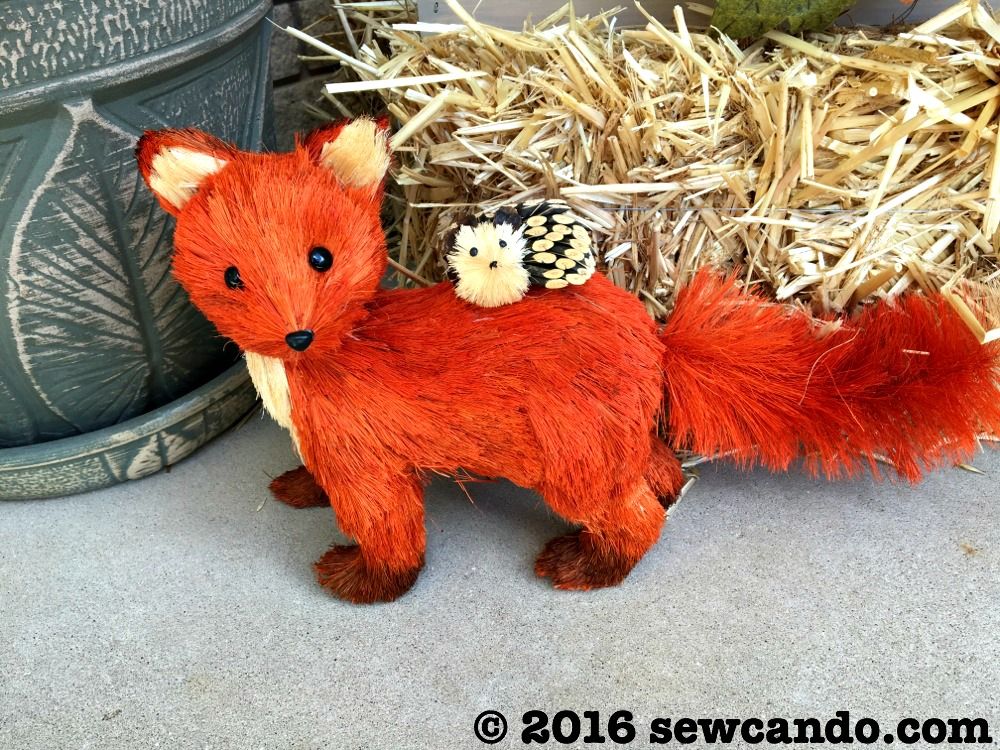 The crate still looked a little plain and I didn't want to spend money or time creating a new sign/knickknack, so I rummaged in my seasonal decorations bin and remembered I had this little wreath from several years back. I wrapped its twine loop and some wire around the slats of the crate to hold it on: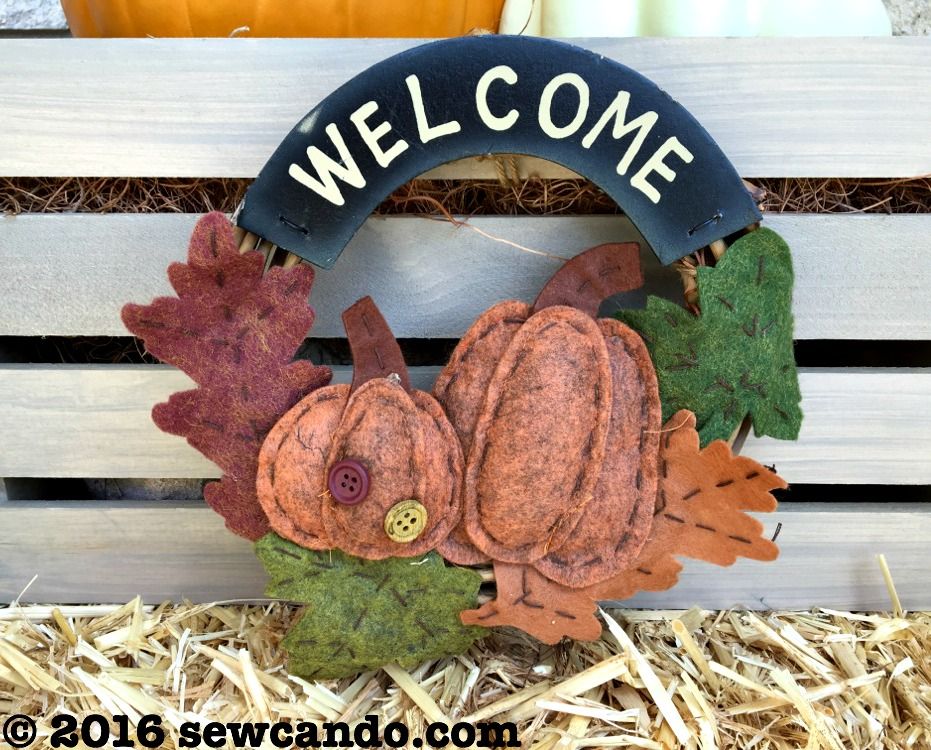 Now I had a cute little vignette for the normally boring corner of the porch.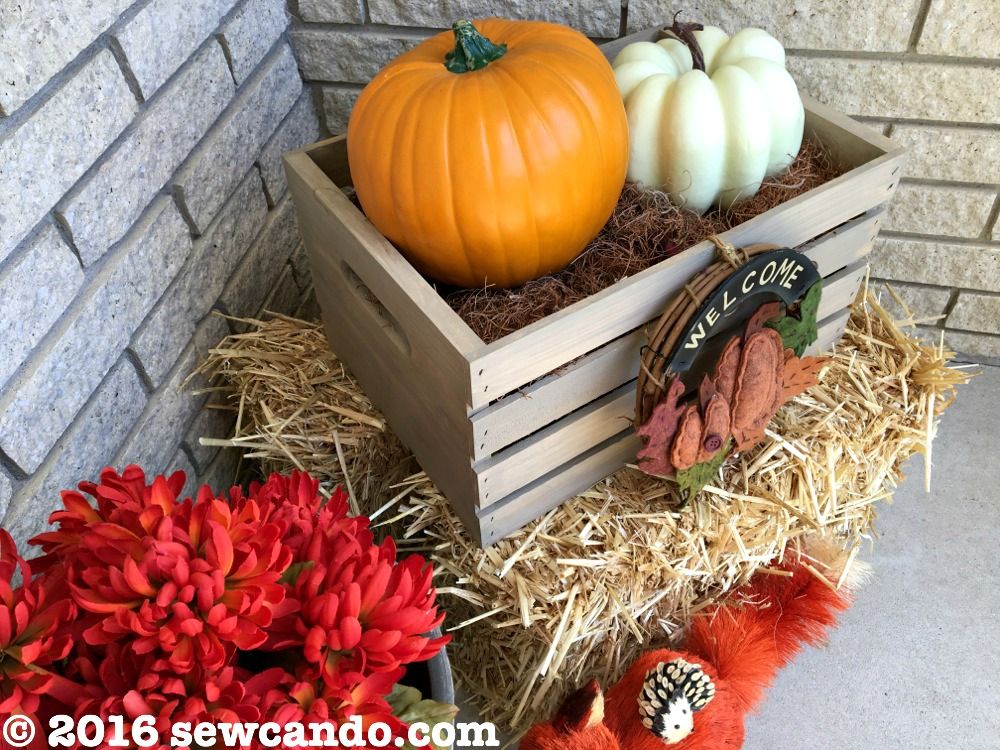 Onto the doors! My DIY Fall Door Wreaths are a cheap project I did last year. They literally take 10 minutes and $10 to make, but reusing them is totally free and completes the porch look: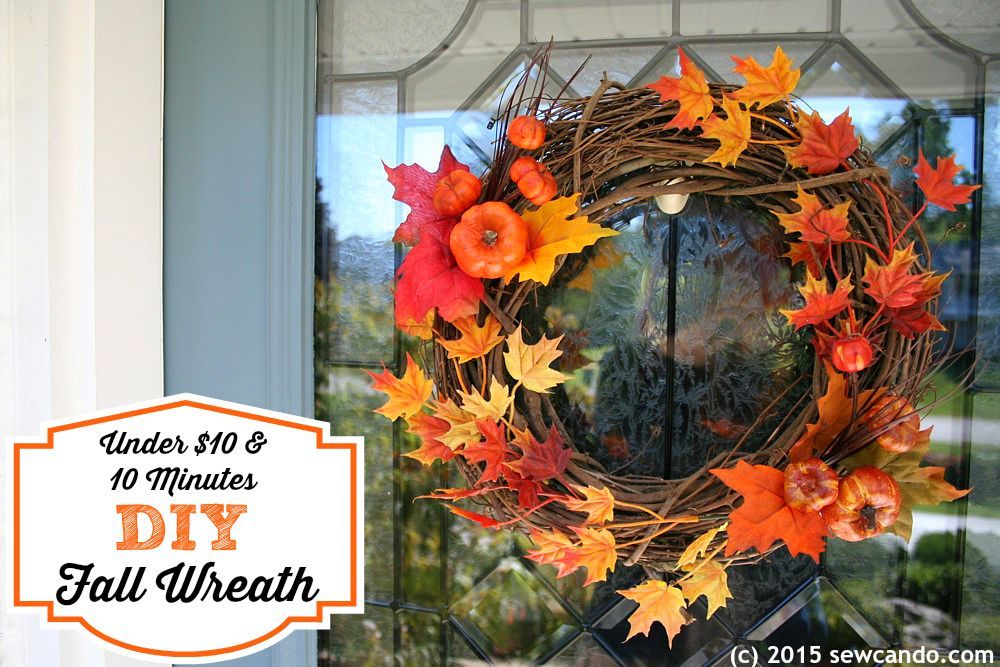 And if you have glass doors like me (or just don't want to put in a permanent hook), use the 3M Command Hooks to hold the wreaths on.
I use those hooks for my door decor year round. They just stick on, hold quite a bit of weight, and, more importantly, leave no trace. By the way, I'm not paid to pimp 3M, I just like 'em!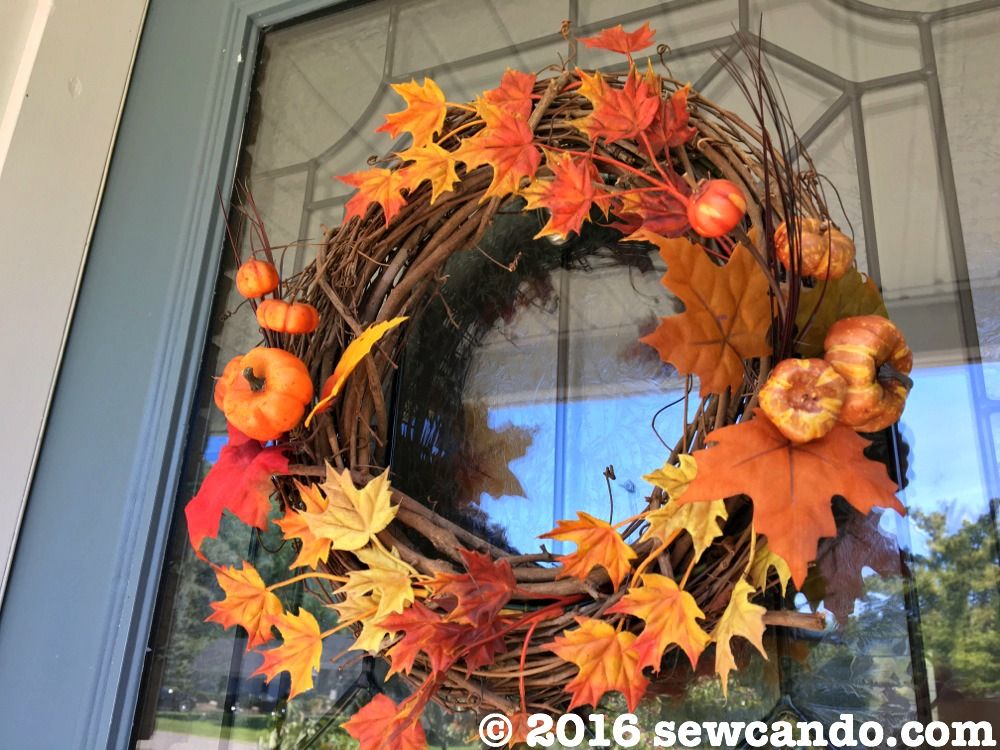 I'm really pleased with how my front porch looks now and am happy that it didn't take much time or money (just buying the crate and straw this year). I can switch it up next year by using flowers in the crate, swapping in a new sign or adding a new critter or two. Ideally I can store everything in the crate when the season's over too. Easy & thrifty is my favorite kind of project!
P.S. If you're looking for any of these particular items, I bought just about all of them at Jo-Ann Stores over the years. I'm not being paid to showcase them either. Some exact items might not be available anymore, but similar things probably are. Use those coupons & sales to score them for cheap, as well as and the teacher card discount if you're a teacher or homeschooler (like me!). Happy Fall Friends:)
Save
Save
Save
Save
Save
Save