I think I've made it pretty clear that I'm a fabric fanatic. Especially awesome knit prints. I can't get enough of them! So I'm thrilled to share my key tips for happy knit sewing AND that I'm giving away some new knit fabrics from a great new knit fabric store
!
Sahara Fabrics is the sister company to one of my favorite sources for print PUL, FOE & other specialty materials, Diaper Sewing Supplies. You may remember it as the source for my ultra-versatile waterproof oxford fabric projects back in the summer:
A while back I'd told Dawn, the owner of DSS, how great it would be if she offered some of her cool PUL prints as knits. So I was thrilled when she later told me she was going to do cotton knits and asked me do some fabric testing for it.
Now her new shop, Sahara Fabrics, offers fantastic knit prints like these beauties:
With my kids getting older I've found it harder to find prints that are fun, but not too cutesy or juvenile. Same with sewing things for myself - I like whimsical prints, but still want them to be wearable, which these prints totally are:
I want to start by saying that sewing with knits is not as hard as most people imagine. And you do not need a serger to get seams that stretch, just a few key notions. You really can start sewing up your own pjs, t-shirts, leggings & undies in no time!
Use a walking foot - it
grips fabric from the top (instead of just the feed dogs underneath), so the even hold keeps layers from creeping or stretching while you sew. This really makes a difference when sewing knits, so it's worth getting:
Nylon thread - this wooly looking thread is what I use in my bobbin whenever I sew knits.
It
adds a little extra stretch for seams that will be pulled a lot, like neck or leg holes
. And a cone of it will last forever.
Stretchy stitches - this is the other key element to sewing knits. Triple stitch, triple zig-zag, overcasting/knit stitch all work great, as do a few others. They provide give and strength which are key when sewing with knit fabric. It is totally worth the time to dig out your machine's manual and see what stitches you have. Usually it will also tell you what each stitch is suited for too, so you probably have even more options than you expect!
For more details on these and other stitches, you can check out my post Ways to Sew Knits Without A Serger.
Coordinating Notions/Trims - Ball point needles are necessary for sewing knits and twin needles are great for a professional finish on hems & necklines (and have stretch too).
Lastin, a clear elastic is also great for stabilizing seams and for gathering:
Binding and Fold-Over-Elastic (FOE) are great for flexible binding on things like cuffs, waistbands and legholes.
I used some 3/4 inch elastic binding to trim up these boxer briefs I made for my 10yr old with the Aztec Fox print and by modifying a longjohn pant pattern:
Good Knit Fabric - the most important thing is to use good, quality, knit fabric. The cheap thin stuff is what puckers, bunches and causes knit frustration. These Sahara Fabrics knits are 95% cotton, 5% spandex, so there's a nice weight and drape that's not heavy, but also not flimsy. It's taken me a few years to admit (I can be a fabric cheapskate), but it's just smarter to buy the good knits than to struggle with second rate fabrics because they didn't cost much.
I used the colorful Feathers In Flight print and
its coordinating solid pink
to make this cute top for my daughter:
The pattern was the Autumn Forest top from Ottobre Design 4/2014 issue. It called for using Lastin clear elastic to do the front gathering detail.
I bought some from Sahara Fabrics and it worked well with the fabric and gathered better than the usual baste and pull method.
I used a triple stitch for all the seams and topstitching. It's literally what it sounds like - a straight stitch gone over 3 times, but it has tremendous stretch and a professional "thicker" look:
I used the Arrows In Flight print to make myself this raglan lounge top (Seamingly Smitten's Women's Raglan pattern). I love how it's whimsical, but not too twee and that it's gender neutral. I'm totally going to buy some more of this one to make stuff for my husband and kids too.
It's also nice & colorful (which means it's easy to match to things), but not too bright. It totally worked with this sea foam color rib knit I had in my stash:
I especially loved how these fabrics worked when I made pajamas for my 13yr old son. Sewing for teens can be tough. He's now too big for kid's clothing store pjs, yet too thin for men's. He still likes wearing fun prints, yet doesn't want to look like "a little kid", so it can be challenging getting it right. I used this ultra cool Super Science print and some aqua sweatshirt fleece to make these:
The pattern was Ottobre Design's Rudolph pajamas from the 6/2009 issue (which go up to teen size) and I made my own planet applique to echo the print and complete the look. He LOVED it, so big thumbs up on this print.
Since my solid fleece barely had any stretch I used the cotton knit for the neck trim and cuffs.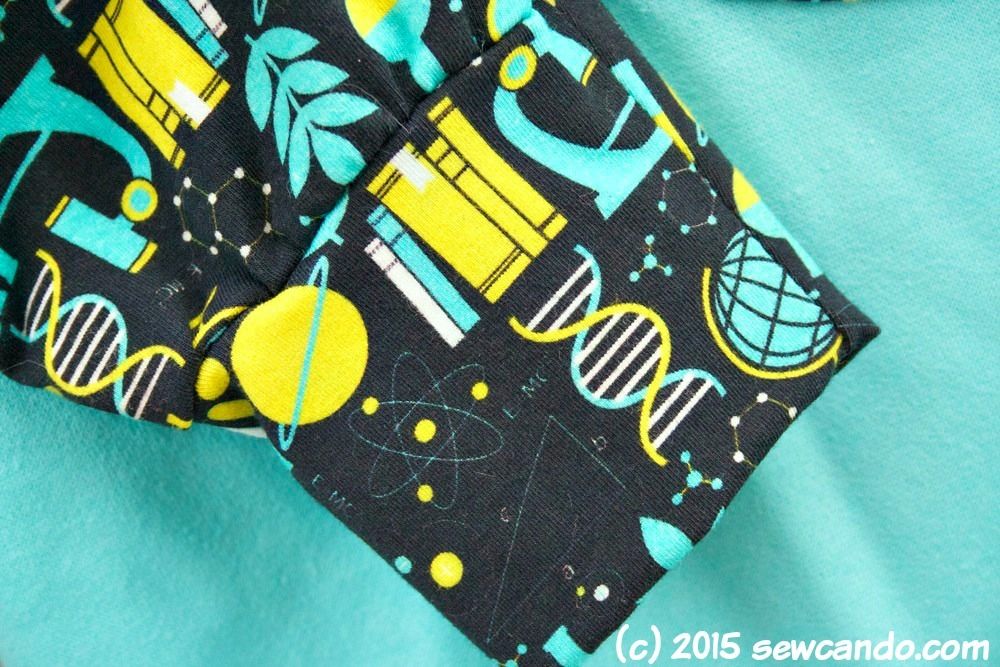 I was a little nervous it might not work out as the pattern called for rib knit, but the spandex stretch worked great, so it's good to know that it's suited for both main and trim fabric.
I still have a bit of fabric left from my testing and want to share my fabric love with my readers, so .....
The winner will receive a fat half yard each of Feathers in Flight & Dragonfly Grace knit prints and a half yard of the coordinating solid purple knit:
And if you love some of the other prints I used, they're all currently at a lower introductory price for the month of December so now's the time to grab some. There are a few good coupon codes to use too if you look here.
a Rafflecopter giveaway