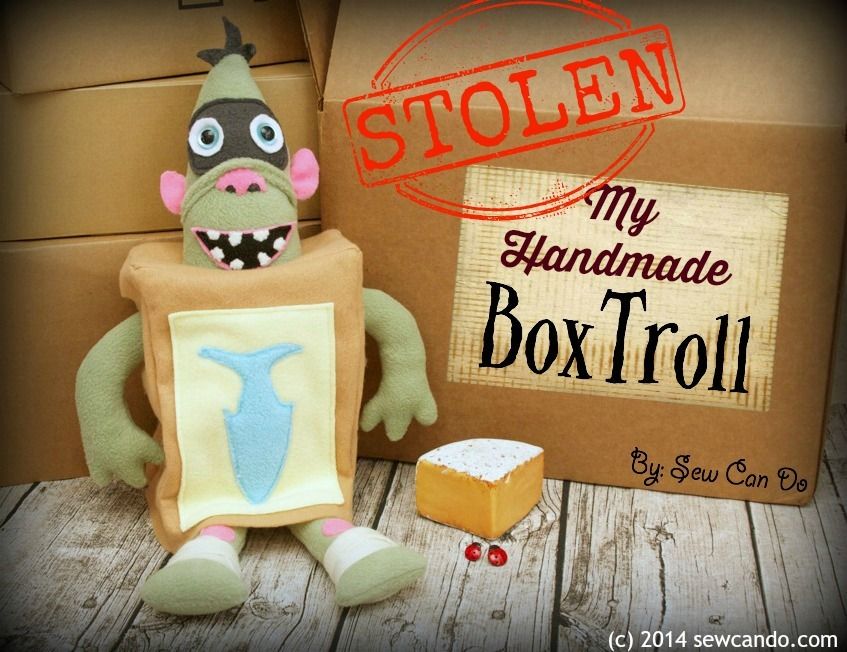 I'd planned to share some new projects this week. I had tutorial post plans in the works. I'd even been brainstorming brand new craft designs in my projects journal (which I hadn't done in ages), but something else came up that kind of stopped me in my tracks. I had my work stolen.
Almost a year ago, I created my handmade BoxTrolls plush for my son's birthday. There weren't any licensed versions I could just buy, so I created this one. It was made with love, just for my little guy. I worked hard on designing it and it took a lot of time to create.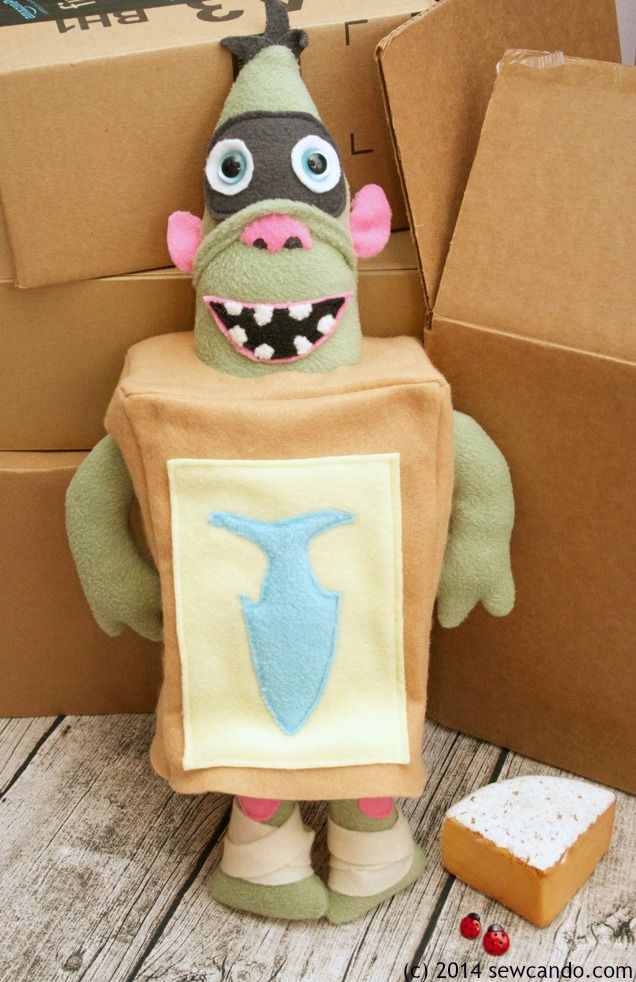 I was proud to share what I made here on my blog, and how I did it, so other fans could be inspired to make their own BoxTroll to love. The director of the movie even commented on it on Twitter. I was thrilled.
I never dreamed of making them to sell (although I've had many people contact me asking me to). I've turned down requests to sell a pattern for it countless times. Not only would it be more work than I'd like to do, it wouldn't be right. It would be copyright infringement if I started churning out BoxTrolls items for profit, or used the BoxTrolls name, with no license agreement from the creators. Which is illegal.
But that didn't stop this Chinese seller on Alibaba. Who stole six of my photos and is selling illegal BoxTrolls toys using my design:
My heart sank when I discovered it. They even had the nerve to Photoshop over the By Sew Can Do text on the box, crop out my copyright marks and plaster their own marking over MY photos. The cheek of them trying to watermark photos they stole and manipulated is something else!
The day after I found out my son had the new wallet he got for his birthday stolen from a locker at swim class too. Two thefts in 24hrs. One nearby and one halfway across the globe.
There are some real jerks in the world.
My photo: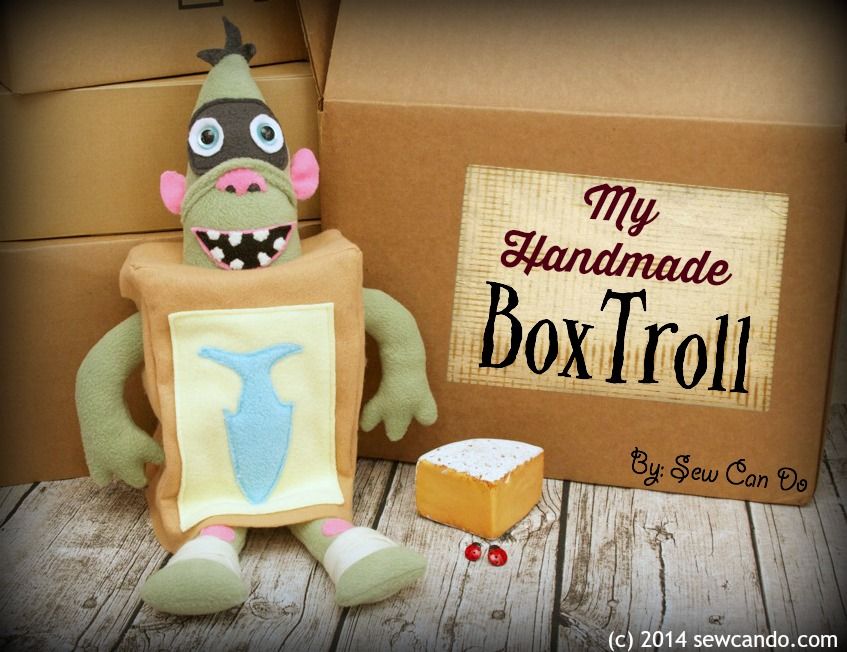 Their doctored version:
I wish I could say it was the first craft theft that ever happened to me. I wish I could say I caught them, the shaming went viral and everything got fixed. But I can't.
You need an Alibaba account just to contact them and this "business" conveniently has no presence online anywhere else. I sent a cease and desist to the one Shenzhen Levin Toys & Gifts (the business stealing my work) email I could find, but it did nothing.
Alibaba has an "Intellectual Property Complaint" form, but the kicker is you have to create a user account with them and give them all your personal contact info just to lodge a complaint. Do I want to give a giant foreign reseller site, with a shady reputation, my personal address and phone number with no guarantee that they'll even remove my photos? Not especially.
I know the next thought is get a lawyer.
I've gone that route before...
A few years ago I worked with a big name craft supply company and they asked if they could post my Stylish Storage Box project on their projects website. It was already a tutorial here. I'd worked as a paid freelance designer for them (making original projects for their site and selling them the rights), I'd hosted giveaways for their products and they'd always credited me & linked to my website on everything. So I said ok.
Then they told me Jo-Ann Stores had chosen my project and instructions to be used on a free tear sheet in stores nationwide near their product displays. I was flattered and proud. I wasn't going to be paid, but it was publicity in every Jo-Ann Store nationwide. That's a big deal, right? I was even given a proof of what the sheet would look like. I saw my name as the designer on it. I was eager for it to come out and share the news here.
When I saw the sheets in my local Jo-Ann store I was so excited I was practically jumping up and down. It looked so good! There was my work! Until I flipped it over and saw the back:
My name was NOWHERE on it. My copyright text on the photo had been cropped out. There was nothing attaching my project to me and in the spot "Created By", where my name had been on the proof, was that company instead. My heart sank. I almost started crying right there. It wasn't Jo-Ann Stores at fault - they had never been told the project was my creation and my property. The company that took the credit for my work knew it was mine though.
They claimed they didn't know my name wouldn't be on it. That it was a "simple mistake". On the phone my contact was "so sorry" & said it would be reprinted, but in writing they wouldn't respond.
Their legal just ignored me.
Every assurance it would be fixed or pulled went nowhere.
I had them remove anything that was still under my copyright from any of their sites & planned print ads and I removed every trace of them from my own site.
I got a copyright lawyer and official cease & desist letter for the tear sheet. It was expensive and took a lot of time. And nothing changed about the sheets. Taking it to court would have cost me a fortune even though it was clear from my paper trail that I would win. The damages wouldn't have been worth the lawyer fees I'd incur
.
It's literally years later and I still see my project sheets in stores. I got nothing out of it. It burns me that they sure did.
Ironically both projects were things I did for free, with no intention of making any money off them, but others stole them so they could.
I've loved having this blog and sharing what I make with fellow crafties. Hearing from people inspired by my work or seeing others making things for themselves with my free tutorials has been a real source of happiness for me. It's made the huge amount of time I've spent on this blog over the years seem worthwhile.
Yet, I feel like I can't really share some of the things I love to make the most, simply because I don't want to risk them being stolen. And that makes me sad too. I hate that a couple of greedy people can spoil things for everyone else.
So I've got to think about this a bit and figure out how I can still share what lifts my heart creatively and not have someone else use it for their own gains. Short of either not posting them or putting a distracting giant SewCanDo.com across the middle of every photo, I really don't know....