And custom piped sides with coordinated fabrics give an added bonus pop of color:
I created this
as a guest project tutorial for Timeless Treasures blog to showcase their n
ew

Ooh La La fabric collection

last week

.
Now I'm sharing it here at Sew Can Do.
The colorful Tribeca Dots and Paris Pin-up Prints give a cool retro look:
Now, let's get to making the Bon Voyage Bag!
Materials:
- 1/2 yard Paris Pin-ups
- 1 yard Tribeca Dot in Aqua
- 1/2 yard Tribeca Dot in Red
- 2 yards 1/2 inch wide piping
- 1 yard Fusible fleece
- 4 metal purse feet
- 18 inch zipper
- Notions (zipper foot, pins, rotary cutter, iron, hand sewing needle, matching thread)
Seam allowance is 1/2 inch unless otherwise specified.
Cut the following pieces:
From Paris Pin-up
(2) Main pieces 19 inches wide by 15 inches high
From Tribeca Aqua
(2) Main pieces
19 inches wide by 15 inches high
(4) Circles 9 1/2 inches in diameter
(2) Strap pieces
42 inches wide by 2 high
(1) Bottom panel 19 inches wide by 6 inches high
From Fusible fleece
(4) Main pieces 19 inches wide by 14 1/2 inches high
(4) Circles 9 1/4 inches in diameter
(2)
Strap pieces 42 inches wide by 2 high
(1) Bottom panel 19 inches wide by 5 inches high
Iron fusible fleece onto wrong side of all pieces, centering the slightly smaller fusible so there is even spacing on the sides of the fabric: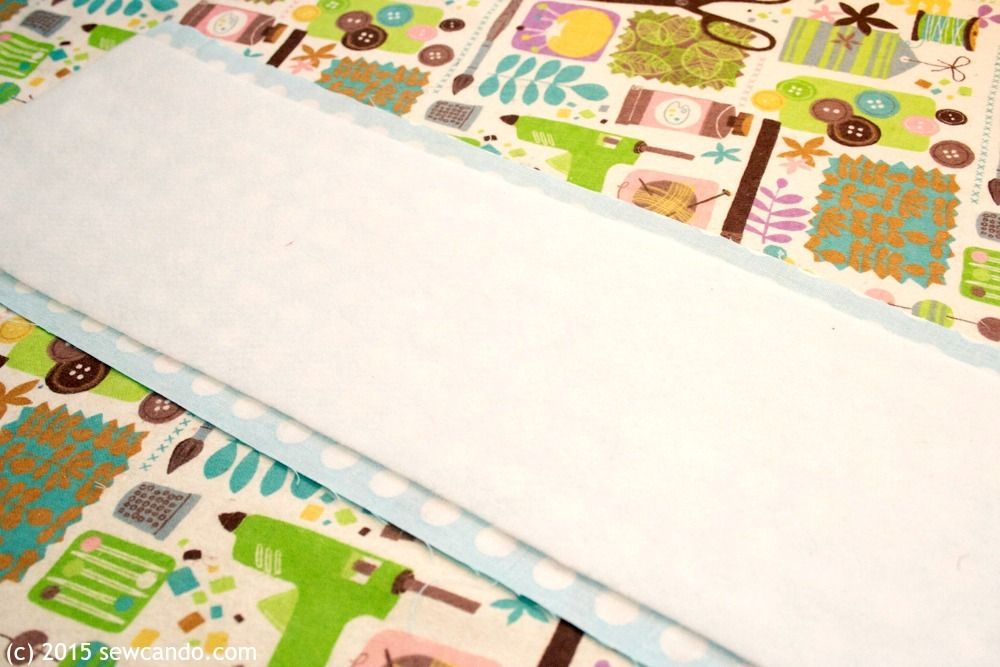 Start with the shoulder straps. Fold each lone strap in half lengthwise and stitch 1/4 inch from edge down one side. Clip corner and turn right side out with a knitting needle or pencil.
Press strap so that seam is in center.
Edge stitch along each strap.
With right sides facing, stitch together the bottom edges of the two main outer pieces with a 1/2 inch seam allowance. Repeat with the lining pieces, but leave a 3 inch gap for turning. Press seams open.
Take outer and pin each strap so the ends are each 2 inches above the bottom seam and 6 inches inward from the sides.
Stitch straps to main bag, stitching directly over the edge stitching, stopping 3 inches from top raw edge.:
Take bottom panel and press the long sides under 1/2 inch:
Center the bottom panel over the main bag's bottom seam, pin, then edge stitch in place.
Now it's time to attach the feet. Measure 3 inches inward from each side and 1 1/4 inches from the top and bottom of the bottom panel and mark the placement.
Use thread scissors to carefully make a small slit through each marking:
Insert purse foot with prongs pressed together and slip washer over them. Push prongs open and flat.
Repeat with remaining 3 purse feet.
To make the custom piping, cut (2) 1 inch wide strips on the bias from the Tribeca Red fabric. Note: Cutting can be done at a 60 degree angle, instead of the usual 45 degree, to get the full length needed out of a 1/2 yard cut.
Trim the strips and two pieces of basic piping to be at least 28 inches long.
Wrap strip around piping and pin into place. Stitch close to cording of the piping using a zipper foot.
With raw edges together, stitch piping to outer bag circles, again using a zipper foot, starting 1/2 inch from the starting end (this will be key for finishing):
Upon reaching the end, overlap the raw ends, slightly downward and stitch into place as shown:
Now the outer circle sides are nice & piped:
Time to attach the zipper. With zipper facing downward, pin zipper tape along the top raw edge of one side of the main bag
. Stitch along close to zipper teeth,
leaving 1/2 inch length unstitched at start & end
.
Pin other side of zipper tape to the other top side of the main bag. This will make a tube shape. Keeping the body of the bag out of the way (so you are only sewing the seam allowance area), stitch zipper tape & fabric together, again, leaving 1/2 inch length unstitched at start & end. Open zipper a few inches - this will be needed for turning later.
With right sides facing, pin each side circle to the newly made cylinder. Stitch on top of the stitching of the piping.
Clip around curves, careful not to clip into stitching:
Time to assemble & attach the lining. With the right side of the fabric facing down, pin one side of lining to the seam allowance of the already sewn main bag and zipper as shown and stitch over existing stitching with zipper foot.
Pull remaining raw side of lining to other side of zipper seam and repeat. Now the lining will appear to be a tube connected at the zipper to the main bag:
Attach side circles as done previously. It will now look like to bags connected at the zipper. Carefully pull the right sides out through the gap in the bottom of the lining.
Then slipstitch the gap closed by hand and push lining inside of the main bag.
Now the Bon Voyage Duffel Bag is ready for you to start traveling and looking glamorous!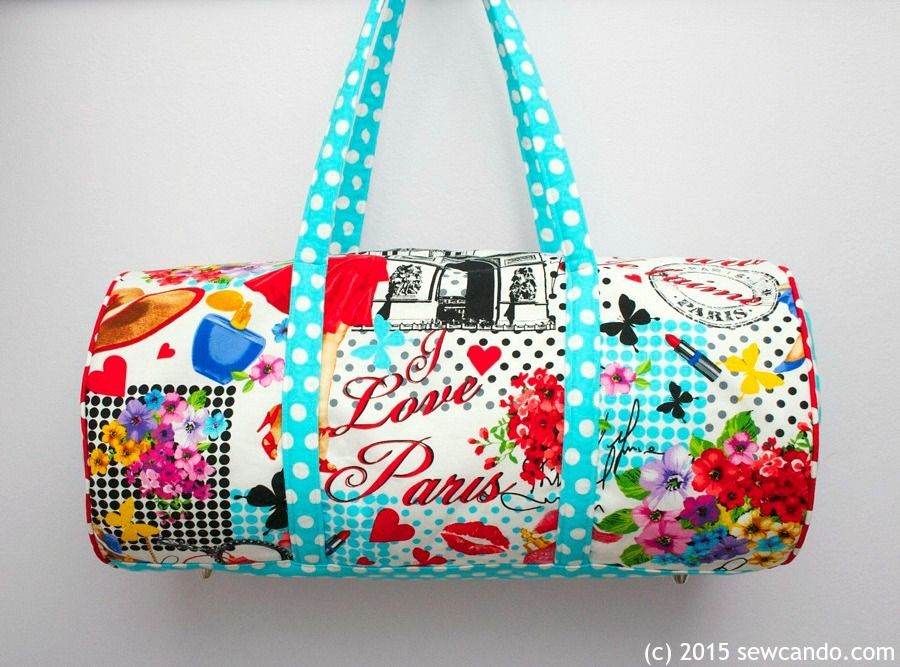 Where would you carry the Bon Voyage Bag?