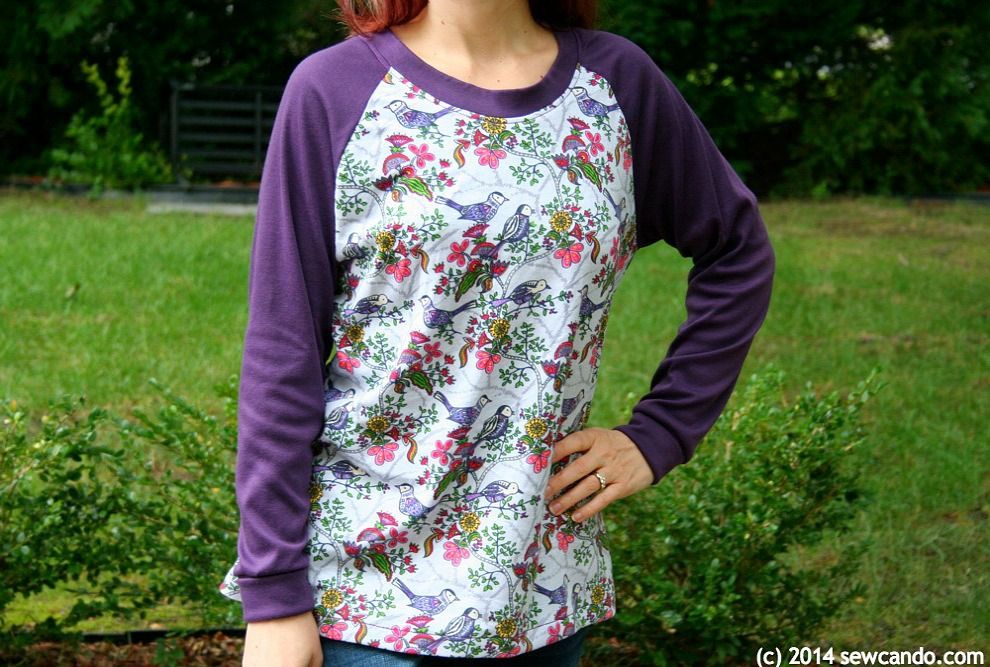 Since I'm focusing more on sewing & crafting for my own enjoyment, I've started working on some Fall clothing for myself first. I've wanted some easy wins to get me back into the swing of sewing for fun, so I tried a new shirt pattern and put my own spin on it. I figured sharing those tweaks might give others more ideas & options too, so here's my "sort of a review/sort of a how-to".
I used the Women's Raglan Top Pattern by Seamingly Smitten. Jenny had sent me a copy of this one for me to try out for myself. Right now
I don't have the patience for projects that, well, try my patience, so this seemed like a good straightforward design to give a go.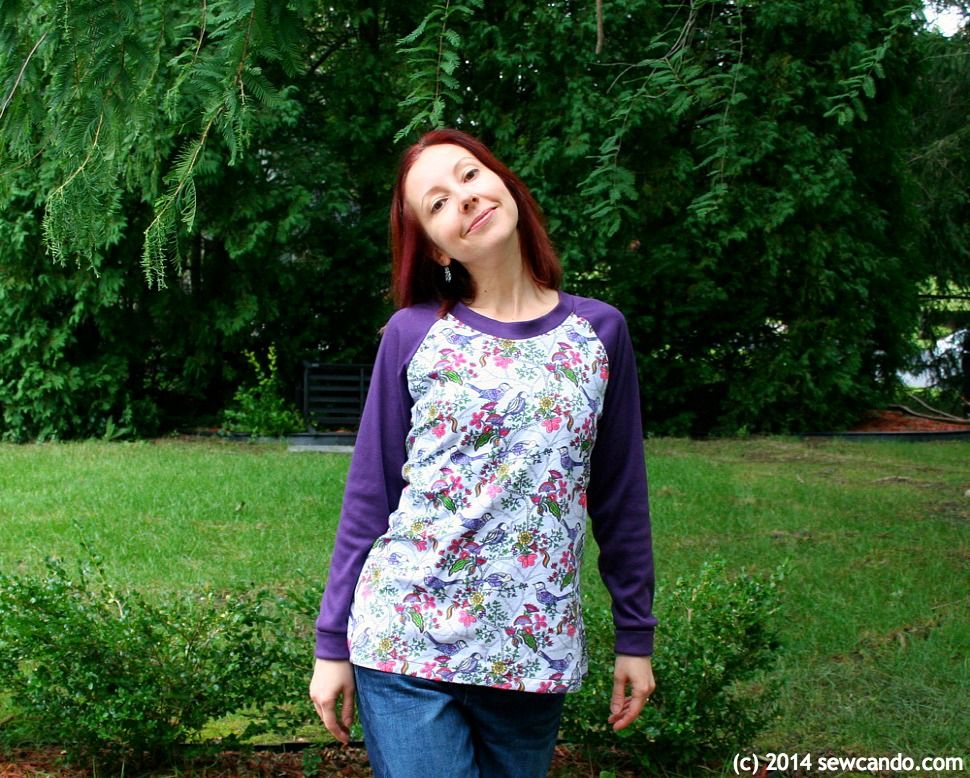 Here are some pattern details:
- Covers sizes 0-26, in Petite, Regular & Tall
- Includes Short, 3/4 and Long Sleeve lengths
- Rounded or split neckline options (and two ways to finish them)
- Can be made in woven or knit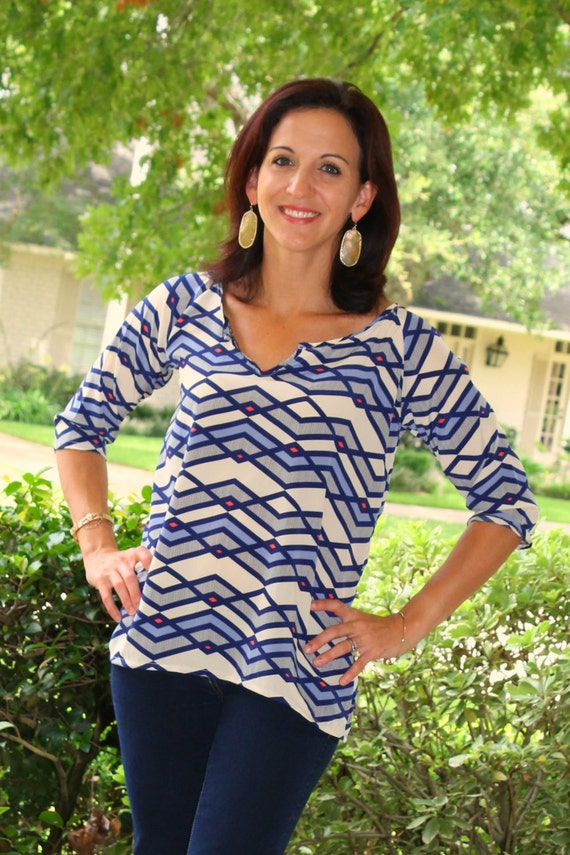 One of Seamingly Smitten's example pics
As you can see, I kind of went in a different direction on mine, but the plus is that it shows how one pattern really can look totally different with minor tweaks. Plus having twice as many fabric choices with the woven or knit option is another big draw for me. Heaven knows I've got enough hoarded fabric to use up around here. I did my shirt in a cotton knit I'd been hanging onto for about a year. I loved the print (found at Jo-Ann's & still available fyi), but wasn't sure how to make it work for adult clothing until now. Being such a busy & colorful print, I didn't want it to "wear me", so I did the sleeves in a matching purple solid.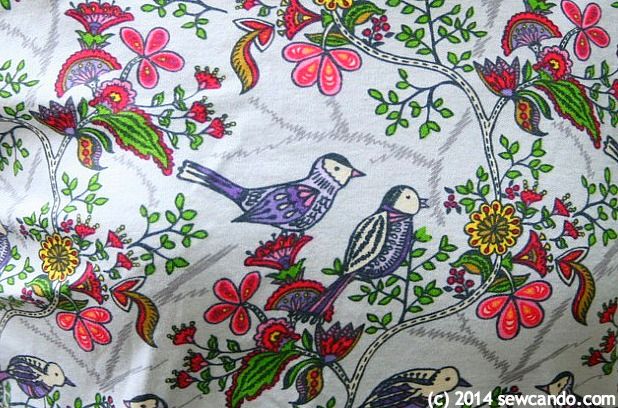 Based on my measurements I made a size 4-6 petite, except for the length which I did regular. I ended up doing several modifications as I made mine, which added some extra fit options/ways to customize it too. You can do just one or do 'em all. Here's how....
Banded collar addition: After I cut it, I realized t
he neckline was a bit wider than I usually wear. I have narrow shoulders and didn't want to worrying about bra straps showing.
To get around that I added some extra fabric to make neckband and turned it into a ringer tee - which worked great with my solid sleeves!
To do that I cut a band piece that was 4 inches high and the length of the raw neckline minus 3 inches (this knit was pretty stretchy so I needed it to be somewhat smaller to not gape).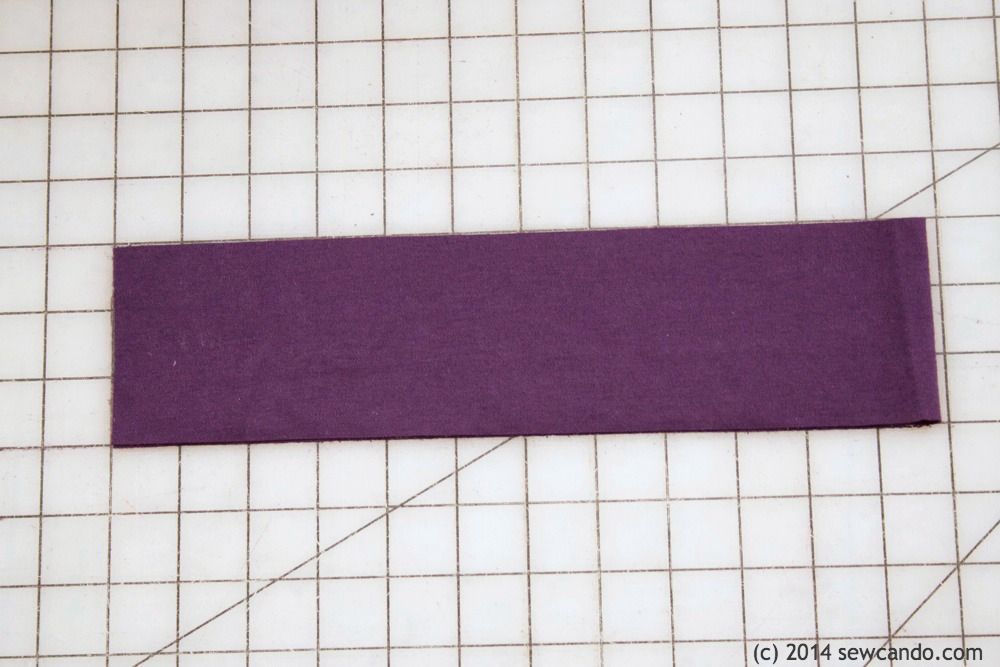 I stitched the short ends wright sides together with a 1/2 inch seam allowance to make a tube:
Then folded it in half lengthwise with wrong sides together to form the band.
I marked the collar into quarters and did the same with the shirt neckline and then pinned them together with the collar on the outside: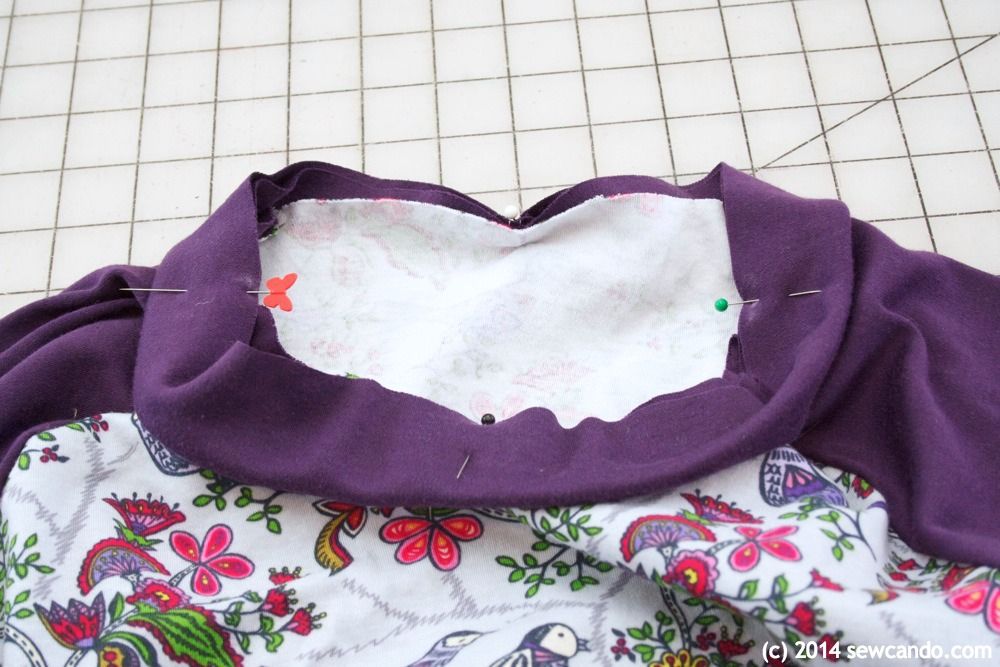 I stitched them together using a 1/2 inch seam allowance, stretching the collar band as I went.
For knits you can use a serger or a regular sewing machine. I used my trusty triple stitch (more info on that
HERE
), which provides plenty of give for seams and areas that get a lot of stress, like necklines and cuffs.
Then I pressed it upward using my tailor's ham to get it to curve inward a bit and top stitched to keep the raw edge from flipping up on the wrong side.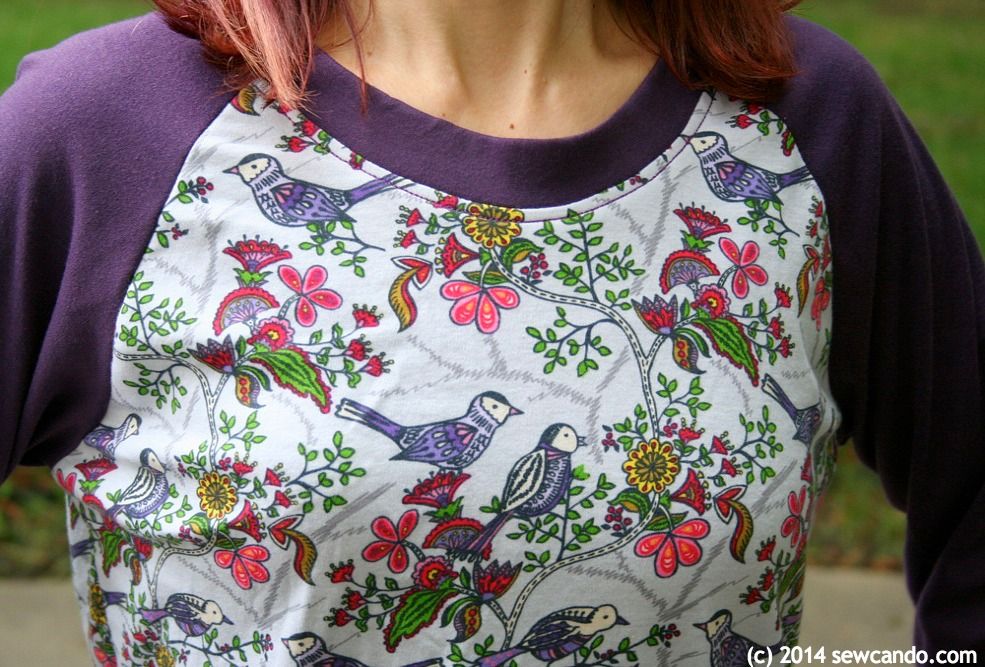 It would probably lay a little better if I'd been using rib knit, which would be stretchier than the main fabric and curve in a bit more. Or maybe just have made the band height a little shorter. I couldn't find rib knit in that color locally, so it's a little note-to-self for my next one...or just skip the band and cut the necklines a little higher on the pieces from the get-go.
Fold-over Cuffs:
In retrospect I also should have cut my sleeves to the regular length - I'm always cold this time of year, so I like to wear 'em a little longer! I couldn't add fabric back on this one though, so I decided to make some fold over cuffs to add some extra length and give it more of a long-sleeved tee look: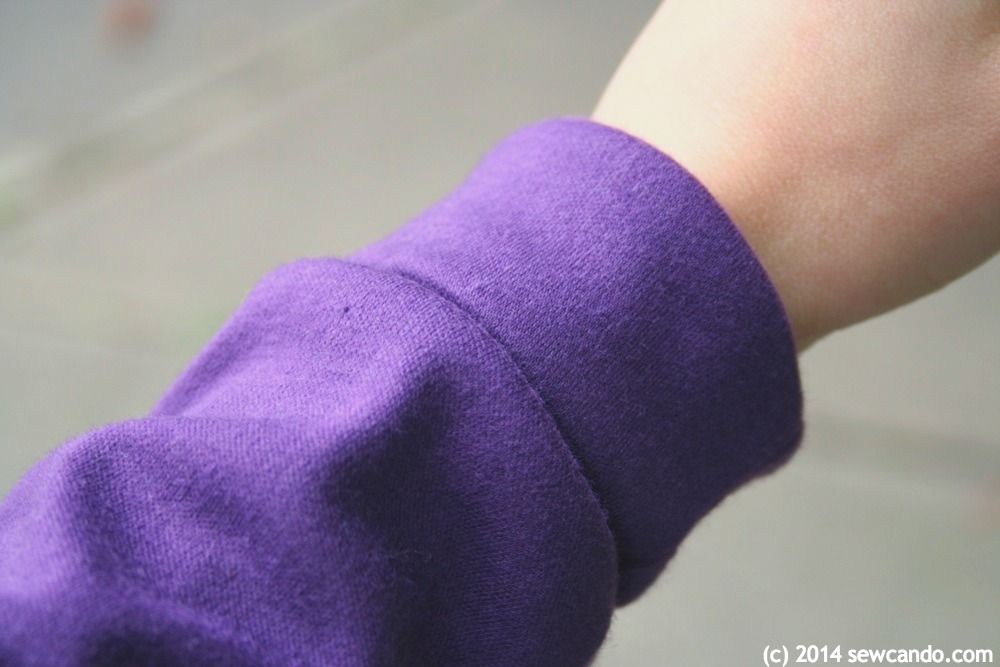 I cut two rectangles that were 8 inches high and the length of the sleeve edge (so it would be just a hair smaller once I stitched the short ends together).
Then I followed the same procedure as the collar, matching up the raw edges and seams of cuff and sleeve end: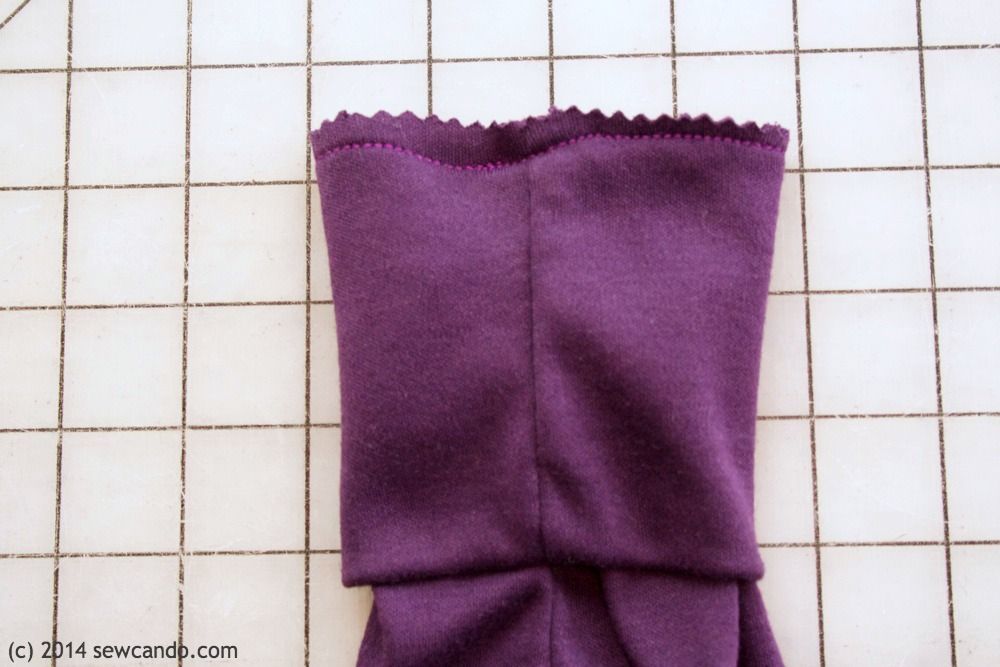 Then I pulled the cuffs upward, folded them in half and they were perfect: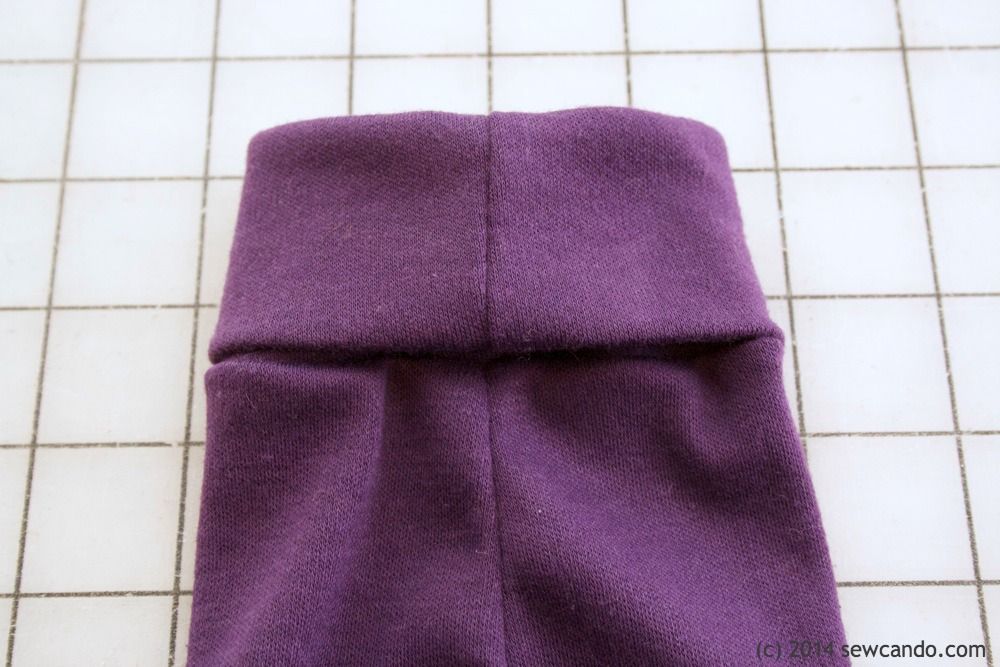 Curved sides: Lastly, I wanted a slightly closer fit once I had it together, so I used my handy French curve to bring in and curve the sides a bit: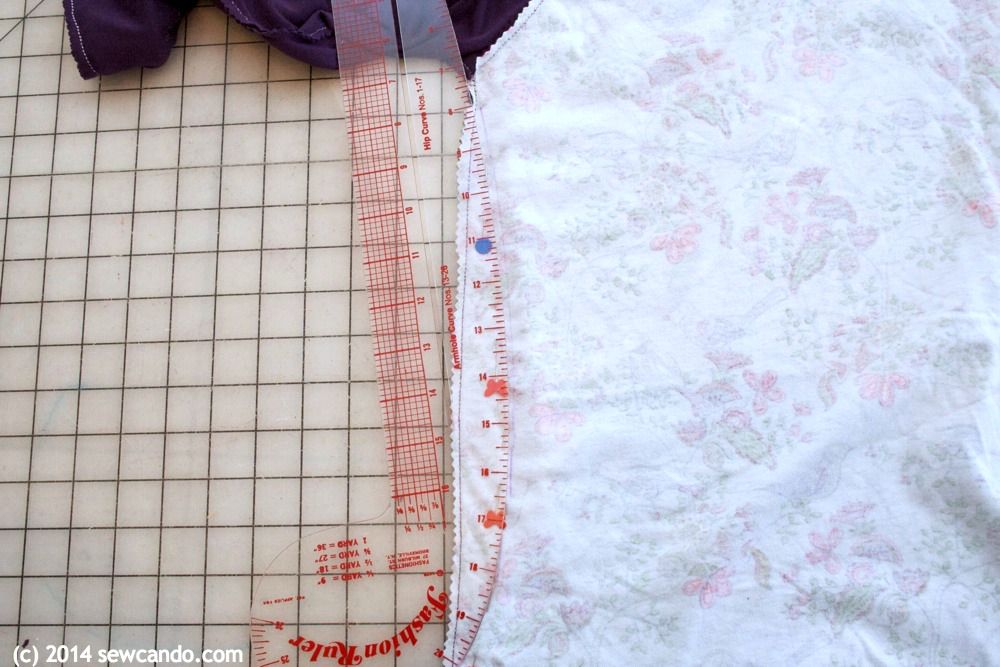 Even with my additions, it still came together pretty quickly.
I'd definitely make this top again, but probably in the 0-2 size next time.
It's really comfortable and I like that I can give it a few extra looks with these modifications.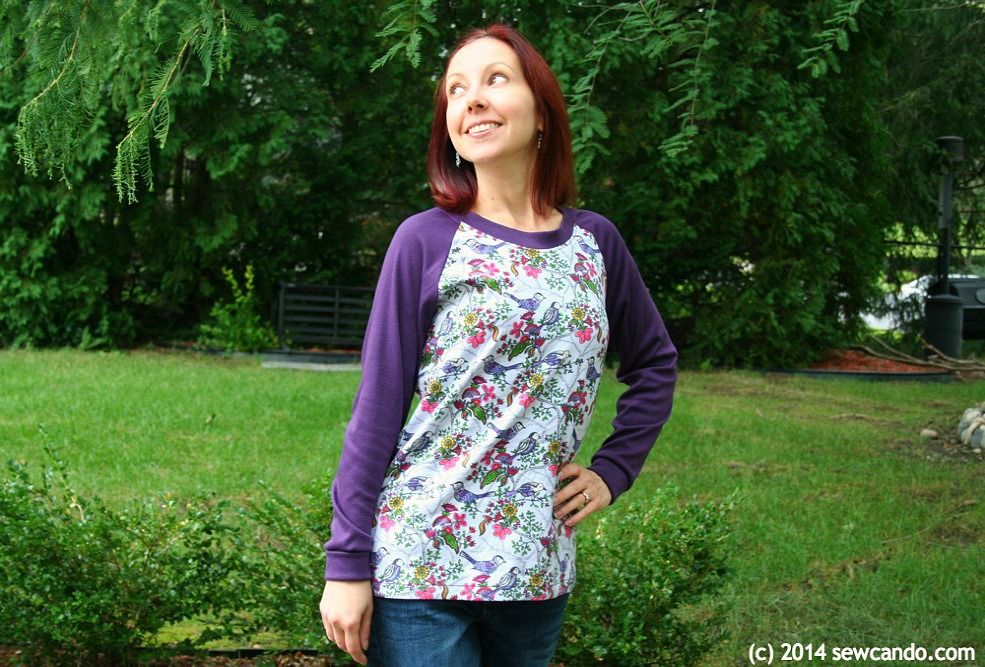 You can find the Women's Raglan Top pattern HERE and can see more shirt examples other people have sewn (with different fabrics, sleeves and necklines) on the Seamingly Smitten Facebook page.
Seamingly Smitten is a paying featured advertiser at Sew Can Do.

I received this pattern to review.

The opinions are completely my own, based on my honest experience using & purchasing patterns from this shop.