There's a brand new fashion pattern in town and I got a chance to give it a go: The Julia Top pattern from Seamingly Smitten!

Seamingly Smitten patterns are PDF patterns tailored for those of us who like to keep it sewing clothing frustration-free. Large color step-by-step photos and no complicated techniques or notions mean they're quick, enjoyable and give good results - even if you're new to sewing.
The Julia Top is described as a classic, scoop-necked, short or long sleeved top that slips on easily. It can be worn with skinny jeans, a pencil skirt, under a blazer or paired with dress pants. The pattern comes in sizes 0-22 (XS-XXL) and is meant for fabrics with a nice drape, like c
repe de chine, voile, rayon, silk and cotton.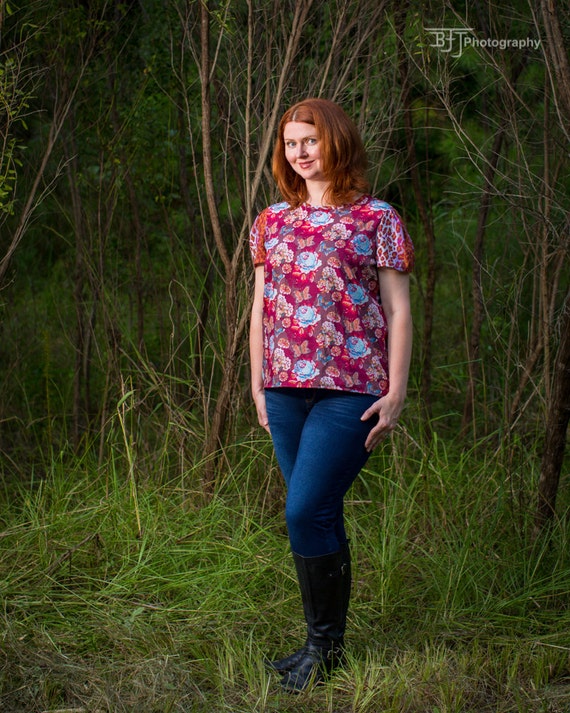 I'll be honest, I was little nervous about making something with a silky fabric. I usually love fabrics most people find challenging, but slippery, silky stuff is another matter. I've always struggled with it because it's tricky keep in place, somewhat delicate and not easy to iron. But I wanted to go outside my comfort zone and give it a shot.
And it was SO worth it. This pattern had a straightforward design so the seams were easy to do and it gave a great trick for easily finishing the neckline, which I also used to do the sleeves and hem. I used some colorful vintage plaid fabric that had a very fluid, drape-y hand. Putting it together was surprisingly quick and I was so pleased with the results it actually made me want to get more silky fabric to make a few more Julia Tops!
Being petite, I also liked that it included options for petite, regular and tall. It really makes it easier to get an ideal fit no matter what your body type. And it also means you know exactly how much fabric to use (no overbuying or running short). I wanted mine to be a bit longer, so I left the hem length regular even though everything else was petite. I
t's perfect for dressing up jeans and corduroys (my usual Fall wardrobe), but is still comfy to wear.
I'd definitely recommend this pattern. It's flattering, easy to make and a great way to show off some bold colors or prints.
Here are a few different versions of the same top, which shows how versatile it can be just by using different prints and switching up the sleeve and hem lengths:
And you can keep up with Seamingly Smitten on
Facebook
, by
newsletter
and on the Seamingly Smitten
blog
, where Jenny shares some great sewing tips and free tutorials. Lots of good ways to keep sewing what it should be - fun!
I received compensation for this post. The opinions are completely my own, based on my honest experience with the item reviewed.