I'm happy to share a new dress I just finished for the holidays. Big confession though: I didn't make it because I was feeling super crafty, or wanted to get all handmade this year. It's because I'm a total cheapskate. I love fabulous, vintage style dresses on sites like ModCloth, but the prices are just crazy. No way am I going to pay around $100 for a whimsical Christmas dress, no matter how much I want it! My solution: Make my own on the cheap.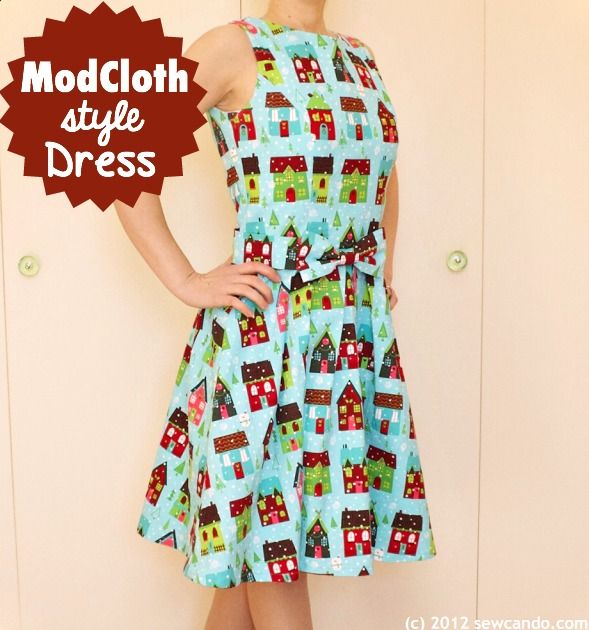 I snagged the ideal pattern, Simplicity 4070 (at a mere 99 cents on sale), a few yards of the adorable O Tinsel Tree Snowy Houses fabric (by Pink Light Design for Robert Kaufman) and a zipper, all for under $30. I used some leftover muslin for the lining.
I chose view A of the pattern, but used quilting cotton instead of the recommended silk/satins. And since I was using a directional print, it took a bit of careful layout planning to cut the bodice pieces so the houses would line up in the right rows, but I think it worked out just right.
I also ignored most of the assembly directions. They recommended stitching the lining to the bodice and skirt pieces before sewing them together so you'd end up with all the raw edges right in the middle of the dress. I like my lining to be the real deal - without raw edges anywhere. So I left the shoulder seams to do last and sewed up the dress and the linings separately. Then I connected them at the neck and armholes and at the shoulder seams with
this technique
(the video explains it all really well). I also made the belt separate from the dress so it's removable. I love the extra detail it adds:
And the pleats of the skirt portion give it such a nice shape in front and back:
This was one of those rare instances when the dress I envisioned really came to life in both style and fit. I am really looking forward to wearing it for Christmas and will definitely be using this pattern to make more cute dresses on the cheap. Take that Mod Cloth prices!
I'm also sharing this with my FAVE LINK PARTIES.
Click HERE
to check them out!