I thought I'd kick off my new
Crafty Gear 411
series with one of my favorite sewing related tools, my Snap Press. I took the plunge and bought this almost two years ago and it has been one of the handiest items in my sewing tool kit.
Here's the 411:
A snap press is for setting snaps into just about anything - clothing, cloth diapers, bags, home decor, etc. Basically anywhere you would want to add a snap.
It uses dies for both sides of the snap. You just click one side into a die in the press, put the cap part (that looks like a tack) underneath, stick your fabric in between and press down on the handle. The press pushes the cap into the socket or stud and presses the pointed end back downward so they lock together.
To reinforce the snap area if the fabric is lightweight or stretchy, just add a layer of stabilizer in between the fabrics or an scrap of fabric for an extra layer before setting the snaps.
I've got the dies for plastic snaps, but you can also get extras to do traditional metal snaps too.
Why do I love this tool?
- Snaps are such a handy closure, but the sew on kind tend to fall off with wear and the kits you get at the fabric store for hammering pronged snaps rarely go in smoothly. And if they come out or you try to reset them, the prong parts rip up the fabric so it becomes a mangled mess. No thanks! In the rare times I've had to reset a plastic snap, it took mere seconds and didn't ruin the fabric because they only make a small single hole in the fabric.
- Taking 30 seconds to set a snap with the press is A LOT faster than putting in a zipper, buttonholes or velcro, which leaves more time for sewing the fun parts of projects.
- They give a professional look. They look sleek and uniform and because they go in so smoothly, there's no chance of wrecking a nice sewing project at the end by goofing up on the closure. You can also match them to the item so your handmade project can have all the coordinating details that the store bought stuff has.
- The snaps can take the constant pulling and wear from cloth diapers, snap-up legs on baby pants, overall straps and the backs of shirts and still look like new. They're also great for repairs on things that have worn out.
- Plastic snaps are durable, but inexpensive. You can get a couple hundred of them for the same price of a single package of 6 basic snaps at the chain fabric stores. The actual press is a little investment, but if you sew a lot like me you'll find you use it over and over again so it is well worth the up front cost.
Where do you find one?
I got my snap press & snaps from
KAMsnaps
. The model I have is the DK98. I spent a lot of time researching online and this was the place that had the best selection of snap stuff
and got rave reviews. They also have helpful
Getting Started
and
Tutorial
sections to help decide what you need and how to get the most out of it. That they offer
free priority shipping on US orders over $28 (and free
first class shipping on most Canada orders over $35) was a big deal to me too. A snap press weighs 10-20lbs so this helps save some $$!
It also doesn't hurt that they have an awesome selection of snaps - all kinds of colors, shapes, even engraved designs.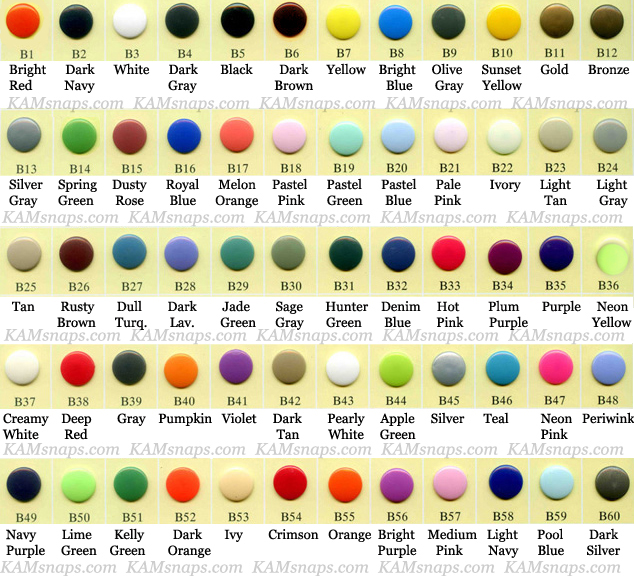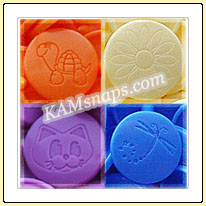 When I told Judy at KAMsnaps I was planning on doing a post about my love of my snap press, she graciously offered to do giveaway to go with it so a Sew Can Do reader could get snapping too!
KAMsnaps is giving away a
$27 coupon code good towards a pair of their S
nap Pliers!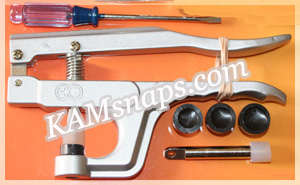 To Enter:
Head over to KAMsnaps & check out their fabulous snapping gear. Then come back and leave a comment saying what your favorite item is.
Be sure to include an email address if it's not on your profile.
Get Additional Entries (leave a separate comment for each one):
- Like KAMsnaps on
Facebook
- Follow KAMsnaps on
Twitter
- Follow KAMsnaps
blog
- Add their button to your website or blog (button can be found on the bottom
right sidebar of their blog)
- Join the mailing list on the left sidebar of
their
site
- Follow Sew Can Do
- Like Sew Can Do on
Facebook
- Link to this giveaway on your blog or Facebook
The giveaway
will be open until 11:59pm EST on September 14th, 201
1is closed. A winner will be chosen at random and announced the following weekend. Good luck everyone!