Hey Everyone, today we have a guest poster for CraftShare's Texture Magic theme, Leslie of Night Owl Crafting, who is the very crafter who first brought Texture Magic to my attention! Check out some great ideas she's had for this cool product:
Hello
Sew Can Do
followers!
I am so excited to be a part of
CraftShare
this week!
My name is Leslie and I am the creator of...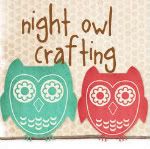 The name says it all! I am a late night crafter, because this is when my kids are in bed and I can actually get something accomplished!
I host 2 link parties each week. The first one is on Tuesdays and it is called

Hoo are you Tuesdays!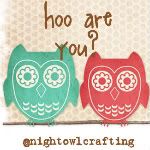 This party is where you answer a few questions I ask each week and then link up your post! This is a party to get to know each other outside the craft world!

The other one is held every Wednesday and it is called
This link party is where you can come and show off whatever you have been making!
I hope you all will come join my parties.
As you all know that the featured product this week is
TEXTURE MAGIC!
I used this product a couple of months ago to make an outfit for my daughter. Cheryl has done a great job sharing with you about how this stuff works and I agree with all of it! This product is for smaller projects, not big projects! It is kind of spendy and time consuming! The time consuming part is sewing the fabric to the Texture Magic. My favorite part is when you hold the iron above it & it starts to shrink! This is a fabulous product that adds so much to any sewing project!
So enough of the talking, let me show you what I have made with TEXTURE MAGIC!
This is a skirt I made for my daughter and I included the tutorial with it
here
!
I also made a fabric pinwheel with texture magic and some clips to match!
Here
is a tutorial on how to make fabric pinwheels, (but not using the texture magic).
I love how this whole outfit came together!
The next project I made was a sensory block for a baby!
Here it is up closer!
I think it turned out so cute! I added a jingle bell to the inside, so that it makes noise when a baby plays with it! I don't have a tutorial on this, but I will be selling them in my ETSY store in a couple of weeks! I am working on getting it set up!
I seriously love the Texture Magic product and I plan to do more things with it, so keep checking by
my blog
for more fun creations!
Thanks Cheryl for letting me take part in this week's featured product for Craft Share! I have had a
HOOT
of a time hanging out here today!
Thanks for showing some great project ideas Leslie! I hope this week's crafts have inspired you to try out Texture Magic yourselves. I'd love to hear any ideas you have for crafts using Texture Magic, so go ahead and share 'em!