Who Am I?
I'm Cheryl, the creator of Sew Can Do, and a self-taught crafter, designer and homeschooling mom of 5.
How long have I been crafting?
I started sewing 12 yrs ago out of both thriftiness & frustration at not finding what I wanted in stores. I began to think "Maybe I could just make what I'm envisioning...". I could barely sew a straight line back then (surviving 7th grade Home Economics was the extent of my "crafting expertise"). I got over my fear of the unknown and gave it a try. And branched out into all sorts of projects. It was so satisfying and exciting to be able to imagine something and then create it. I got hooked and haven't stopped crafting since!
I'm proof positive you can learn to make great things without formal training or decades of experience. Sew Can Do is where I share my adventures and hope it inspires others to try new things too.
How do I find time to craft, design & homeschool (and run a fabric shop)?
It's tough to juggle and I don't have a magic formula. I'm not a full-time blogger with a team of contributors, a personal assistant or housekeeper. I don't have a secret professional background in graphic design, styling or photography to make things look magazine perfect either. It's just me trying to pull it all together with my learn-as-I-go skills. I want to keep crafting fun and real for real people like me - I'm not about the Craft Blog Rat Race!
Teaching & taking care of my kids always comes first so I just grab time when I can for everything else. I love being creative so I just try to work into into my daily life where possible. Some weeks I get loads done, others I don't even get more than 5 minutes in my craft room. Oh, and my house alternates between very organized and extremely messy. If there's a project worth working on, vacuuming can wait.
Where else can you find me?
I design patterns & articles for magazines in the US and UK on a regular basis and have been published in the books 20 Crafty Makes and Craft It Now. I also create original sewing projects for Modern Yardage and Timeless Treasures fabrics and have free-lance designed featured projects for Hamilton Beach, Pellon, CRI-Kits and many other craft supply companies. Sew Can Do is my own place to showcases some of my tutorials & projects, share my reviews of things I've tried and

discover other wonderful, creative people.
I also own Heavenly Fabric Shop, an online shop for inspirational, spiritual and specialty fabric, notions & craft supplies.
as well as The Green Hedgehog, where some of my custom handmade designs and patterns can be purchased.
Updated May 25, 2018
Privacy Policy
Your privacy is important to Sew Can Do - www.sewcando.blogspot.com aka sewcando.com ("Site"). These privacy policies describe how this Site collects, uses, and shares information, and when you ("User") interact though Sew Can Do or use any services through this Site.
These rules do not apply to third-party practices that I do not own or control, including Blogger or any third-party services that you can access through Blogger. You can read Blogger's Privacy Policy for more information about the site's practices in this regard: https://www.blogger.com/go/privacy
You agree to the terms of this policy when you use this website. Sew Can Do has the discretion to update this privacy policy at any time. I encourage the User to frequently check this page for any changes to stay informed about how I am helping to protect the personal information I collect. You acknowledge and agree that it is your responsibility to review this privacy policy periodically and become aware of modifications.
How Your Information is Collected on Sew Can Do
Here is how your information can be collected on Sew Can Do
* if you subscribe to my RSS feed/newsletter
* if you leave a comment on the blog
* through website cookies, pixels and log files
* through Google Analytics
* if you interact or use third party apps such as social media share buttons and ShareThis share buttons
Sew Can Do is hosted and run by Google Inc.'s Blogger platform. This platform provide a wide range of tools for Sew Can Do's blog – e.g. analytics, user registration, commenting, database management – that imply the collection and handling of Personal Data. You can see Blogger's privacy Policies here: https://www.blogger.com/go/privacy
If you choose not to provide the information I request, you can still visit this website as a guest, but you may be unable to access certain options or features of website's service (like comments or using social shares).
RSS feed/Newsletter
If you sign up to receive notifications when I share a new blog post, your email address will be stored and used. You can unsubscribe from this at any time. Your data will not
shared with anyone or used for commercial purposes.
I currently use Feedburner as Sew Can Do's RSS feed email service provider (read their privacy policy here https://www.google.com/policies/privacy/). Your data is collected and then passed to them. Tags are used within Feedburner to track your actions and page visits so that future emails can be better tailored to meet your needs.
Any personal data you enter on this site will not be shared without your consent to any third party or used for commercial purposes. You will be asked for an email address when commenting on any blog post on this site, this is purely for security and anti-spam purposes and that email address will not be used to contact you or shared with anyone or used for commercial purposes. You email is not publicly visible and only your name or user name can be seen.
It is highly recommended that you avoid leaving detailed personal information in your comments.
Google Analytics
This Site uses Google Analytics to track website performance and user behavior. It provides information on pageviews, referral sources, and other valuable information that helps me adapt the content I write for this Site. Google Analytics does capture anonymous data about location, age, gender, and interests, but I have no way to connect that information and specifically identify you. Google Analytics may also capture your IP address as you make your way around this website. User and event data is retained for 26 months and then is automatically deleted. You can read more about that here.
Personal Data collected: Cookies and Usage Data.
Privacy Policy – Opt Out. https://tools.google.com/dlpage/gaoptout?hl=en - Google Analytics Opt-out Browser Add-on to prevent analytics information from being sent to Google Analytics.
Giveaways
When you enter a giveaway, your data will be stored within the system I use to make sure entries to giveaways are fair and that information is stored correctly. This is done through Rafflecopter. All data within Rafflecopter is stored for three months after the giveaway has ended and then it will be deleted. NO information from Rafflecopter is shared with

any third party or used for commercial purposes. If you have won a giveaway, you will be contacted (and asked for consent via email), for me to share your information with the company or organization I am partnering with to arrange delivery of your prize. Your information will never be shared without your consent.
Credit Card Details
Sew Can Do will never ask for credit card details and requests that you do not enter it on any of the forms on Sew Can Do.
External Sites
Sew Can Do is not responsible for the content of external internet sites. You are advised to read the privacy policy of external sites before disclosing any personal information.
Cookies
A "cookie" is a small data text file that is placed in your browser and allows Sew Can Do to recognize you each time you visit this site (for

customization).

Cookies themselves do not contain any personal information. Sew Can Do does not use cookies to collect personal information. Cookies may also be used by third party content providers, such as newsfeeds.
Thanks for stopping by & happy crafting!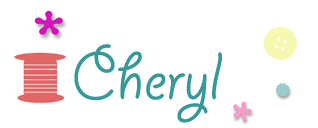 Save
Save