When I first started blogging my 2 boys were still just toddling around. There seemed to be no shortage of cute things to make for them to wear.
Now that they're nearly 11yrs & 14yrs it's become slim pickings. So I thought today I'd do a little spotlight on what is available to sew for bigger boys and where you can find them.
I was inspired to do this post when I started planning out a list of things to make my kiddies for this Fall. When I looked at my list I had pages of patterns to make for my almost 7yr old daughter. Tons of choice in my stash. But I noticed my guys had sized out of a lot of patterns I had been counting on and looking at the pattern books at the store, it was shocking how few things there were for tween & teen boys.
Even the popular "Sewing for Boys" blog round-ups I've seen tend to forget boys over the age of 8 years. They do get older people!
Part of why I sew clothes for my kids is that it's already tough to find stuff we like that's pre-made and now it's a become a challenge to find sewing patterns!
Here are some big boy patterns I've actually tried myself,
that turn out nice and aren't a total bear to sew. Read on!
Big 4 Patterns: There aren't tons of options, but there are a few that are decent. I recently grabbed McCalls 7379 for .99 cents on sale and I'm pleased with how it's sewn up. There are a lot of raglan patterns out there, but some just can't seem to get the neckline right, but this one is perfect - even when I used a rib velour for the neck & sleeves: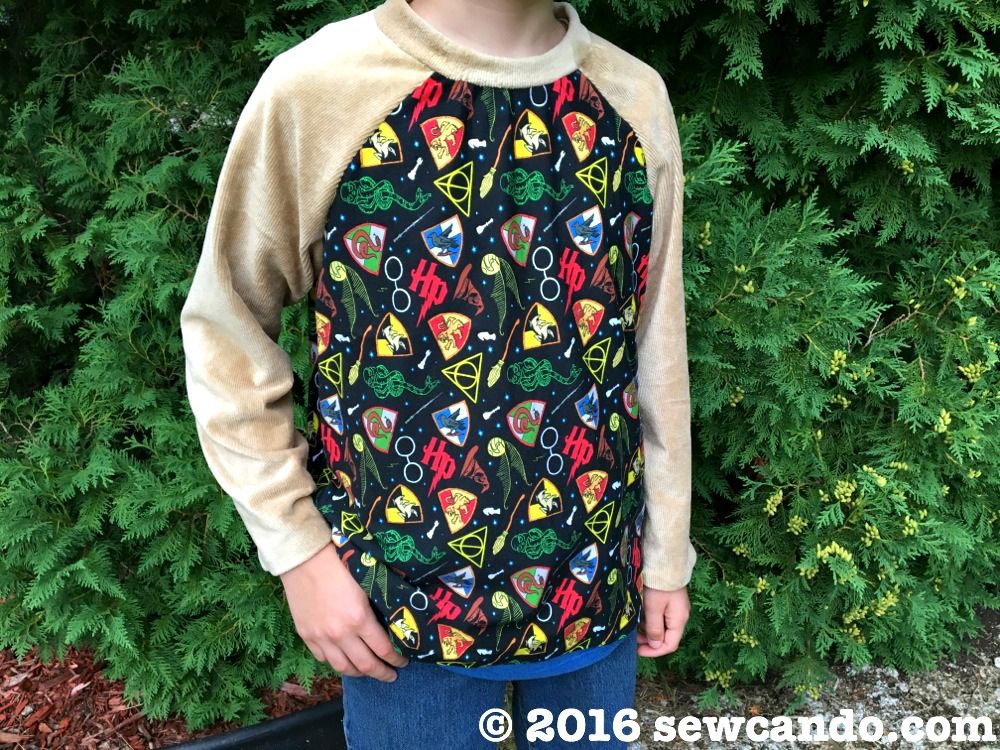 It goes up to a size 14 and includes pants and a tank top as well as the raglan shirt, so good bang for the buck (or for the change as it ended up!).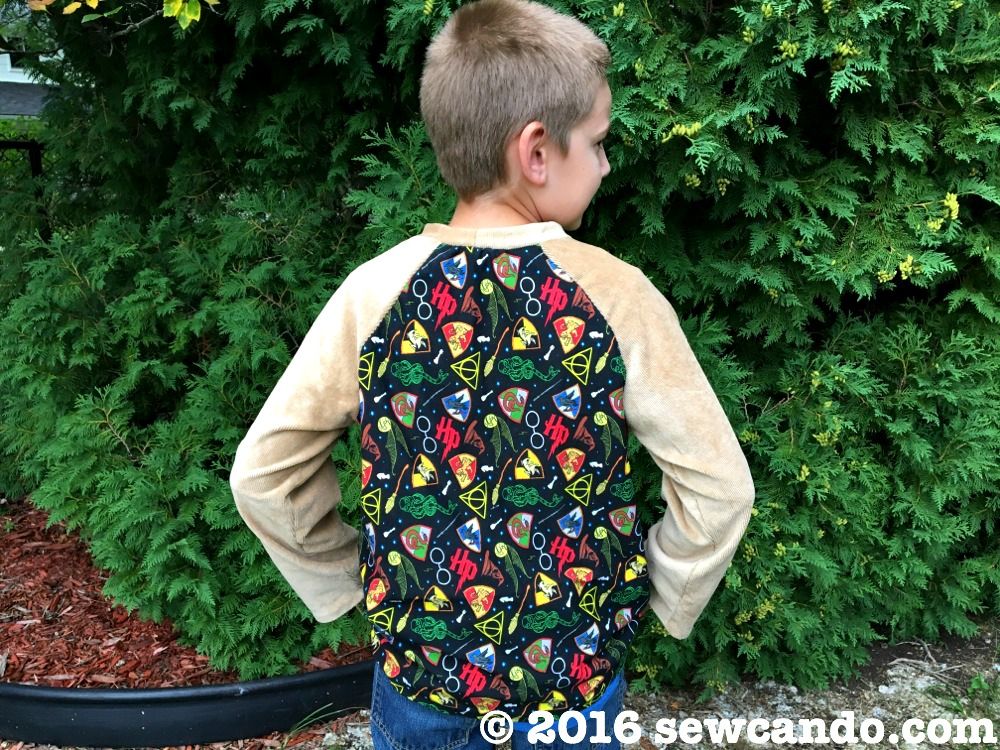 Indie Patterns: There tend to be slightly more picks with indie pattern makers if you search for them. The Offbeat Oxford Shirt Pattern by New Horizons has a hip style and is a way to use quilting cotton for big boys. Ironically there are usually more older-boy approved prints available in quilting cotton these days, but clothing patterns to use them are a bit rarer. This one goes from 12mos up to 14yrs, so it'll last for a good while:
Ottobe Design Pattern Magazines: T
hese tend to provide more options for up to about 11yrs and then a handful for the bigger boys,
but a lot of their older kid patterns can be super complicated. I'm kind of a lazy sewer and don't want to have to spend weeks completing one thing or tearing my hair out because there are too many tricky techniques involved. A 11-14 yr old boy probably isn't going to appreciate you pulled several all nighters to make him a single item. One coat I liked at first glance actually had 15 pattern pieces, plus the lining! Long story short, it didn't get made. Their patterns also give the bare minimum instructions and zero step illustrations, so keep that in mind.
Good news though, I have had great success with their Rudolph Pajama Pattern (in issue 6/2009) and that goes up to 170cm or 15yrs. The way it's pieced also makes it easy to mix those precious knit prints (which can get $$ when you need several yards for a growing boy!) with some less expensive solids. It's also nice change from the basic
loose pajama pant, made from flannel or fleece, which is one of the few available-everywhere patterns for boys.
Out of Print Patterns: There are some real winners out there, but finding them is a little more work. Simplicity 5362 is great because it goes right up to adult (covers the whole family!), includes both zip-up hoodie + pants, and works with both wovens and heavy knits/fleece. I modified the hoodie when my middle guy was a littler smaller to make this giraffe coat, but with a different fabric (and no animal add-ons), this shape still works great for older kids. I'm planning to make him a new one this season, so stay tuned for that.
Kwik Sew 2745 is another awesome pattern. This is ideal for fleece or other heavy-weight knits. It goes up to size 14. I've used it many times and the v-neck option always looks great.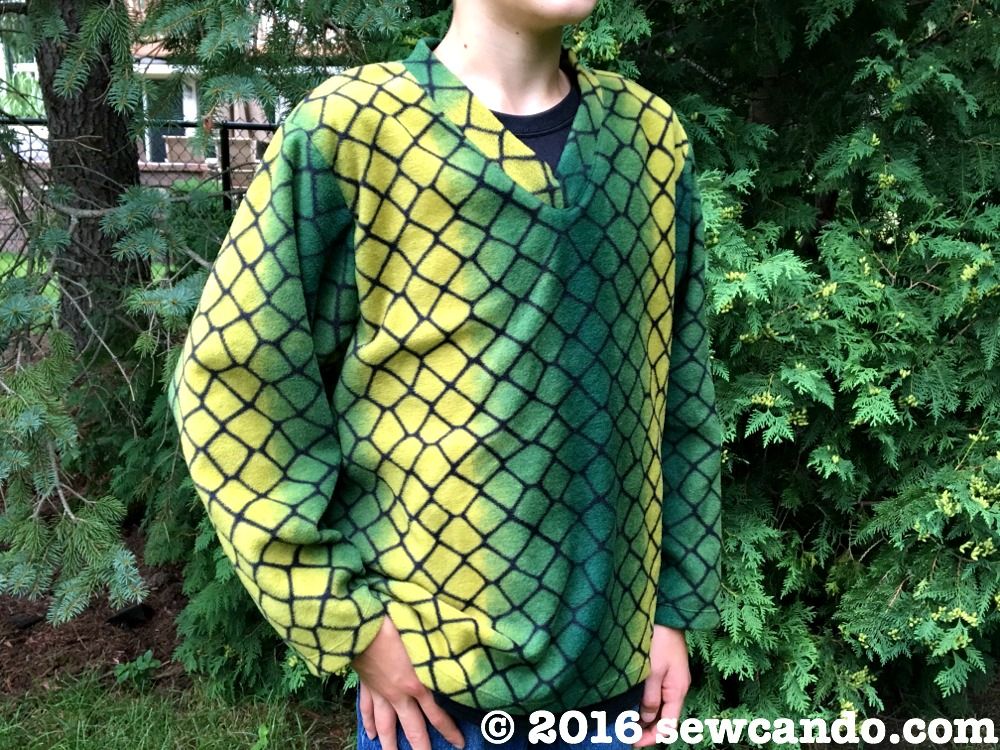 Drafting Your Own: this is always an option. I do it a lot for my daughter. For some basic looks you can use something out of the closet to trace and then add allowances. I probably should do that more, but since they grow so darn fast, my laziness makes me prefer to just use the next size in a pre-made pattern. This especially applies for tops, which can look a bit off or homemade-y if you don't get the neckline or shoulder just right.
Do you have some favorite patterns for the bigger boys? Why do you think pattern makers seem to neglect the boys? Share your thoughts & pattern finds below!