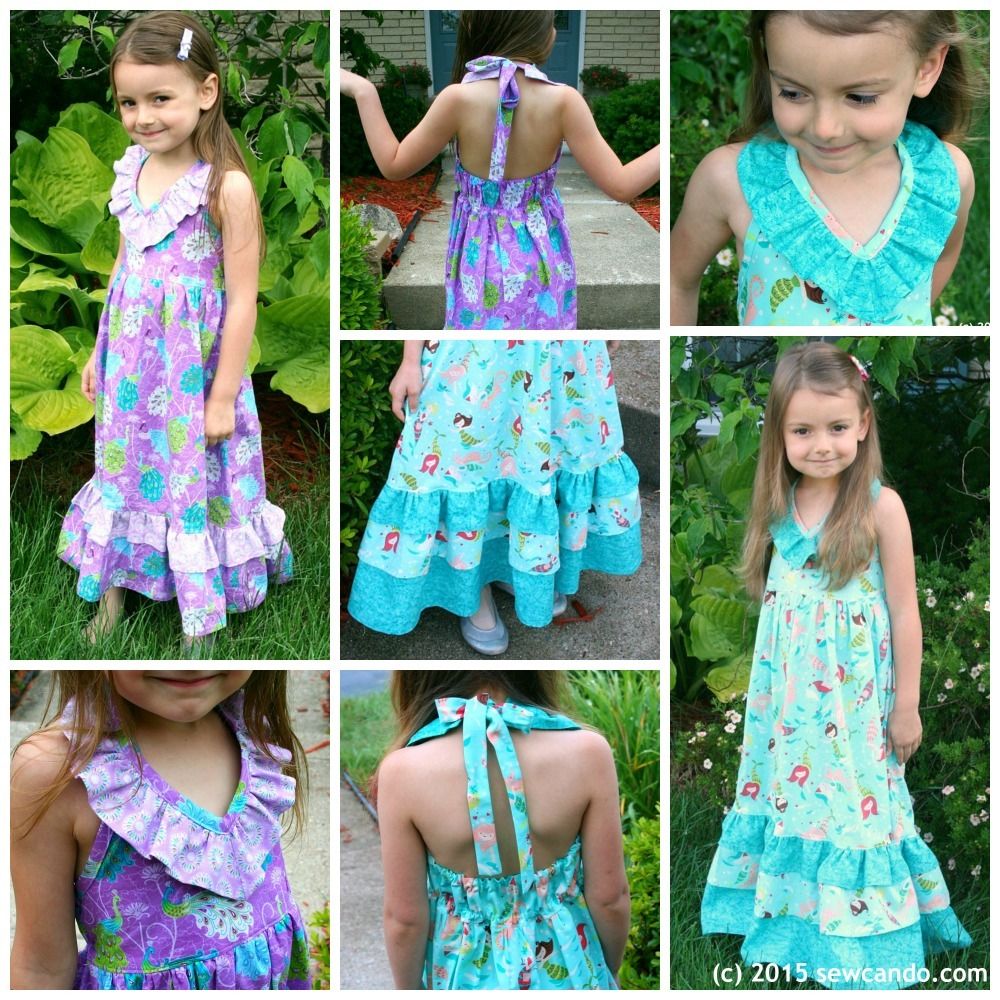 This summer I've decide to sew whatever I want. If I feel like designing something new, I do. If I feel like sewing several things from patterns, I go for it. I don't worry about keeping up with the blog trends, holidays or boosting my page views - I'm sewing for pleasure. And it feels good! Sometimes it means sewing several of the same thing in a row because I love it. Like this lovely little ruffle dress: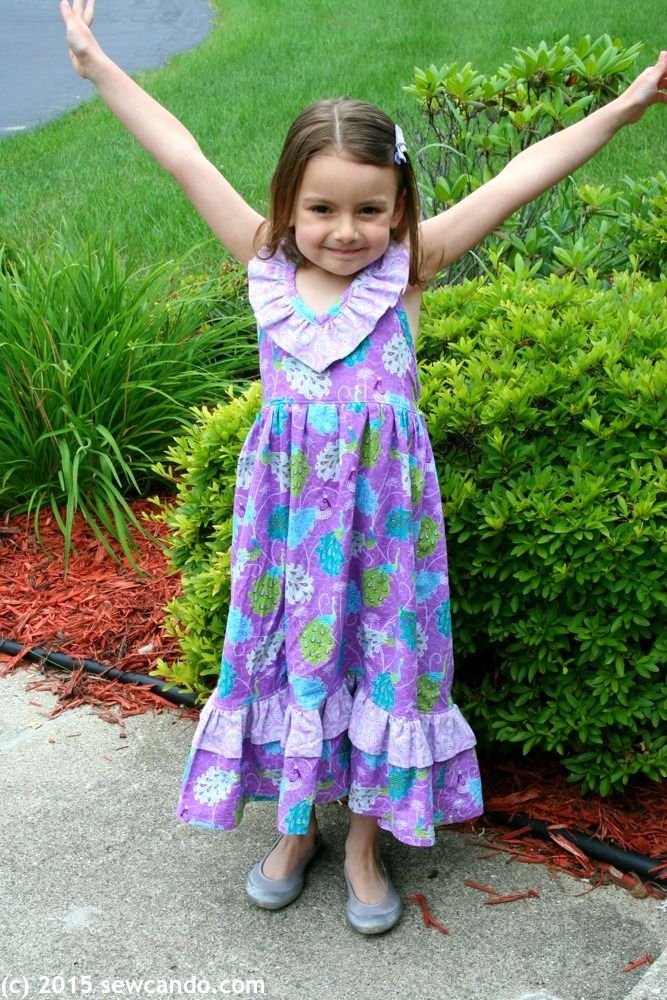 I actually meant to sew it last summer. I'd won a pdf pattern giveaway nearly two years ago and one design I'd chosen was the Violette Field Threads Emmaline Dress. The gorgeous full-length style drew me in, as did the name (my daughter's middle name is Emmeline). Unfortunately, it was in the middle of September, so I had to wait until the next year. Then last summer I found the perfect peacock print fabric to finally make one, I cut out the pattern...and ran out of time. Typical, right? This year I was determined to finally make it.
Now I'm proud to say my purple peacock version is done:
And, because I loved how it turned out, I did a mermaid one too:
This pattern is ALL about the ruffles. A ruffly v-neckline: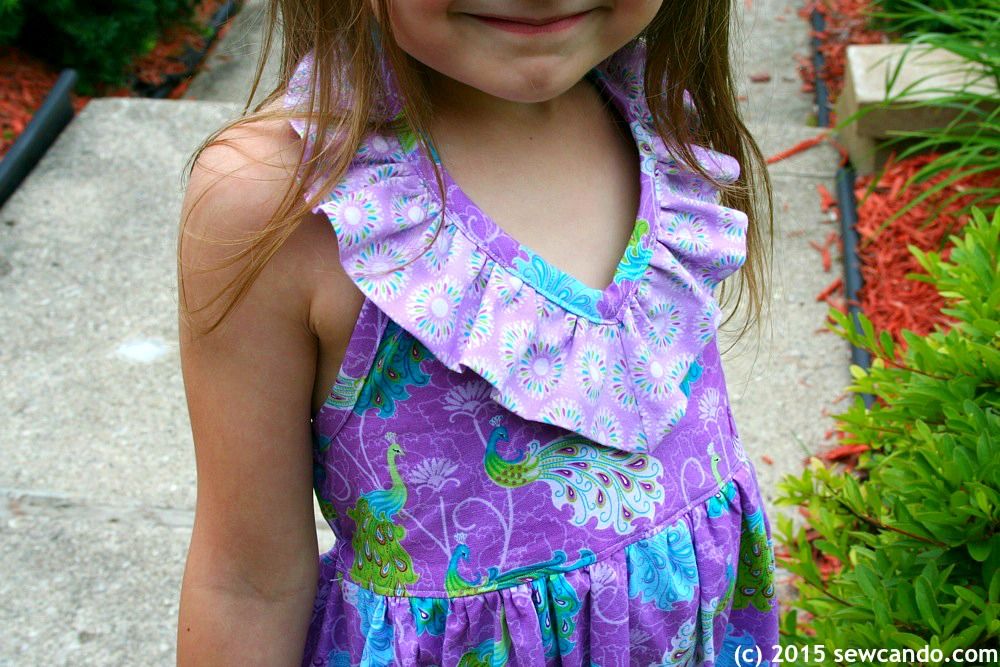 And layers of ruffles at the hem. I'd actually miscalculated my yardage, so I only had enough for 2 rows on my peacock version: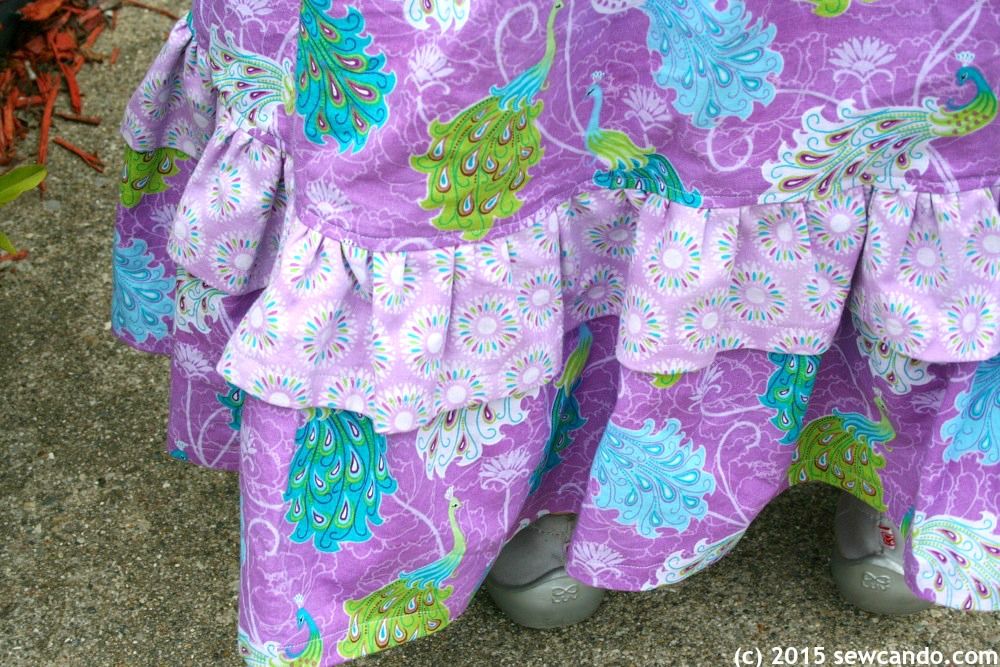 But I did the full 3 rows on the mermaid:
It's a halter tie style at the neck with an elasticized back for a nice even fit with no gaping or slipping down: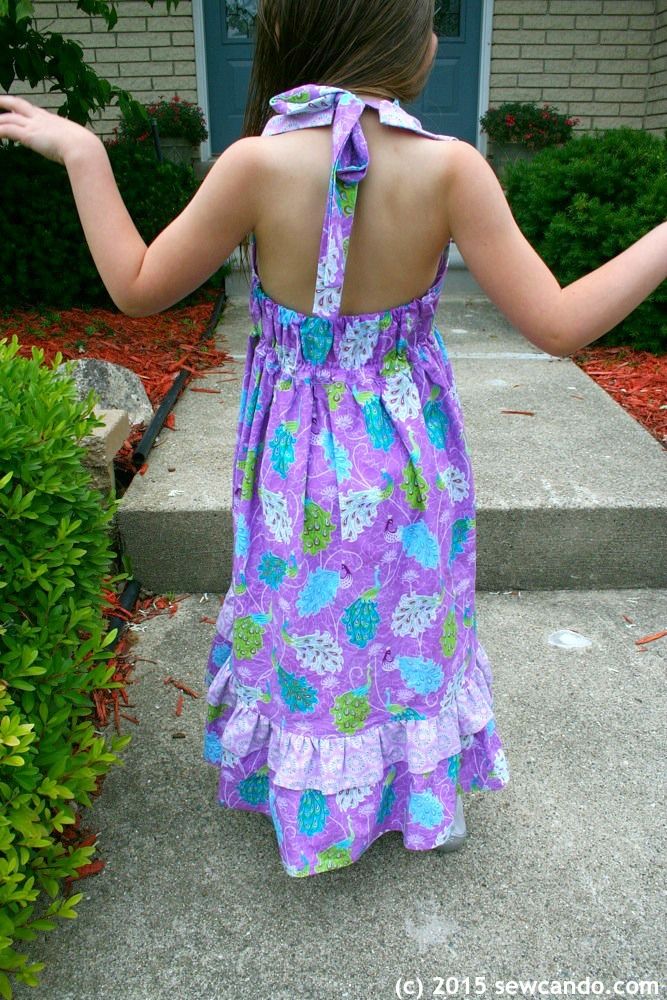 I'm normally not a big fan of backless styles for little girls, but this dress is really classic & pretty and it covers well at the sides, so I was willing to ignore my exposed back hang-up: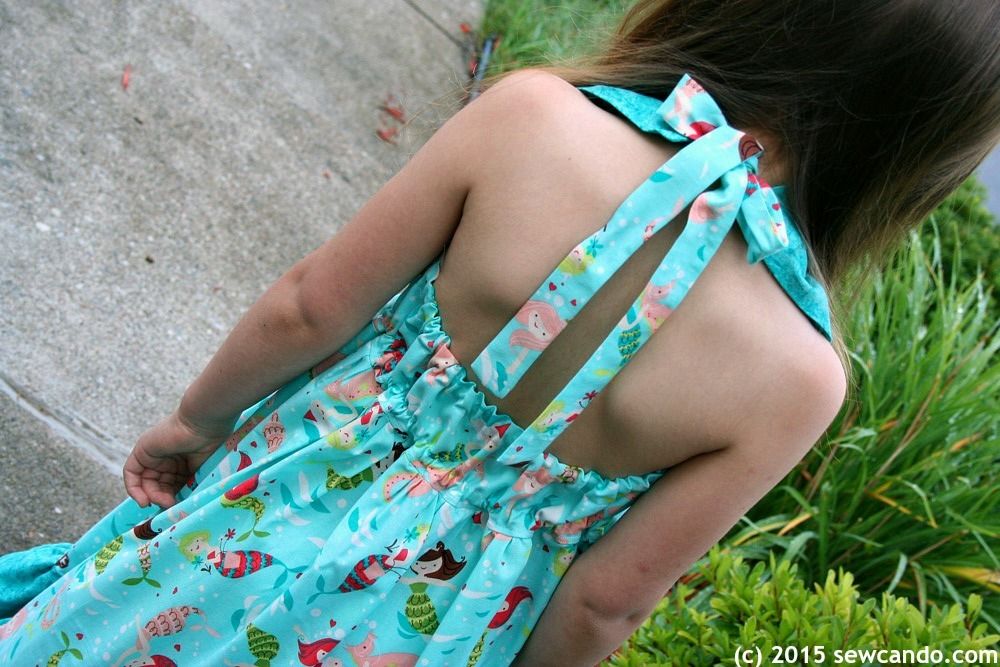 The dress pairs well with this mermaid hair clip I'd made ages ago too: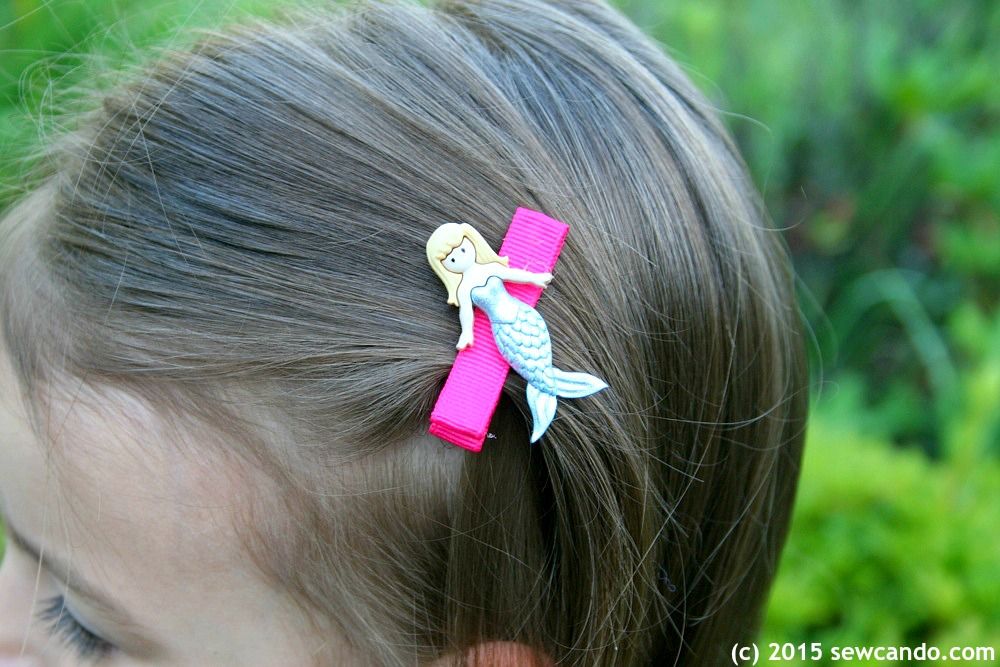 I'd also bought the mermaid fabric last summer, but missed the window on using that too. Are you seeing the theme with my fabric buying/sewing habits? I told myself I'd better use it this time around. I didn't have enough to do the full dress and of course couldn't find the fabric again now that I needed more. I was lucky and found a water-style print to use for the ruffles that was a perfect match: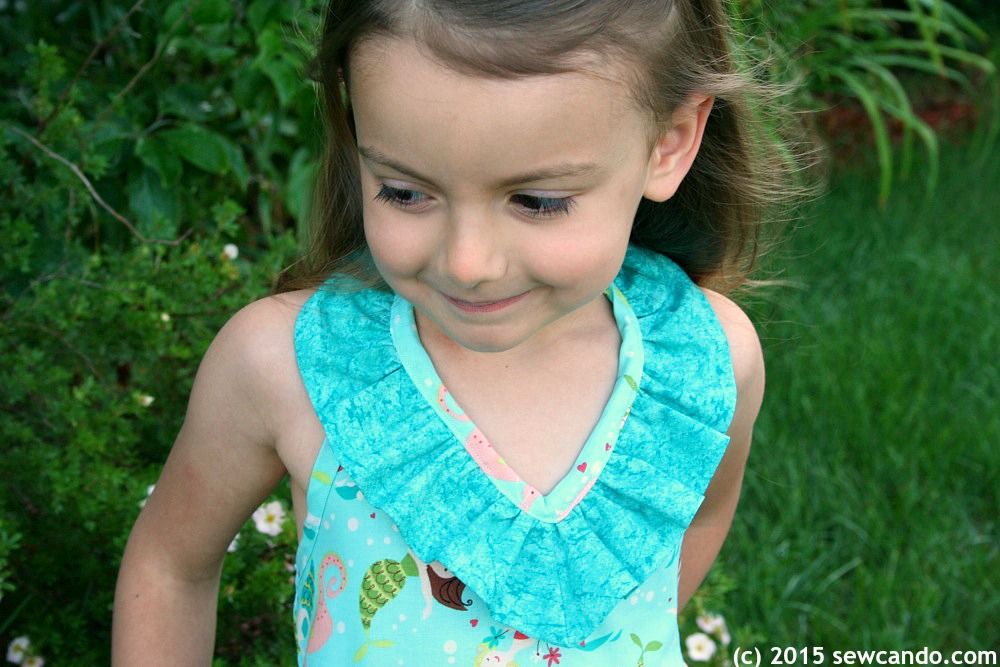 Nearly all the versions I'd seen used the same fabric for the main body and ruffles, but I think using a contrast makes the detailing stand out more: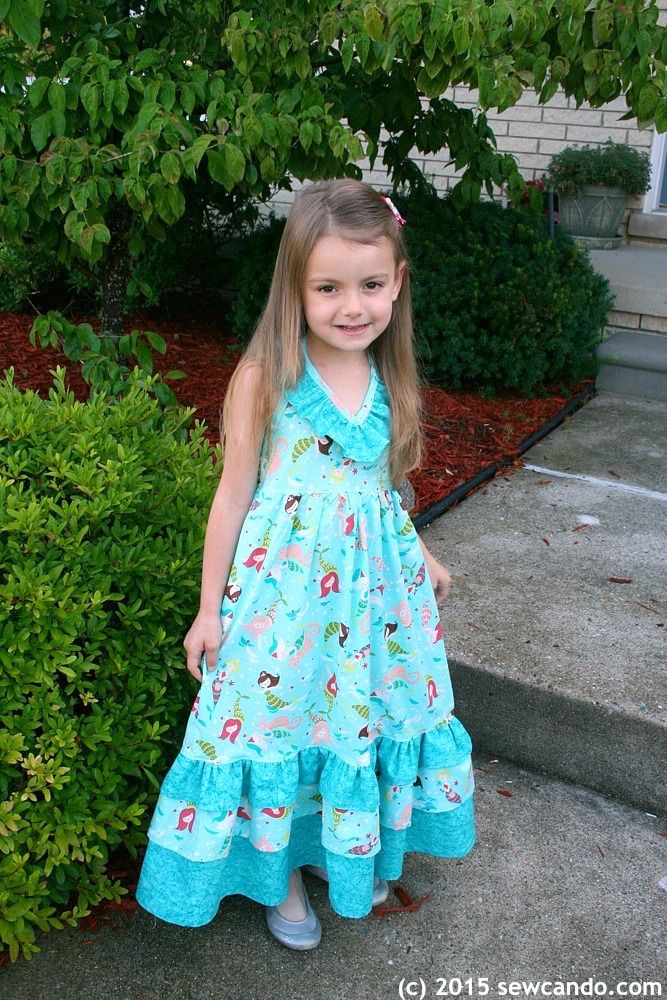 The pattern itself was easy to follow, but there are a lot of steps. And fabric. For the size 5 it was over 3 yards. It took me two afternoons to make the first one, then a single afternoon for the second. The ruffles themselves take a bit of time, since each requires hemming, and there's a lot of gathering to do. But I love the effect: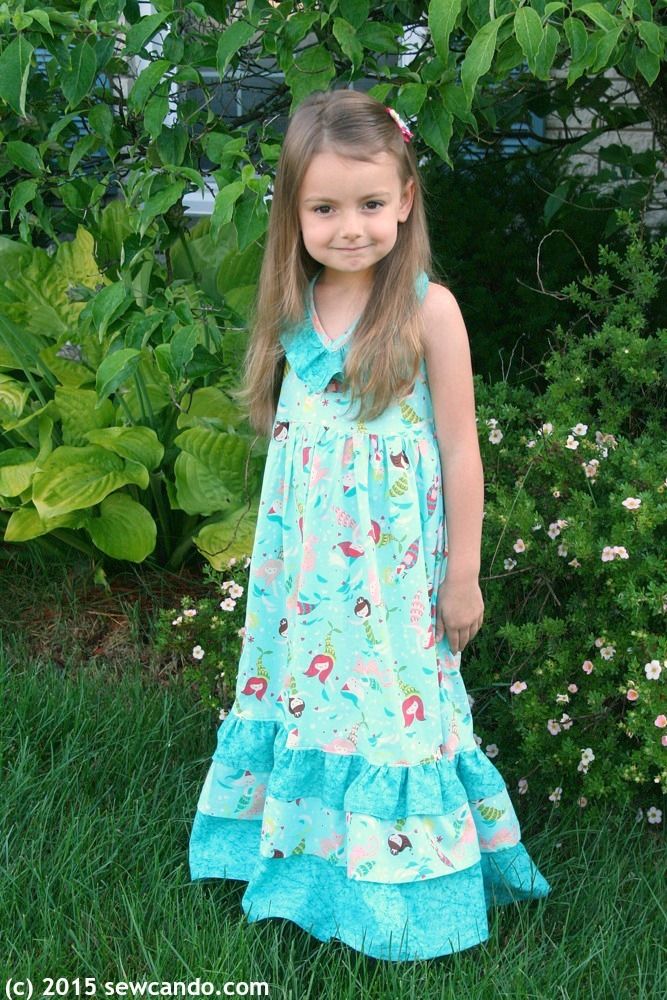 The fit & length was exactly right, which was nice too. My daughter wore the peacock version to a wedding with a little white cardigan. It looked dressy enough, but still felt comfortable and casual for her to wear. I'm so glad I finally got making them and used up those last summer fabrics!