As you can guess from this blog, I like things that are out of the ordinary. So when I discovered
Bags of Love
I was intrigued.
They offer a huge range of
Personalized Gifts
, but the way they do it is totally different from anything else I'd seen. The fabric items actually have the images imprinted into the fabric. No cheap, plastic-y iron-ons here. AND not only can you do photos, but you can do designs. So if you've got a little skill, you can create the custom bedding, blankets - even a bean bag chair of your dreams!
They asked me to try their pillowcases, so I sent in two images of the kiddies wearing some of my creations. I ordered them on Monday and had them by Thursday morning. I was super impressed because I'm in the US and they are based in the UK. Talk about fast! And I was wowed by the quality. There's a huge difference between these and the cheapy places. These are silky soft and washed up beautifully. It really is custom printed fabric, not a layer just transferred on top.
And the images are incredibly clear & crisp, with all the details and textures of the images showing:
My kids were tickled to see themselves so lifelike and are already sleeping on their own faces (are they vain or what?). My baby girl couldn't stop cuddling & kissing them because they looked so real. I was sold. And then I discovered they had even more awesome
Gift Ideas
that can make all your customized dreams come true. Here are a few of my favorites -
Roller blinds:
Light Up Photo Cube
(that you can sit on!!):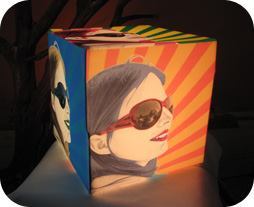 Baby Sleep Sacks:
So many interesting possibilities! And with Easter & Mother's Day not so far away, check out their
Gift Ideas To Match Mom's Interests
for making an amazing custom creation for the moms in your life.
They also have a
Facebook
page so you can find out about special offers & products info. I'll definitely be ordering from them again - with so many great choices, my inner designer is jumping for joy!
I was not financially compensated for this post. I received the custom pillowcases from Bags of Love to review & use as I desired.
The opinions are completely my own based on my experience.
For my complete disclosure policy, click here.